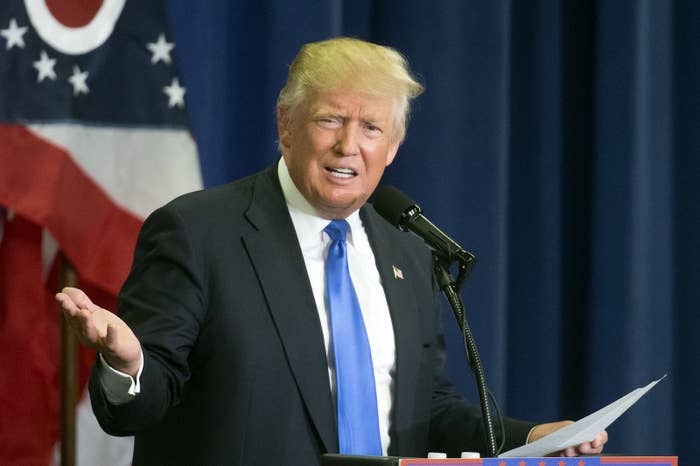 Donald Trump on Wednesday said he regrets deleting a tweet that was criticized as anti-Semitic for using a Star of David symbol to label Hillary Clinton as the "Most Corrupt Candidate Ever!"
"Too bad, you should have left it up, I would have rather defended it," Trump said during a rally in Cincinnati. "Just leave it up."
The Jewish symbol was placed next to Clinton's portrait and over a picture of money in a tweet sent out and deleted Saturday.
The image quickly generated a firestorm of criticism and was eventually replaced by a circle. But during the rally Wednesday, Trump defended the original tweet, telling the crowd he wished it had not been deleted after all.
"It could have been a star for anything, to me it's just a star," Trump said. "But when I really looked, it looked like a sheriff's star. But CNN started this on about, 'It's the Star of David. And because it's the Star of David Donald Trump has racist tendencies.'"
"I said, 'You gotta be kidding,'" he added.
Trump also suggested it was Clinton who "started the dialogue" on the controversial tweet "because she wanted to get off the FBI."
The presumptive Republican nominee for president also blamed the media for "profiling" and identifying what he described as a "sheriff's badge" as a Jewish symbol.
"How sick are they," Trump said. "Actually, they're the ones with the bad tendencies when they think that way.
"I have a son-in-law who's Jewish, Jared, he's a great guy. My daughter is Jewish. I have grandchildren that are Jewish. And I love them. I love them. And these are great people."
After the rally, Trump tweeted a picture of a Frozen coloring book with a star on the cover.

"Where is the outrage for this Disney book?" Trump said. "Is this the 'Star of David' also? Dishonest media! #Frozen"
The image appeared to have been first posted to Reddit on Tuesday with the title "Disney is Anti-Semitic!"
Moments later, Clinton responded to Trump's tweet, mocking the Republican with a song from the Disney film.
Watch Trump's comments from the rally Wednesday: