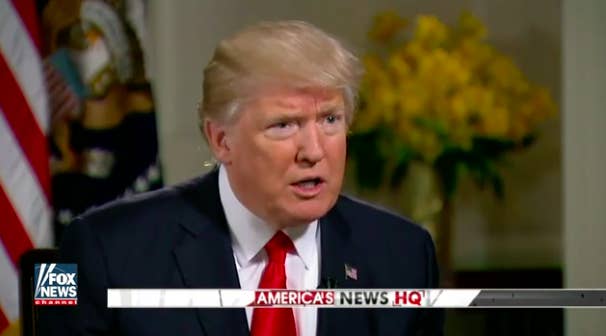 President Donald Trump defended Vladimir Putin in an interview set to air Sunday before the Super Bowl, dismissing allegations the Russian president is "a killer" by saying, "What do you think — our country's so innocent?"
The president made the comment in a preview released Saturday of the interview with Fox News Channel host Bill O'Reilly.

Trump, who in the past has praised Putin and argued that having a good relationship with the Russian president would be good for the US, seemed to dismiss allegations about Putin's tactics.
"Do you respect Putin?" O'Reilly asked Trump.
"I do respect him but," Trump replied.
"Do you? Why?" O'Reilly asked.
"Well, I respect a lot of people but that doesn't mean I'm going to get along with him," Trump responded. "He's leader of his country. I say it's better to get along with Russia than not. And if Russia helps us in the fight against ISIS, which is a major fight, and Islamic terrorism all over the world — that's a good thing. Will I get along with him? I have no idea."
US intelligence agencies believe Russia was behind the hacking of the Democratic National Committee, releasing damaging emails through WikiLeaks, and interfering in the US presidential election. Trump has been dismissive of those accusations.
"But he's a killer though," O'Reilly pressed. "Putin's a killer."
Trump seemed to nod in agreement just before answering.
"There are a lot of killers," Trump said. "We've got a lot of killers. What do you think — our country's so innocent?"
The president also continued to repeat his false claim that 3 million people illegally voted in the November election.
O'Reilly asked Trump whether it was "irresponsible for a president to say that," if he did not have any data to back it up.

"Well, many people have come out and said I'm right, you know that," Trump said.
"I know, but you have to have data to back that up," O'Reilly pressed.
Trump and the White House have cited a debunked study as evidence for his claims. Prominent Republicans, including House Speaker Paul Ryan, have dismissed the claims and said there is no evidence that large-scale fraud took place. The White House's previous statements that it would call for an investigation into the alleged voter fraud have since died down.
Trump, however, continued to push the false claim.
"When you see illegals, people that are not citizens and they are on the registration roles — look, Bill, we can be babies, but you take a look at the registration — you have illegals, you have dead people, you have this — it's really a bad situation," Trump said. "It's really bad."
The interview is scheduled to air Sunday at 4 p.m. ET on Fox.
Watch Trump's comments on Putin here:
Fox News
And his remarks on voter fraud here:
Fox News