President Trump Accuses Fired FBI Director James Comey Of Lying Under Oath
"No collusion. No obstruction. He's a leaker."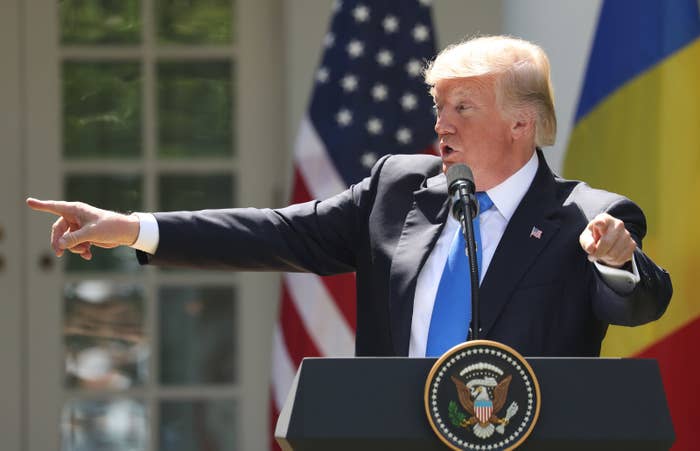 President Trump on Friday claimed former FBI Director James Comey lied under oath during his sworn testimony before a Congressional committee.
"No collusion. No obstruction. He's a leaker," Trump said during a White House news conference when asked about Comey's testimony.
The president's public statements were the first since Comey testified Thursday, accusing Trump of asking him to "let go" of the FBI's Michael Flynn investigation and lift the "cloud" of the Russia investigation.
When asked about Comey's testimony, Trump said "I didn't say that," although he added "there'd be nothing wrong if I did say it."

"It was an excuse by the Democrats who lost an election," Trump said, repeating a claim he has made when asked about the multiple investigations into Russian meddling in the election and possible collusion with his campaign.
Trump also continued to play coy regarding the possibility of there being taped recordings of his exchanges with Comey, telling reporters, "I'll tell you sometime maybe in the very near future."
The president was also asked if he would abide by Article 5 of NATO considering the threat Eastern European nations still sense from Russia.
Article 5 is the most significant portion of the agreement that binds member nations to defend militarily defend each other, a provision that Trump noticeably did not address during his recent trip with NATO allies in Sicily.
"I'm committing the United States and have committed, but I'm committing the United States to Article 5," Trump said.
The news conference, however, quickly veered back to Comey's testimony and the White House's refusal to say whether there are tapes of his exchanges with the former FBI director.
When reporters continued to press the president on whether there were tapes, and if and when the White House would release them, he responded: "I'm not hinting about anything, I'll tell you in a very short period of time."

Trump said many of the claims made by Comey "just weren't true," but he refrained from calling the former FBI director a liar outright.
"So he's a liar?" a reporter asked him.
"I didn't say that."
Reporters pointed out Comey delivered his testimony under oath, and asked the president if he would also do the same.

"One hundred percent," he responded.
Trump also denied asking Comey to pledge his loyalty.
"I hardly know the man. I'm not going to say, 'I want you to pledge allegiance,'" he continued. "Who would do that? Who would ask a man to pledge allegiance under oath?"
Trump stayed away from Twitter during and after Comey's testimony Thursday, refraining from what many expected would be a fiery response on social media.
Instead, it turned out to be one of Trump's longest periods away from Twitter, relying instead on his surrogates and communications staff to respond to Comey's allegations.
But that discipline was short lived.
During the joint White House news conference with Romanian President Klaus Iohannis, Trump at times paused and teased reporters who had their hands up to pose a question.
"Should I take one of the killer networks that treat me so badly as fake news? Should I do that?"