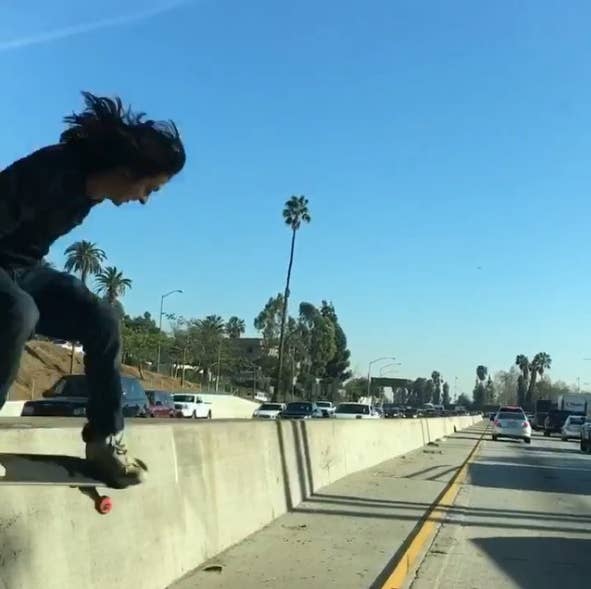 Few things are more Californian than freeways and skateboards, but videos of skateboarders riding among the traffic has authorities worried someone could get hurt.
The videos show skateboarders grabbing on to other vehicles, doing tricks in the middle of traffic, and trying to cut across lanes.
No one has been cited or reported injured, but the California Highway Patrol on Tuesday told BuzzFeed News they are looking into the videos and trying to put a stop to it before it becomes a trend.
Several videos on Instagram were already posted with the hashtag #freewaychallenge.
"It's something that's unsafe, and shouldn't go viral," CHP Sgt. Jose Nunez told BuzzFeed News. "It should be stopped."
The CHP learned about the videos recorded on Los Angeles and San Diego freeways on Monday after one was posted on Instagram by professional skater Nakel Smith was like by more than 12,0000 users.
Smith is seen in front of car and doing a quick trick before jumping back into the car laughing.
The freeway appears to be near downtown Los Angeles, where daytime traffic is often crawling.
Since then, Nunez said officers have become aware of other videos in Los Angeles and San Diego areas springing up in social media — most often during rush-hour times.
In the videos, the skateboarders are seen jumping out of cars quickly and riding in front, where they are recorded. Most of the videos are short, and traffic appears to be at near standstill.
Still, Nunez said the skateboarders are putting themselves and others in danger considering some drivers could be distracted and not see them in the busy traffic.
"These freeways specifically are not designed for bicycling or skateboarding," he said. "Even though it doesn't appear like high speeds, we sometimes have distracted drivers in vehicles of all sizes."
CHP officials had not made contact with any of the people in the videos as of Tuesday afternoon, but Nunez said the driver, skateboarder, and the person who recorded could be charged with misdemeanors.
And anyone caught doing something similar in the future, he added.
For his part, Smith wrote on Instagram that he was not trying to challenge or inspire others to ride on a freeway.
"I never told anybody else to try this," he wrote. "I'm a professional. Don't be like me."
Smith did not immediately return BuzzFeed News' requests for comment.
A quick search of the hashtag #freewaychallenge showed that skateboarders have been pulling similar stunts before Smith's video was posted.
In one, they are seen grinding on the center divider.
Some posts are several months old.
Nunez said the CHP does not monitor social media for examples of people breaking the law, but would be investigating the most recent incidents.
Though officers can't issue citations unless they witness the incident in person, Nunez said they could recommend misdemeanor charges be filed or request the Department of Motor Vehicles to suspend the licenses of the drivers involved.
"They're demonstrating they don't understand the safety aspect of driving," he said.