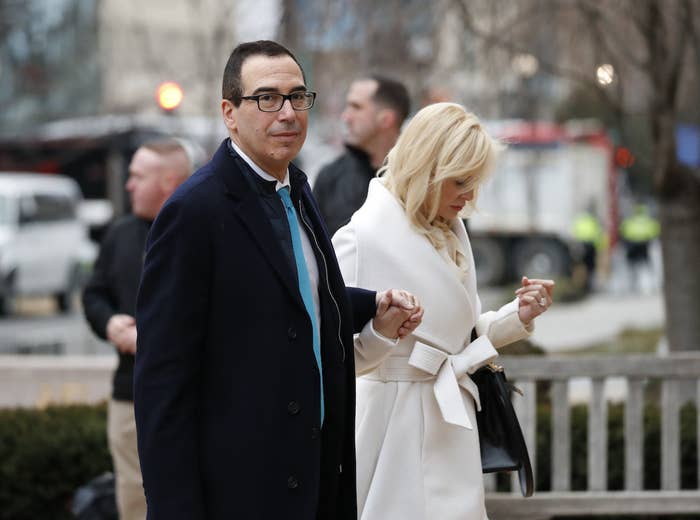 Treasury Secretary Steve Mnuchin asked for a military airplane to go on his honeymoon last month, raising questions once again about his requests for government planes for personal use.
Mnuchin's request for the government jet to fly him and his new wife on their trip to Scotland, France, and Italy was first reported by ABC News, which noted this was deemed unnecessary by other officials in the Treasury Department.
In a statement to BuzzFeed News, the Treasury Department confirmed that the request was made, and considered, because of Mnuchin's role as a member of the White House National Security Council.
"We have multiple issues around the world where the Secretary is directly involved in national security, notably North Korea, Iran, and Venezuela, among others," the statement read. "It is imperative that he have access to secure communications, and it is our practice to consider a wide range of options to ensure he has these capabilities during his travel, including the possible use of military aircraft."
The Treasury said that Mnuchin's request for a government plane was withdrawn because a "secure communications option was identified."
On Thursday, Mnuchin addressed the reports during Politico's Pro Policy Summit, saying the request was about national security communication, not personal use of government resources.
"Let me be clear: I'm very sensitive to the use of government funds," he said. "I've never asked the government to pay for my personal travel, and this was purely about alternatives of how I'd be able to be involved for national security."
Mnuchin said he speaks with top administration officials almost daily about national security and sanctions, and the government plane was one of the options considered.
He called reports about the request overblown.
He also tweeted about the reports using the hashtag #fakenews. However, reports were not that Mnuchin had used the plane, rather that it had been requested for the honeymoon.
The Treasury Department confirmed the request.
News of Mnuchin's request, however, comes just weeks after Democrats and watchdog groups raised questions about the Treasury Secretary's use of a government plane to travel with his wife to Lexington, Kentucky.

Citizens for Responsibility and Ethics in Washington, a government watchdog group, and Democratic Sen. Ron Wyden have requested records regarding the Aug. 21 trip, and are asking whether Mnuchin planned it — and used government resources — to watch the solar eclipse that day.
Treasury officials told the Washington Post that the trip was planned around government business, not a personal visit to view the eclipse.
Mnuchin told Politico he wasn't interested in the eclipse because he was worried about his eyes.
"I put on the glasses, they're like paper glasses," Mnuchin said. "I'm like, 'I'm worried I'm going to get my eyes burned out.' I put it on for like two seconds. That was the end of my interest in the eclipse."