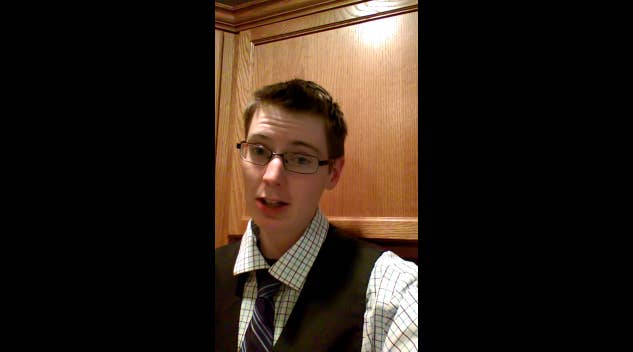 After a 24-year-old transgender man was shot and killed in Arizona by police officers, a task force comprised of 12 LGBT and mental health groups have publicly condemned the police, as well as the medical workers they believe failed the man.
Officers responded to the Mesa home of Kayden Clarke on Thursday after Clarke had threatened to commit suicide. When Clarke allegedly lunged at officers with a large knife, the police shot and killed him.
"They told [Clarke] to drop the knife at that point, and [Clarke] lunged extending the knife," Det. Esteban Flores of the Mesa Police Department said during a press conference.
Officials said it was only after the deadly shooting they learned Clarke had Asperger's Syndrome.
Clarke was identified by police using his birth name and sex.

"Police departments and other public health and safety workers must be trained to understand that people experiencing mental health crises are typically not threats to others and should be treated with care instead of violence," the letter from the task force – which includes the ACLU of Arizona, the National LGBTQ Task Force, and the Autistic Self Advocacy Network - reads.
Prior to Clarke's transition, the 24-year-old gained national attention last year after posting a video on YouTube that depicted Clarke's struggles with Asperger's and the loving assistance Clarke received from a service dog.
In the viral video, Clarke is seen crying until the dog, Samson, comforts Clarke through the "meltdown."

Clarke told BuzzFeed News in 2015 the video was posted to raise awareness about Clarke's experiences with Asperger's.
Clarke continued to post videos discussing the struggles with the disorder, and also began gender therapy to begin a gender transition.
In December, Clarke posted a video called "Fantastic news!" where Clarke told viewers an insurance company would cover the cost of a gender reassignment surgery.
But four weeks before the fatal police shooting, Clarke posted a video that called Arizona "the worst mental health system across the United States."
"I've never met a bunch of mental health professionals who are completely fucking morons," Clarke said.
In the video, Clarke explained frustrations after going from one mental health professional to another, and finding someone who could address both Clarke's Asperger's and gender therapy.
"Nobody seems to know what the fuck Asperger's is, and it's frustrating," Clarke said in the video. "If anyone in Arizona is listening, please guide me."
Clarke said a therapist did not seem prepared to deal with Asperger's, and had allegedly told Clarke medical workers would need to "fix your Asperger's" before Clarke could begin receiving testosterone for a gender transition.
"It's not an illness, you can't get better," Clarke said about Asperger's Syndrome.
Clarke had also struggled for years with depression, but said it was due to struggles with gender identity.
"All that depression since first grade has stemmed from trying to transition," Clarke said. "I'm struggling in my life. They know this."
The task force's letter also referred to these videos, emphasizing the importance of health care providers being educated on transition-related health care, especially for those on the autism spectrum or with other disabilities.
"We cannot ignore the possibility that this failure to provide adequate care placed Kayden at heightened risk of experiencing a mental health crisis such as the one that gave rise to the call to the police who killed him," the letter read.
Mesa Police Det. Esteban said officers did not have any information about Clarke's mental health issues.
"When officers first arrive, they don't know what they have," he said.
The District Attorney's office is expected to investigate the police shooting.
The two officers, who have not been identified, were placed on administrative leave.
"These tragedies are sadly all too common and demonstrate the need for serious policy change," the letter stated in conclusion.
"We owe it to Kayden, and to all transgender people and people experiencing mental health crises, to stop these preventable deaths."