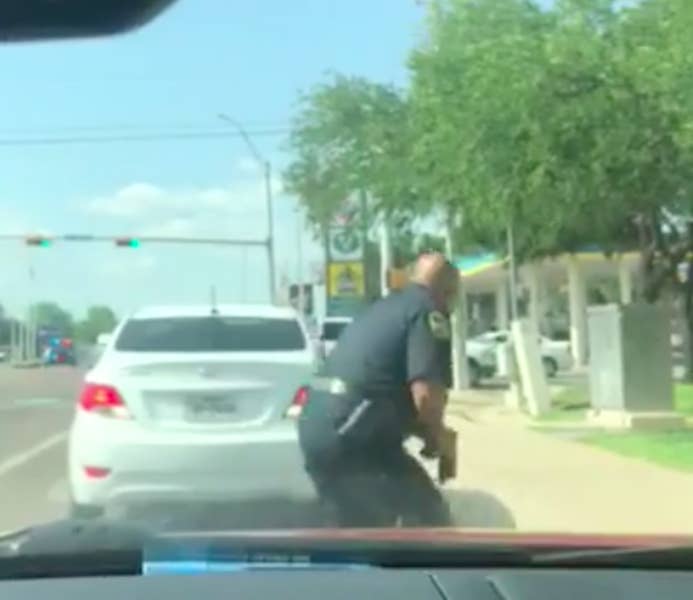 Three police officers were shot and a suspect killed Friday in a wild shootout in Laredo, Texas, that sent bystanders scrambling for cover.

Video captured at the scene showed multiple gunshots ringing out as Laredo police officers scurried to safety near a gas station's convenience store.
The shooting began around 5 p.m. when officers spotted a man sought in connection to a homicide discovered Friday morning, police told reporters at the scene.
As officers approached the suspect, identified as Antonio Gerardo Rodriguez, he opened fire, Laredo police spokesman Joe Baeza said. Three officers were wounded and taken to a nearby hospital to be treated. Their condition was not immediately known, but one was airlifted to San Antonio to be treated for his injuries.

"Three of our officers spotted the suspect's vehicle," Inv. Joe Baeza told reporters at the scene.
It was unclear how many shots were exchanged in the parking lot of the gas station, Baeza said. In videos recorded from the scene, more than a dozen shots can be heard in rapid succession.
Luckily, Baeza said, no bystanders were injured in the shootout.
Rodriguez was taken to a nearby hospital to be treated, the Associated Press reported. He was later pronounced dead.
The body of Rodriguez's girlfriend was discovered hours earlier with a gunshot wound, the Laredo Morning News reported.

Baeza said police warned officers Rodriguez was considered armed and dangerous when being approached.
Laredo police did not immediately respond to a BuzzFeed News request for comment.