This Video Shows Cops Shooting And Killing A Mentally Ill Man
The security video shows a 47-year-old man shuffling to his side before he is shot by police officers in Fontana, California.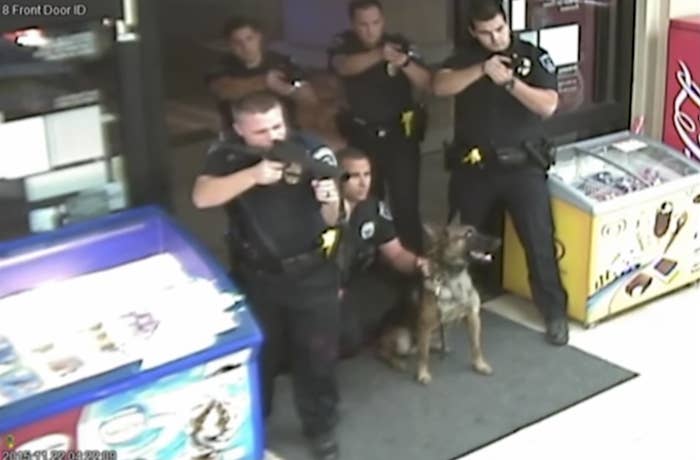 Newly released video footage of a deadly police shooting of a mentally ill man in California appears to contradict earlier official accounts that he "advanced on officers" before shots were fired.
Surveillance video from inside a gas station in the Southern California city of Fontana, however, appears to show James Hall standing near a table and then shuffling to his side before collapsing on the floor.

Hall's family alleges that the legally blind 47-year-old was suffering from schizophrenia at the time and have demanded that the city release the video for more than a year.
Last month, they filed a civil rights lawsuit against the city.
The video was released Wednesday by the family's attorney, who said the video shows that Hall was "executed" by the officers.

"There is no reason to escalate this whatsoever," Mark Geragos, an attorney representing Hall's family in the lawsuit told BuzzFeed News. "This was not a police response, this was an execution."
The deadly Nov. 22, 2015, shooting occurred at about 4:15 p.m. after police received a call about a possible robbery and a suspect armed with a knife.
Police said in a statement after the shooting that officers found Hall in front of the store holding a knife and a large rock. He then walked into the back of the store, where officers tried to talk him into surrendering.
"However, he advanced on officers and an officer-involved shooting occurred," police said.
The video shows Hall making his way into a back corner of the gas station's convenience store as officers surround him. Hall then shuffles to his right before falling, apparently after being hit by gunfire. It's unclear what if anything he had in his hands due to the quality of the video.
"It's a textbook example of what you're not supposed to do," Geragos said.
The video, posted by Geragos, does not contain audio and so it's unclear when the shot is fired.
Geragos said the video shows that officers lied in their report.
"It's interesting, the comments they made before they knew we had the video," he said.
After the video was released, the Fontana Police Department released a statement saying it would not comment on the video or incident because of ongoing litigation.

The shooting, police said, was investigated by the San Bernardino County Sheriff's Department and is currently under review by the district attorney's office.