This Is What The Last World Trade Center Building Will Look Like
Unlike the twin towers that collapsed in 2001, the new towers will look very different from each other when completed.
Welcome to the fourth and final building of the World Trade Center.
Unveiled earlier this week by Danish architect Bjarke Ingels and his firm, BIG, 2 World Trade Center is set to be the final component to the revitalization of Lower Manhattan, which was devastated after the Sept. 11, 2001, terrorist attacks.
The tower will reach up 1,340 feet, framing the current 9/11 memorial and filling the Manhattan skyline.
But the design of the new tower will be no twin to 1 World Trade Center, like the towers that were brought down in 2001.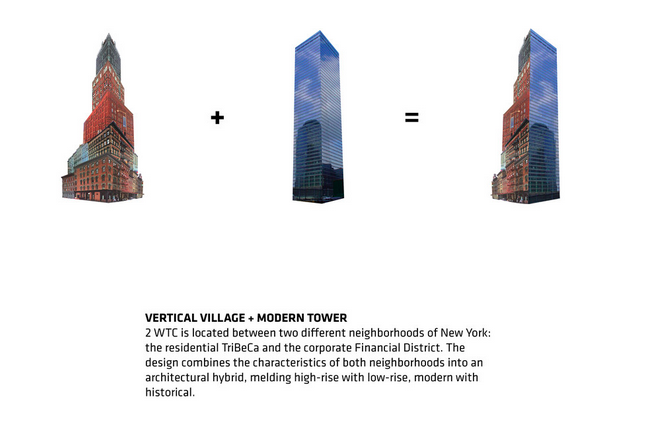 The 80-plus stories will take a tiered look, like city blocks of Ingel's Tribeca neighborhood, Wired reported.
"The design of 2 WTC is derived from its urban context at the meeting point between two different neighborhoods: the Financial District with its modernist skyscrapers and the Tribeca with its lofts and roof gardens," according to the firm's description of the project, kept secret until this week.
Rupert Murdoch's companies 21st Century Fox and News Corp. are to occupy the lower half of the tower with more than 5,000 employees, according to BIG.
The companies have signed a tentative agreement, and plan to move into the building in 2020.
The tower will also hold about 38,000 square feet of outdoor terraces, which will be raised hundreds of feet on the building's stacked sections.
"The modernist skyscraper and the contemporary interpretation of the pre-modern setback merge in a new hybrid and exciting addition to the NYC skyline," according to the designers.
It will be the second tallest of the four buildings surrounding the memorial pool of the former Twin Towers.
Construction of the project is to begin next year.
Here's the architect, Bjarke Ingels, talking about the unique design, and the influence New York's neighborhoods played.