This Is What Refugees In Europe Are Carrying With Them
Refugees from Syria and other war-torn countries have fled violence and persecution, carrying with them only a few belongings on a dangerous trek across multiple countries.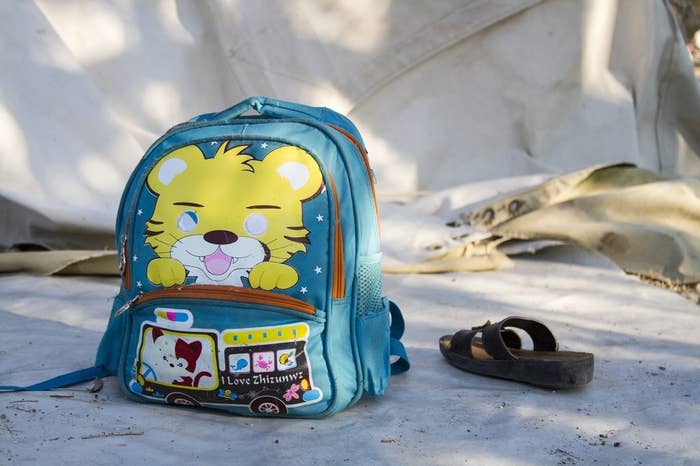 Roughly 4 million Syrians have fled since civil war broke out in their country in 2011, taking with them only what they could carry.
Thousands of those refugees are now streaming into Europe, and on Saturday Syrians who had been stuck in Hungary arrived in Germany.
The International Rescue Committee, an organization that works with refugees to help resettle them in their new homes, spoke to a few of them and asked them what they had in their bags.
Here is what they told members of the International Rescue Committee:
Yah Omran made sure to carry some sweets while fleeing from Syria.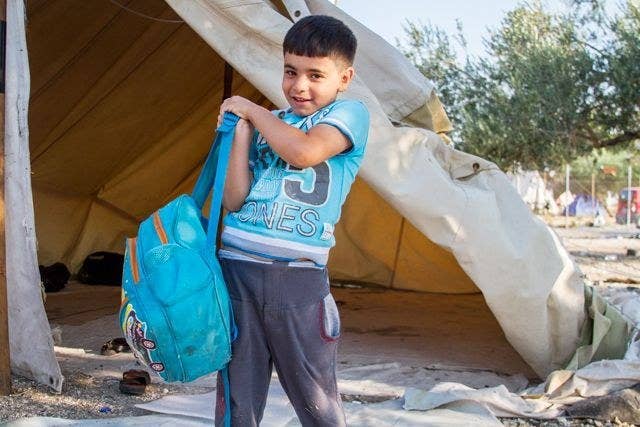 The 6-year-old's backpack held an extra pair of pants and a shirt, a syringe and bandages for emergencies, a toothbrush, toothpaste, and marshmallows and sweet cream.
Aboessa, who fled Damascus, Syria, with her husband and baby, told the International Rescue Committee that they jumped in a rubber raft and headed toward Europe.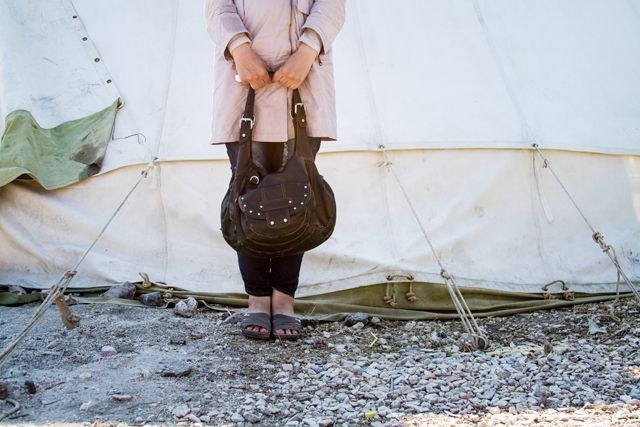 When they arrived at Lesbos, they were carrying medication and sterile water, sunscreen, toothpaste, a phone charger, and personal documents. She also had a hat, socks, napkins for diaper changes, and a jar of baby food for her 10-month-old daughter.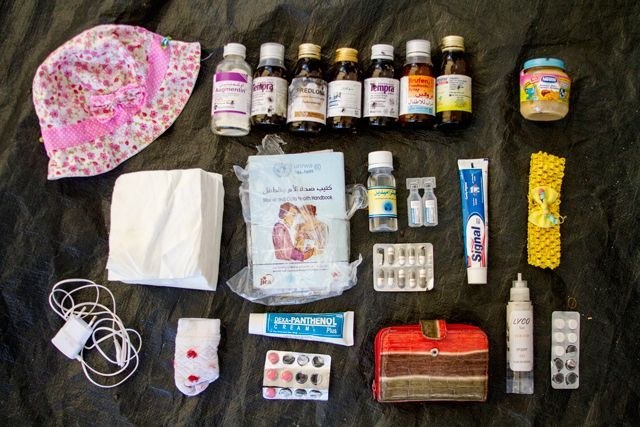 A pharmacist from Syria said he dreamt of going to Germany but was willing to go anywhere in Europe if he could continue his studies.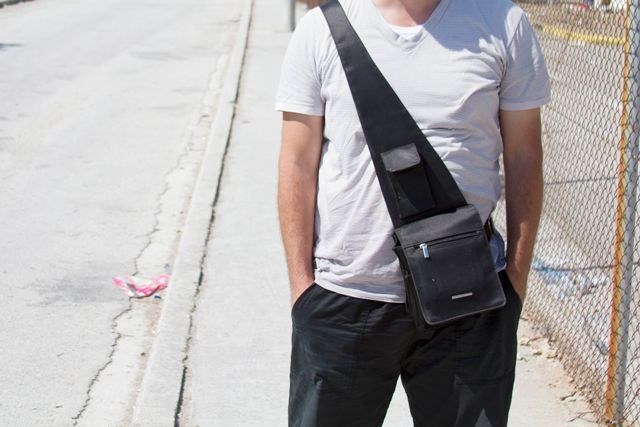 In a small bag, he had a phone that had got wet, a new phone that worked, phone chargers, money wrapped in a plastic bag, and a flash drive that carried all of his family pictures.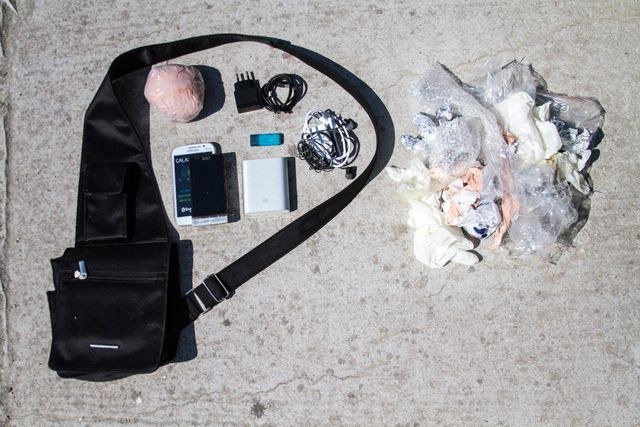 A family of seven women, four men, and 20 children fled Aleppo, Syria, with everyone carrying two bags each. But when their boat began to sink on their way to Turkey, all they could save was one of the bags.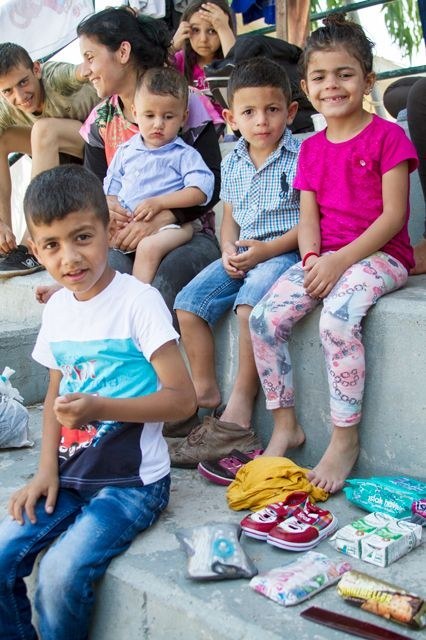 For the family of 31, all they carried with them now was one comb, a pack of sanitary pads, a shirt, jeans, shoes, toiletries, one diaper, two small cartons of milk, and some biscuits.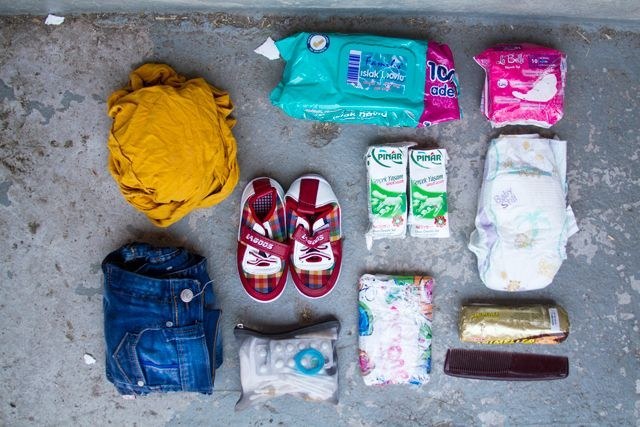 Iqbal, a 17-year-old from Afghanistan, fled to Iran and then made the trek to Turkey on foot. He made it to Lesbos by boat, but he wasn't sure where he'd end up next.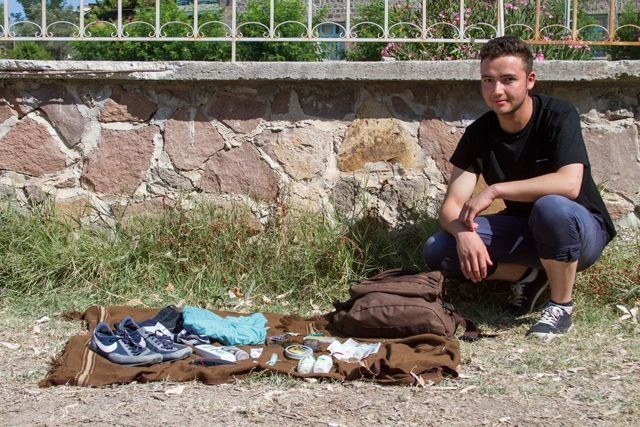 His one bag carried a pair of pants, a shirt, shoes, socks, toiletries, a comb, bandages, two cell phones, and SIM cards for Afghanistan, Turkey, and Iran. He also had $100 in U.S. currency and 130 Turkish liras.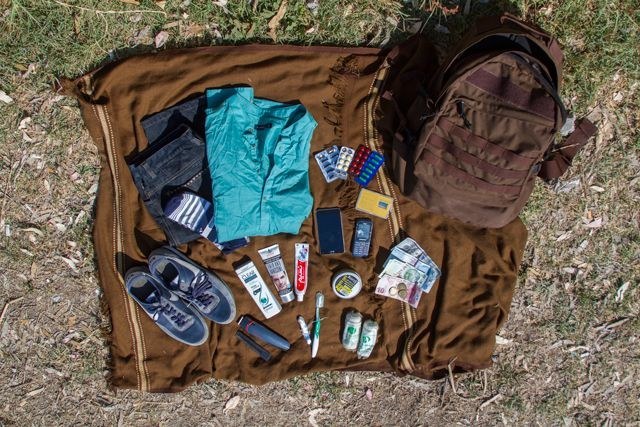 Nour is a 20-year-old artist. "I left Syria with two bags, but the smugglers told me I could only take one," he said. "The other bag had all my clothes. This is all I have left."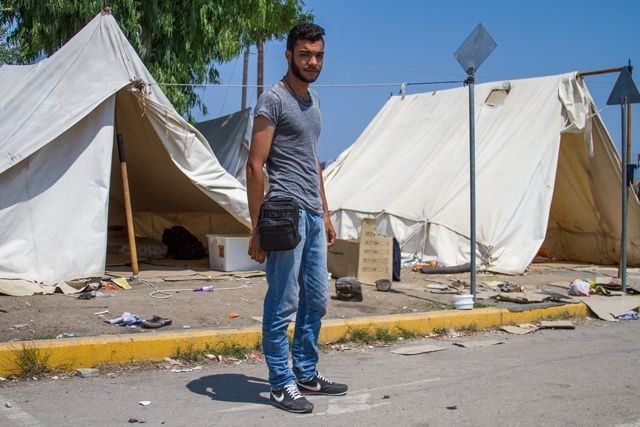 One shirt, a rosary, a broken watch from his girlfriend, a Syrian flag pin, a Palestinian charm, a few guitar picks, a cell phone, his personal documents, and a couple of wooden and silver bracelets were all he had left.