U.S. Government Will Require Drones To Be Registered
The Department of Transportation plans to unveil a task force that will oversee the new, required registration of drones in the U.S., officials told BuzzFeed News.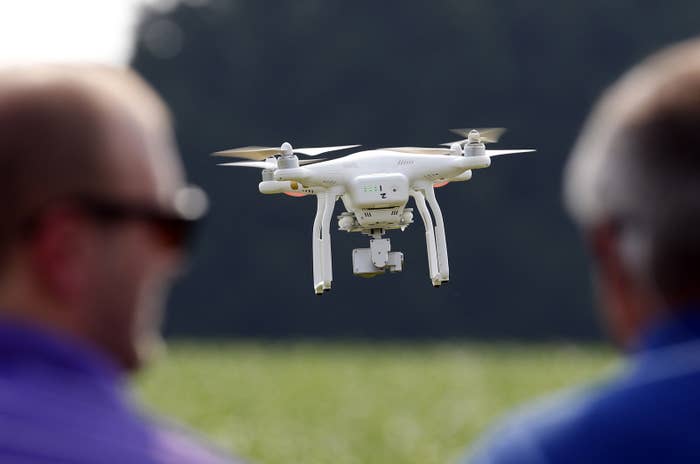 Drone operators will soon be required to register their unmanned aircraft with the U.S. Department of Transportation under a new task force that will be unveiled Monday, officials told BuzzFeed News.
The new requirement would be the government's biggest move in trying to regulate a budding industry that has been steadily growing for years, and bring the agency closer to regulating drones like other aircraft.
The new requirement of registering drones was first reported by NBC News. A Department of Transportation spokesperson confirmed the plan to BuzzFeed News.
"We will be releasing details on Monday," the spokeswoman said.
For advocates of the industry, the incoming measures could be a welcomed change as technology has quickly outpaced any efforts of regulation by local and federal government.
"This has to be really thought out in a methodical way," Keith Kaplan, CEO of the Unmanned Autonomous Vehicle Systems Association and cofounder of the Tesla Foundation told BuzzFeed News.
If drones are registered and regulated like piloted aircraft, Kaplan argued, it could mean a boon for innovation and their use commercially.
Regulation could make it easier to address important issues such as insurance and liability, as well as provide data of people and companies using the aircraft properly and ethically.
Federal officials now face the challenge of an industry that is diverse in not just the types of vehicles, but how they're used.
Kaplan said he hopes whatever regulations are unveiled Monday will take into consideration the vehicles' weight, size, flight capability and application, such as whether it is being used commercially, recreationally or competitively.
"The frustration with us in the community is that (regulation) its not moving fast enough," he told BuzzFeed News.
But Kaplan pointed out the number of drones flying below 500 feet is steadily growing, and it is a portion of airspace that has not been previously regulated or managed by the FAA.
The new requirement, and a new task force to carry it out, will be announced by U.S. Transportation Secretary Anthony Foxx and Federal Aviation Administration chief Michael Huerta.
It comes as state and federal governments have been looking at how to regulate the growing popularity of the unmanned vehicles, which have not just grown amongst hobbyists, but industries that have been exploring their use.
Two weeks ago, California Gov. Jerry Brown vetoed a state law that would have outlawed flying drones over wildfires, despite efforts by fire agencies which have halted operations because of nearby drones.
But in recent months, the Federal Aviation Administration has stepped up its efforts at regulating and fining drone operators.
Earlier this month, the agency proposed a $1.9 million fine against a Chicago company for flying drones in restricted airspace.
The FAA also noted that the number of drones flying in the path of commercial planes had skyrocketed this year.
In August, DOT Secretary Anthony Foxx told CBS News it was in fact looking into whether they would have authority to require drones to be registered at the point of sale.