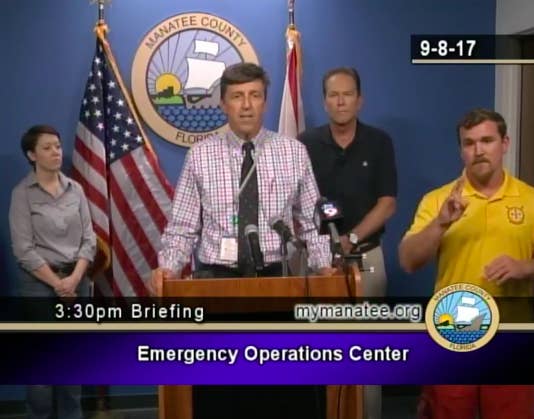 While deaf residents of Manatee County in Florida waited for information about evacuations and shelters during Hurricane Irma, an interpreter used during a press briefing instead signed "gibberish."
The man, wearing a yellow polo shirt and red shorts during the Sept. 8 briefing, stood along emergency management officials and signed about pizza, dogs, cats and monsters.
"It was awful," M. Charlene McCarthy, owner of Viscom, a company that provides interpreter services to companies and government agencies, told BuzzFeed News.

Seconds after the county began to broadcast the meeting on its Facebook page, people began to comment that the man who was signing for county officials was, in fact, not making any sense.
"This person doesn't know even BASIC SIGN LANGUAGE!" one person wrote. "WAY TO PUT DEAF LIVES IN DANGER!!!!!"




"We made an error," Nicholas Azzara, information outreach manager for Manatee County, told BuzzFeed News. "We did our best to get the written word out and information. We did our best."
Azzara said the county had not secured an American Sign Language (ASL) interpreter for the days when the storm hit, and in a last minute decision, reached out to a county lifeguard whose brother is hard of hearing or deaf, and who knew sign language.
"He suggested that he'd never done anything like that, and he asked the speakers to speak slowly," Azzara said.
The lifeguard tried to sign during two briefings, Azzara said. But the county stopped using him when people on social media pointed out they could not make out what he was trying to say.
He said the county had the option of having an ASL interpreter before the storm, but not during the heaviest days when the hurricane reached Manatee County.
"We didn't want to have someone at some (briefings), and not in others," Azzara said.
McCarthy told BuzzFeed News that Viscom has provided interpreter services for Manatee County on multiple occasions and that when she saw the Facebook Live video of the briefing, she immediately reached out to the county's emergency operations center.
McCarthy said she was not given any explanation about the identity of the man signing at the briefing, or why the county decided to use him as an interpreter during the briefing.
With more than 360,000 residents, Manatee County sits about 50 miles south of Tampa. As of Saturday, many residents were still reeling from the damage caused by the hurricane. According to the Bradenton Herald, 11% of the county was still without power as of Saturday evening.
Although no storm-related deaths appeared to have been reported in the county, officials were still surveying how many structures had been damaged by the hurricane.
As the storm first struck Florida, people who use American Sign Language became concerned when they noticed Manatee County's interpreter making random gestures.

Adam Bradberry, an ASL student from Michigan whose family lives in Florida, told BuzzFeed News that a deaf friend shared the Facebook Live video with him as it was being broadcast.
"I sorta became a little irate at first," he said. "I even direct-messaged them [the county] and let them know what they did and why it was wrong."
Bradberry said the first thing he noticed was the man's yellow shirt — a "huge no-no," he said, since interpreters are taught to wear clothing that contrasts sharply with their hands so people do not have difficulty watching their signs.
Bradberry then began to transcribe the briefing. He was one of several people who, while seeing the event unfold, began to type what county officials were saying in the Facebook comments section so those who could not hear them could be informed.
"I kinda panicked for a minute, then I just knew I had to provide a transcript of what was being said for the hearing-impaired," he said.
Others posted YouTube videos of themselves signing what was actually said.
Some of the gestures used by the man in the video did appear to be sign language, but they mostly made no sense or were irrelevant to the message emergency officials were telling the public at the time.
One video uploaded to YouTube placed captions to show what the man appeared to be signing during the briefing. People familiar with ASL told BuzzFeed News that the translation was "more or less accurate"—though much of what the interpreter signed appeared to be "gibberish."
McCarthy told BuzzFeed News that when she spoke to emergency officials, she also offered to provide an interpreter to the county so the Deaf community there could also stay informed during broadcast briefings about Hurricane Irma.

"They said yes, for the next morning at 9:30 a.m.," she said. "But within the hour they called back and canceled. I don't know why."
Azzara said he was not aware of McCarthy's offer to provide an ASL interpreter after the Sept. 8 briefing, or future briefings.
He said the county made a mistake and, in the future, would be looking to make sure their contracts for ASL services include services during emergency situations.
Azzara said he also felt bad for the lifeguard in the video, who has caught much of the ire on social media.
"He was trying to do a good deed," he said. "We were trying to do right by all our community and he was not the best person to do that."
After learning that their interpreter was not signing correctly, he said the county decided not to use an interpreter for following briefings.
Azzara said the county continued to try to reach out to members of its Deaf community with press releases and written announcements about evacuations and storm updates.
Commenters on the county's Facebook page also took note, including some who pointed out that their criticism of the interpreter on Sept. 8 was not a request for the county not to use an interpreter at all.

"I was really shocked when they called back and canceled," McCarthy told BuzzFeed News. "The woman that called said she spoke with the higher-ups and they told her they would cancel and there would be no interpreter at all."
Instead, she said, members of the county's Deaf community were left having to rely on relatives who could hear, or texted friends and family to try to get updates on what was happening as Hurricane Irma struck Florida.
Since her conversation with county officials on Sept. 8, McCarthy said she has not heard from local officials about what went wrong.
"I would assume at some point, we'll be having a conversation about how to move forward about the future so this doesn't happen," she said.