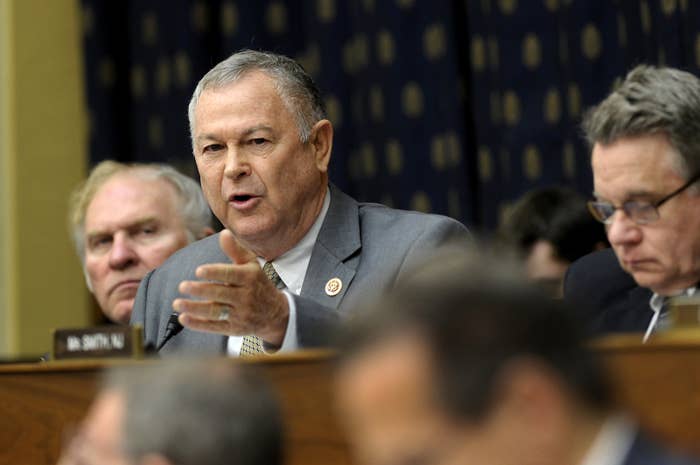 One day after 17 people died in an apparent ISIS attack in Iran, a California congressman questioned whether such an event might be a "good thing," and appeared to suggest that the United States might be able to collaborate with the terrorist group.
"Isn't it a good thing for us to have the United States finally backing up Sunnis who will attack Hezbollah and the Shia threat to us? Isn't that a good thing?" Rohrabacher asked a panel of terrorism experts assembled for a House hearing on Hezbollah financing Thursday.
"Maybe this is a Trump — maybe it's a Trump strategy of actually supporting one group against another considering that you have two terrorist organizations," he added.
The remarks were a reference to a pair of deadly rampages in Tehran Wednesday, in which attackers laid siege inside Iran's parliament building and outside the tomb of the Islamic Republic founder's Ayatollah Khomeini. The attacks — the first claimed by ISIS in Iran — left 17 people dead and dozens more injured.
A representative for Rohrabacher did not immediately respond to requests for comment, or to explain the congressman's comments.

In a statement issued late Wednesday, the White House expressed condolences for the attack, while also suggesting that Iran had brought the attack on itself.
"We grieve and pray for the innocent victims of the terrorist attacks in Iran, and for the Iranian people, who are going through such challenging times," the statement read. "We underscore that states that sponsor terrorism risk falling victim to the evil they promote."
Two terrorism experts testifying before the House Foreign Affairs Committee Thursday quickly shot down Rohrabacher's idea.

"Those attacks were claimed by the Islamic state," said Matthew Levitt, director of the Washington Institute's Stein Program on Counterterrorism and Intelligence. "It's never in our interest to support a group like the Islamic State."
But Rohrabacher seemed to press on, trying to interrupt Levitt multiple times to ask "even when...."
"That's like, Joe Stalin was a horrible guy, we must never associated with horrible guys like that, even to get Hitler," Rohrabacher finally said. "So, maybe it's a good idea to have radical Muslim terrorists fighting each other, and I'll leave it at that."
Another witness then chimed in his disagreement.
"Having coordinated the economic warfare plan against the Islamic State, I would not condone an attack by the Islamic State," said terror financing expert David Asher. "I would be determined to destroy them."
The National Iranian American Council also condemned the congressman's comments, calling them callous and bizarre.
"Rohrabacher has a long history of bizarre and offensive statement son Iran, but his callousness toward the Iranian victims of ISIS terror might be his most callous and extreme thus far," the organization said in a statement.