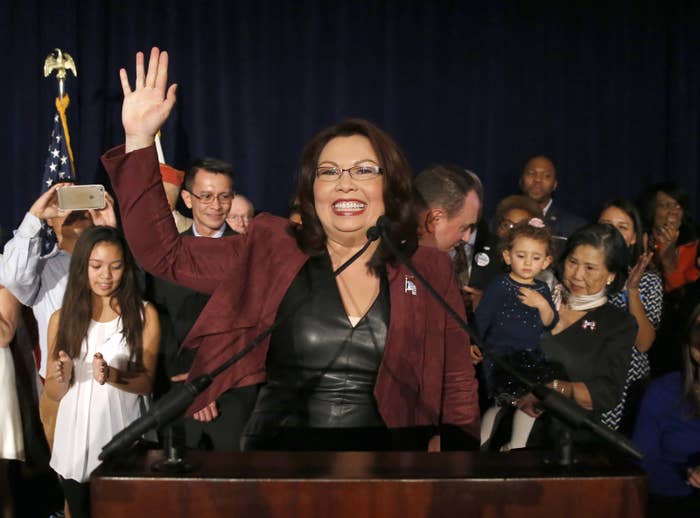 Sen. Tammy Duckworth, an Illinois Democrat, announced Tuesday she is pregnant with her second child and will become the first serving US senator to give birth while in office.
"Bryan and I are thrilled that our family is getting a little big bigger, and Abigail is ecstatic to welcome her baby sister home this spring," Duckworth said in a statement.
A retired US Army lieutenant colonel, Duckworth lost both her legs in combat while serving as a pilot in the Iraq war. She served two terms in the House of Representatives and last year was elected to serve in the US Senate.
Duckworth and her husband have a daughter, Abigail, who is 3 years old.
Speaking to the Today Show Wednesday, the senator said that it was "a struggle to get pregnant" and that there are "millions of women all across this country that continue to struggle."
"It was a very long journey for us to get to the point where we can have the second child," Duckworth said. "For me, it took ten years of trying to have my first child. And it took multiple attempts to get to this pregnancy. What I say to women with disabilities is, 'You can do anything.'"
Since 1922, a total of 51 women have served in the US Senate, but Duckworth will become the first to have a child during her term in office. Just 10 women have given birth while serving in the House of Representatives.
"Women have been getting pregnant and continuing to work to support their families for years. For me, it seems ordinary," she said. "But it's 2018 and it's about time we started breaking down barriers here in the senate."

The senator said Tuesday that "parenthood isn't just a women's issue, it's an economic issue and an issue that affects all parents — men and women alike."
"As tough as juggling the demands of motherhood and being a senator can be, I'm hardly alone or unique as a working parent," she said. "And Abigail has only made me more committed to doing my job and standing up for hardworking families everywhere."
Sen. Dick Durbin also released a statement Tuesday congratulating his fellow senator from Illinois.
"When she told me several weeks ago that she and Bryan were expecting a new baby to join their little Abigail, I was speechless," the statement read. "I have learned to never underestimate Tammy Duckworth. I am proud to have her as my Illinois colleague and prouder still that she will make history by being the first US Senator to have a baby while in office. I couldn't be happier for her."
Duckworth is expected to give birth in late April. She is expecting a girl.