An Idaho man accused of shooting a pastor in a church parking and leading police on a two-day manhunt was taken into custody Tuesday night outside the White House, Secret Service officials said.
The 30-year-old man was arrested on suspicion of opening fire Sunday, in what Coeur d'Alene Police Department officials said was a planned attack against the pastor of the Church of the Altar.
The shooting occurred just a day after the pastor, Tim Remington, appeared with Republican presidential candidate Ted Cruz at a campaign rally, according to multiple news reports.
Police officials said the shooting did not appeared to have been a random incident, but did not say what may have prompted the attack.

Remington was taken to Kootenai Medical Center to be treated, police said in a Facebook post.
Authorities said Odom fled in a silver Honda Accord, but the 30-year-old was taken into custody more than 2,400 miles away in Washington, D.C., after he allegedly threw a suspicious object over the south fence of the White House Tuesday night.
Odom is believed to have headed toward Boise after the shooting and, on Monday, boarded a flight to Washington D.C., Couer d'Alene Police Chief Lee White said in a press conference.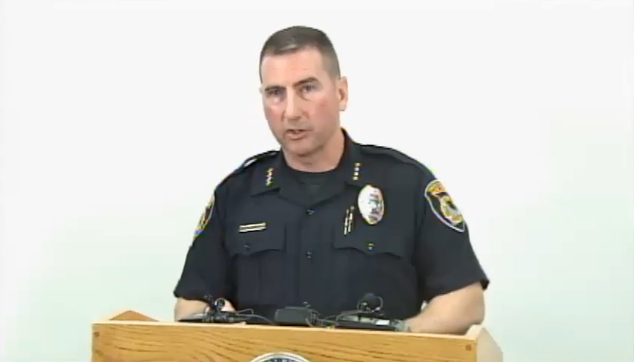 White said the department obtained felony arrest warrant for Odom's arrest when they were unable to locate him after the shooting. Investigators then placed him on a national database, so he would be apprehended if he came into contact with other law enforcement.
The police chief, however, said he was unable to explain how someone with an arrest warrant was able to board a flight.
"As far as the inter-workings of the TSA (Transportation Security Agency) and how someone with a felony warrant could board an airplane, I'm not the person to answer that, I'm sorry," White said.
TSA officials told BuzzFeed News that Odom boarded the commercial flight Monday morning, but that the bulletin from Coeur d'Alene Police asking for him to be detained was not received by the agency until that evening.
A warrant for Odom's arrest had been filed at that time and he was screened through the airport's regular security check-points, the officials told BuzzFeed News. But because the TSA screens suspects through the FBI's Terrorist Watchlist, and not through law enforcement arrest warrants, Odom was able to board the plane in Boise.
Once in D.C., Odom was detained by the Secret Service after tossing a bag over the White House fence. Authorities in D.C. ran Odom through law enforcement databases and found he was wanted in Idaho for an attempted first-degree murder warrant, the Secret Service said.
Remington's church also stated on Facebook that Odom had been arrested in D.C.
Coeur d'Alene Police officials on Tuesday said Odom sent a letter to his parents and multiple news agencies in the area where it became evident the attack on Remington was not random.
"Information from the documents also indicates that another church member at the Alter Church was targeted," the statement read.
Police have since provided protection to the church member and his family.
Authorities would not disclose what was contained in the documents and flash drives that were provided by Odom to local news organizations, but a post on his Facebook account alleged that Remington was a martian from "an ancient civilization from Mars," The Spokesman-Review reported.

Odom is believed to have been been a corporal in the Marine Corps, and witnesses to the shooting told the paper that he looked "pretty professional as he was shooting."
His family released a statement through the police chief, stating they were "thankful" Odom was safely taken into custody.
"As Kyle was not living with us, we're learning of his plans as they are being revealed by police," the statement read.