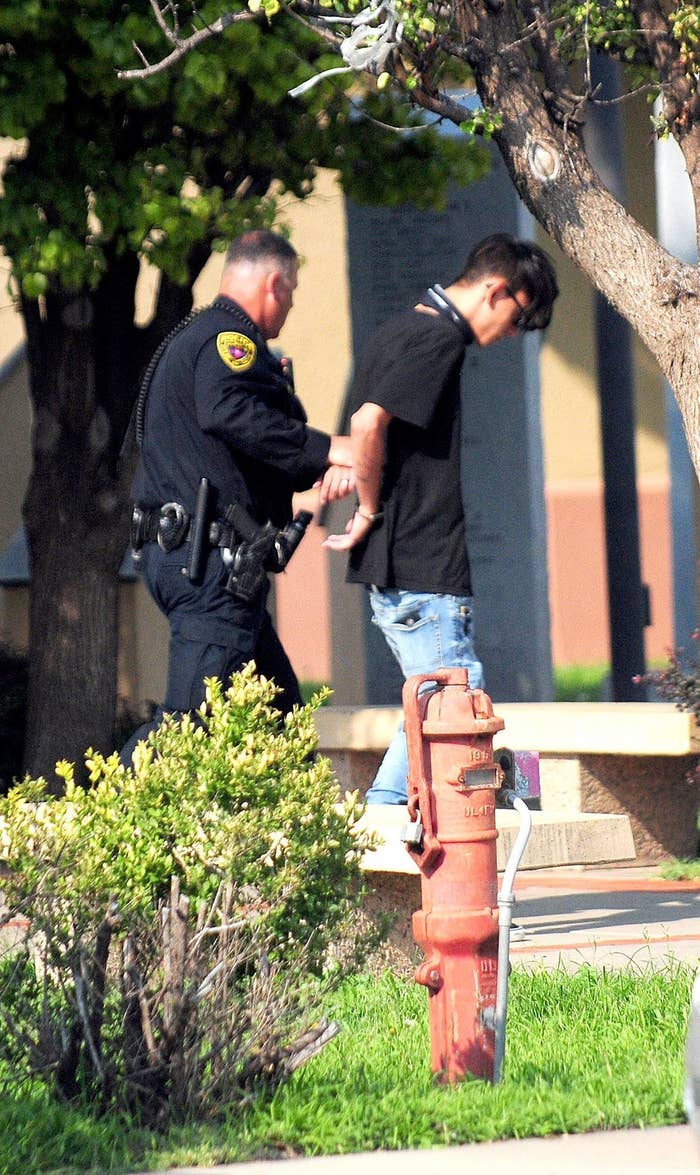 The suspected gunman who opened fire in a New Mexico library on Monday, killing two people and injuring four others, was identified by police as a 16-year-old who had recently been suspended from school.
Prosecutors said they are considering whether to charge Nathan Jouett as an adult for allegedly killing two library employees in the town of Clovis. A 10-year-old boy, who is now in stable condition, was among those injured in the shooting.
"Run!" Jouett yelled at people at the Clovis-Carver Public Library as he opened fire, Lisa Baird told the Eastern New Mexico News. "Why aren't you running? I'm shooting at you! Run!"
During a press conference Tuesday, Clovis Police Chief Douglas R. Ford said Jouett was carrying two handguns when he began to fire indiscriminately.
"Motive, we're still looking at that at this time," Ford told reporters.

Police did not say who the firearms belonged to, or how Jouett got them.
Wanda Walters, a 61-year-old circulation assistant at the library, and Kristina Carter, 48, a youth service librarian, were killed in the shooting, Ford said.
A third library employee, 30-year-old Jessica Thron, was also shot and injured.
Noah Molina, 10; his sister, Alexis Molina, 20; and 53-year-old Howard Jones were also shot Monday.
Mike Ragain, chief medical officer of University Medical Center, said the three adults were in critical but stable condition. Ten-year-old Noah Molina was in stable condition.
Investigators are still trying to piece together what happened inside the library during the shooting, including reviewing multiple videos from inside the building.
Baird told the Eastern New Mexico News she heard the first bang from a weapon while she was speaking to someone at the library's reference desk. She first thought the bang was firecracker, but dove under a desk when she saw someone taking aim at people inside.
"Then I heard his pants 'shooshing' as he approached the end of the reference desk," she told the paper. "I heard a sound like a phone or something being put on the reference counter at the end of the desk, about 4 feet away from my head."
Seconds later, she said, police entered the library.
Ford said the shooter gave himself up to police immediately.
As far as police know at the moment, Ford said Jouett did not know anyone in the library.

Ford said Jouett had been in a series of fights at school days before the shooting, and was suspended from school Friday.
Pastors at Clovis's Living Word Church of God, which Jouett attended, told the Easter New Mexico News that Jouett had contemplated suicide in the past, and had left home from church Sunday because of an anxiety attack.
Pastor David Stevens told the paper his daughter had called the 16-year-old to hang out, and at some point learned that Jouett was sleeping with a handgun nearby and a suicide note in his pocket.
"I know he had been turning his life around," Pastor Bonetta Hutson told the paper.
After the shooting, Ford said police have increased their presence at schools in the community because of online threats and fears of violence.
He said police were not aware of any credible threat at the schools, but would maintain a presence there.
Jouett is expected to face two counts of first-degree murder and four counts of aggravated assault with a deadly weapon.
CORRECTION
Wanda Walters' name was misspelled in a previous version of this post.