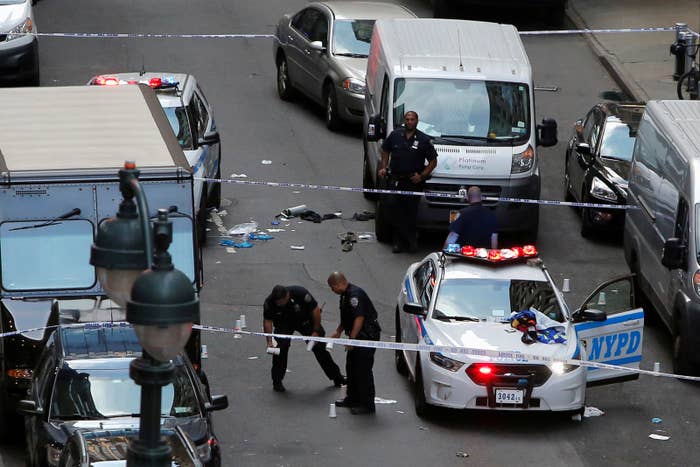 An off-duty New York police officer suffered a 6-inch gash to his face Thursday during a confrontation with a man wielding a meat cleaver outside Penn Station in Midtown Manhattan, officials said.
Officers fired 18 times on the busy street just before 5 p.m., hitting the suspect, identified as 32-year-old Akram Joudeh, multiple times, police said.
"Sufficient shots were fired to deter the attack on my officers," New York Police Commissioner William Bratton told reporters. "We have a character running down the street, waving a cleaver. Despite that, the officers approached him and decided to take him in custody."

Multiple officers were trying to take the man into custody when an off-duty officer in plain-clothes attempted to subdue him, NYPD Chief James O'Neill said. In the scuffle, the officer was cut in the face with the cleaver.
The suspect was taken to a nearby hospital in critical but stable condition, O'Neill added.
The injured officer, meanwhile, was in serious condition. Two other officers suffered non-life threatening injuries.
Officers were called to the area just before 5 p.m. after receiving a call of a crime in progress, O'Neill said.
Joudeh had been trying to remove a boot that was clamped to the wheel of his car. When he was approached by the officers, O'Neill said, Joudeh pulled an 11-inch cleaver from his waistband.
Officers chased the man down 32nd Street near Penn Station, just as rush hour was getting underway and the street was being crowded with commuters
One officer tried to use a Taser to subdue Joudeh, but it had no apparent effect, O'Neill said.
It was at this point that an off-duty officer tried to subdue him, suffering a 6-inch gash to his face in the process.
Several officers fired multiple times.
"They shot till the threat was stopped," O'Neill said.
The NYPD was able to retrieve the large knife after the shooting, officials told BuzzFeed News.
Witnesses reported hearing multiple shots being fired during the confrontation.
One video obtained by Fox News shows several officers walking toward a suspect on the busy street before running toward the suspect.
Seconds later, multiple gunshots are heard in the video.
Bratton said investigators have obtained a significant amount of video footage of the incident, which will be used for the investigation.
One picture from the scene showed paramedics treating a man on the street near Penn Station.
Witnesses posted several pictures online after the incident, showing a large police response in the area near Penn Station.
Police did not release much information about Joudeh, but said he had several contacts with law enforcement before Thursday's incident.
His last address was listed in Queens, O'Neill said, but police said he was living in his car at the time.