Suspect In Arizona Freeway Shootings Says Police Arrested "The Wrong Guy"
Arizona authorities on Friday said they arrested a man suspected in at least four of the 11 confirmed freeway shootings in the Phoenix area since August.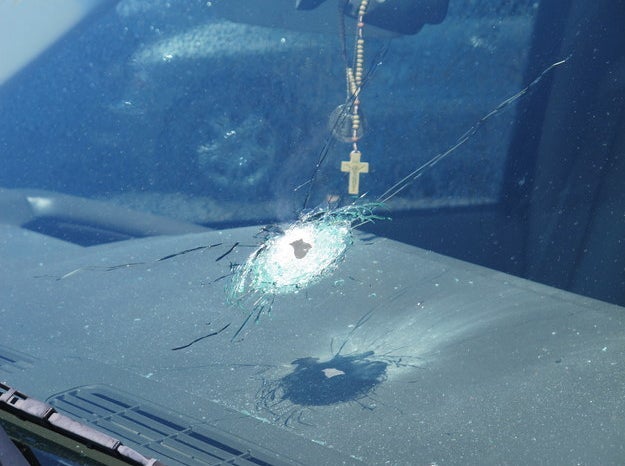 At left, a bullet-damaged windshield. At right, Leslie Merritt.
A 21-year-old man arrested Friday in Phoenix, Arizona, on suspicion of being behind a series of freeway shootings in recent weeks that have left the Phoenix area rattled and on edge told a judge on Saturday that authorities "have the wrong guy."
The suspect was identified as 21-year-old Leslie Allen Merritt Jr., Arizona Department of Public Safety spokesman Bart Graves confirmed to BuzzFeed News.
In his first court appearance, Merritt said he was not the shooter and had no access to his weapon because it was in a pawn shop for months, the Associated Press reported.
Merritt's bail was set by the judge at $1 million.
On Friday night, Arizona Department of Public Safety Col. Frank Milstead told reporters at a late briefing that authorities had arrested the suspect based on a gun that had been "forensically linked" to the initial spate of four shootings over the course of Aug. 29 and 31.
However, authorities declined to say if they believed Merritt was linked to the other seven confirmed shootings, citing the ongoing investigation.

"Are there others, are there copycats? That is possible," Milstead said.
Milstead also would not comment on what led investigators to the gun.
Representatives for Gov. Doug Ducey — who announced the arrest earlier in the evening on Twitter — could not immediately be reached for comment.
Merritt was arrested Friday evening outside a Walmart in Glendale, west of Phoenix, Graves said. He was with a woman and 5-year-old child, neither of whom were apprehended.
A Facebook profile that appeared to belong to Merritt indicated that he lives in Glendale, Arizona, and works in landscaping.

The profile includes several gun-related posts, among other photos of Merritt's family and work life.

A break in the investigation apparently came Wednesday, when detectives contacted Mo-Money Pawn in Phoenix searching for a specific caliber gun used in the shootings.
Owners of the pawn shop posted in their Facebook page that investigators discovered that one of the weapons used in the shooting was in the shop's inventory.
It was not clear when the shop received the weapon.
Merritt's father, Leslie Merritt Sr., called the idea that his son was the shooter "preposterous," The Arizona Republic reported.
"Whoever said my son is the freeway shooter is a moron," the elder Merritt said. He later added that "he has been raised with too much respect for life and too much for firearms" to have been the shooter.
Merritt's father became physically ill when he learned of the arrest, the Republic also reported.
Cynthia Sauceda, the mother of Merritt's girlfriend, told the local Fox affiliate that 21-year-old has "a big heart" and was a father of two children.
"He would not do this, especially when he's working hard to support his two kids," she told FOX 10. "He's going beyond for these kids. I know he didn't do this."
Sauceda also said she was angry "because, you know what, they didn't even call me, they let my daughter call me."
Eleven confirmed shootings had been investigated since Aug. 29, when three vehicles, including an unoccupied commercial tour bus, were struck by bullets on Interstate 10 near Phoenix within one hour of each other, according to the Arizona Department of Public Safety.

The most recent incidents were reported Thursday. Most of the impacts occurred along Interstate 10.
No one has been seriously hurt in the series of shootings, although a 13-year-old girl did suffer minor cuts from shattered glass.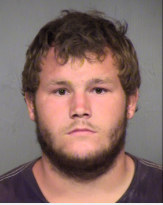 Three teens had been arrested earlier on suspicion of a copycat crime — slingshotting rocks at a vehicle.
A separate person of interest — 19-year-old Oscar De La Torre Munoz, of Avondale — was detained but police said he was not a prime suspect.
Authorities had posted a $50,000 reward for information leading to the arrest in the case. It was not immediately clear if it had played a role in Friday night's arrest.
Graves said drivers should still remain vigilant as the investigation continued.
"We're still connecting all the missing links here," he said.