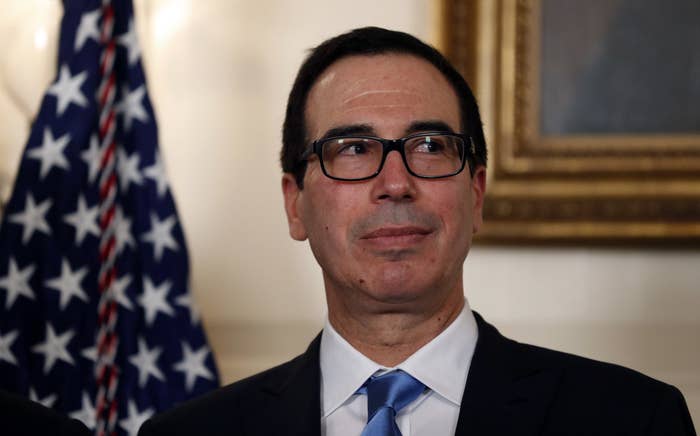 Treasury Secretary Steven Mnuchin on Saturday defended the president's response to the white supremacist violence in Charlottesville, Virginia. last week, telling his former Yale classmates that President Donald Trump was not equating liberal protesters to neo-Nazis or other white nationalist groups.
"I feel compelled to let you know that the President in no way, shape or form, believes that neo Nazi and other hate groups who endorse violence are equivalent to groups that demonstrate in peaceful and lawful ways," Mnuchin wrote to classmates in a public letter, responding to their calls for him to resign from the Trump administration.
Mnuchin's statement is in sharp contrast to the comments made by Donald Trump the day after the white supremacist rally in Virginia, where a counter-protester was killed. In his comments, Trump condemned "violence on many sides, on many sides."
Trump later condemned groups such as the KKK and white supremacists, but on Tuesday he double down on his earlier comments, telling reporters in a rambling press conference that white supremacists and neo-Nazis in Charlottesville had a permit to protest, and appearing to equate the counter-protesters with the racist ralliers in the city.
"You had a group on the other side that came charging without a permit and they were very, very violent," Trump said.
Mnuchin stood next to the Trump during the press conference, as the president lashed out at reporters asking him about his response to the Charlottesville rally.
The president's remarks sparked a flurry of backlash from both Democrats and Republicans. And on Friday, Mnuchin's fellow alumni from Yale University's class of 1985 asked him to resign his post as Trump's treasury secretary.
"We understand that graduates of Yale College have served the United States proudly as presidents, members of the cabinet, and in many other capacities since its founding, and that rarely, if ever have any of us made such a request of a classmate, whatever our differences in political opinion have been," Mnuchin's classmates wrote in a public letter. "We do so today because President Trump has declared himself a sympathizer with groups whose values are antithetical to those values we consider fundamental to our sacred honor as Americans."
Mnuchin responded Saturday with a statement condemning the violent actions at the rally and of those "filled with hate and with the intent to harm others."

Mnuchin did not specifically address the request for him to step down from the president's cabinet, but did state he was "proud to serve my country as the 77th Treasure Secretary."

"Our President deserves the opportunity to propose his agenda and to do so without the attempts by those who opposed him in the primaries, in the general election and beyond to distract the administration and the American people from these most important policy issues - jobs, economic growth, and national security," Mnuchin wrote. "I don't believe the allegations against the President are accurate, and I believe that having the highly talented men and women in our country surrounding the President in his administration should be reassuring to you and all the American people."