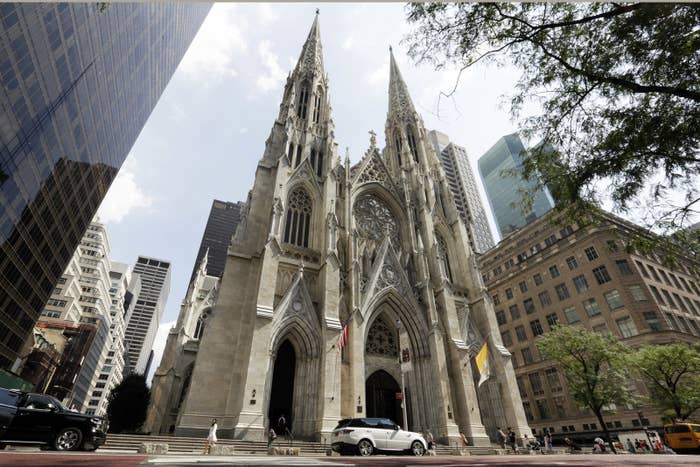 Marc Lamparello, a 37-year-old man from New Jersey, is being charged with attempted arson, trespassing, and reckless endangerment after he was arrested Wednesday night for carrying two canisters filled with gasoline, lighter fluid, and a pair of lighters into New York City's St. Patrick's Cathedral, police said.
A security guard at the historic Midtown church confronted Lamparello inside the building, which had worshipers inside at the time. The guard notified police officers stationed nearby, who took the suspect into custody as he attempted leave the area.

John Miller, the New York Police Department Deputy Commissioner of Intelligence and Counterterrorism, told reporters on Thursday morning that the incident "doesn't appear" to be related to a terrorist group or intentions of terrorism as of now.
Lamparello is accused of parking a minivan near the cathedral just before 8:00 p.m. Wednesday, Miller said. He allegedly walked around the area, then returned to the vehicle where he appeared to pick up the gas canisters, two lighter fluid cans, and two extended lighters.

"Along with the gasoline cans, he was in possession of two full bottles of lighter fluid, the kind of which you'd use for a grill at home, and two lighters," Miller said. "There is significant reason to doubt the veracity of his statements and his intent with those items seemed to be to set a fire."
When Lamparello entered the cathedral, he was immediately stopped by the security guard. The guard asked him where he was going, and told that he couldn't walk in carrying the flammable items.

Gas spilled on the floor of the church during the exchange, Miller said, and Lamparello walked away. The security guard flagged two officers, who then stopped him along Fifth Avenue for questioning.
Lamparello said he was cutting through the cathedral to get to Madison Avenue, and that his car had run out of gas. Officers later checked the minivan and determined that was untrue.
"His answers were inconsistent and evasive, although he remained conversational with them and cooperative," Miller said.

Miller told reporters Thursday morning that Lamparello had been previously arrested at Sacred Heart Cathedral in Newark, New Jersey, by the Essex County Sheriff's office on Monday night after refusing to leave the cathedral and resisting arrest.
The Essex County Sheriff's Office didn't immediately respond for comment.
Lamparello had also purchased a flight to Italy set to leave on Thursday evening before arriving at the St. Patrick's Cathedral in New York City, according to police.
The incident came two days after a massive fire tore through Notre Dame Cathedral in Paris, devastating the 700-year-old iconic landmark.

Like Notre Dame, the cathedral's ceiling also has a wood-framed attic.
St. Patrick's Cathedral, a New York City landmark, usually has an increased security presence but authorities had heightened it after the fire at Notre Dame, Miller said.