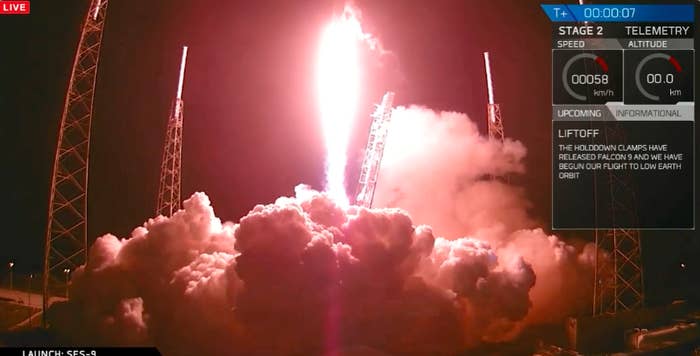 SpaceX launched a communications satellite into orbit Friday, but the rocket's experimental landing on an unmanned drone ship was not successful.
The space exploration company owned by business magnate Elon Musk has been working to land the unmanned rockets, something he was able to achieve in December.
The company, however, was unable to repeat the feat Friday evening after launching a Falcon 9 rocket from Cape Canaveral Air Force Station and put a communications satellite into orbit.
SpaceX live-streamed the entire mission online, but when it came time for the rocket to land on the "Of Course I Still Love You" drone ship, the video feed was lost.

A bright light is seen in the video just before the stream is lost.
In a statement released by the SpaceX before the launch, the company said it did not expect the landing to be successful.
The satellite, however, appeared to have detached according to plan.

The satellite is supposed to join six others in providing services to 20 nations in the Asia-Pacific region, according to SpaceX.