These California Communities Are Rebelling Against The State's Immigrant Sanctuary Law
Republican pockets in deep-blue California are siding with the Trump administration's lawsuit against a state law restricting local cooperation with immigration enforcement.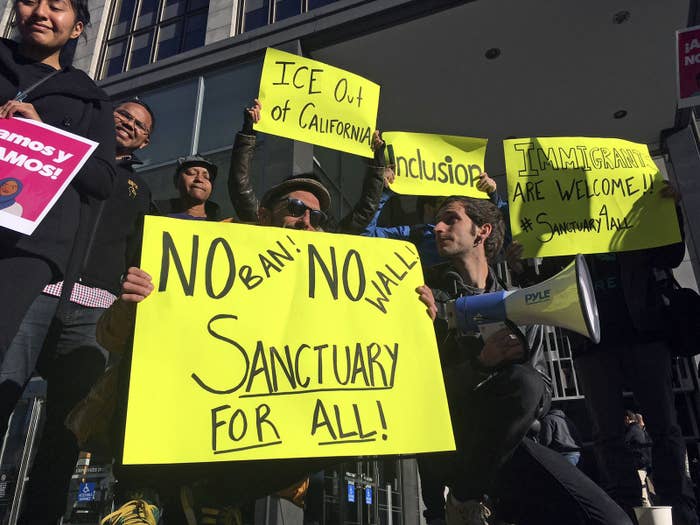 Communities across California are continuing to break rank with the state over its immigrant sanctuary law, siding with the Trump administration's lawsuit against state policies that limit local law enforcement cooperation with federal immigration agents.
On Tuesday, San Diego County became the latest local government in the deep-blue state to push back against Sacramento's efforts to resist the Trump administration's immigration crackdown. The county's all-Republican board of supervisors voted 3–1 to side with the Justice Department's suit against the state, and pledged to file an amicus brief in the case.
"We're talking about people who are crossing the border illegally, coming into this county and committing a crime and then being let loose probably to commit another crime," Supervisor Dianne Jacob told the San Diego Union-Tribune.
The decision comes amid a mounting conservative backlash against the state's Democratic leaders, including Gov. Jerry Brown, who have positioned California as a liberal bulwark against the Trump administration. In recent years, lawmakers in Sacramento have passed several measures designed to support the state's large immigrant population, including allowing residents to get drivers' licenses and in-state tuition regardless of legal status.
Last October, California officially became the country's largest sanctuary state, after Brown signed a law dramatically curtailing local law enforcement agencies' ability to cooperate with federal immigration agencies. The move — one of several immigrant-friendly measures adopted by state and city governments around the US — seemed at least partially motivated by Democrats' desire to take a defiant stance against Trump.
But since Attorney General Jeff Sessions announced last month that the Trump administration would challenge California's immigration policies in court, at least a dozen local governments have broken rank with Sacramento and voted to support the suit, or have voiced opposition to state policies in some other way.

The backlash sets up a surprising political contrast, revealing a persistent red streak in a state that has become increasingly blue. In addition to the governor's mansion, Democrats now hold majorities in the state assembly and state senate. In 2016, Hillary Clinton won California with more than 61%, including majorities in Orange County and San Diego County — two areas where local politicians have recently voted to support the Trump administration's fight against the state on the issue of immigration.
On Tuesday, Brown blasted opponents of the state's sanctuary state law, accusing them of using the issue as "an inflammatory football that very low-life politicians like to exploit."
"This is highly political, and I'm trying to not feed the fires of prejudice and fear, but enforce the law," Brown said during an appearance at the National Press Club in Washington, DC. "We have businesses and communities being disrupted. At the human, Christian level, we should act in a way that's not scoring political points."
Brown criticized both supporters and detractors of the sanctuary bill, accusing both sides of escalating the rhetoric around it, and noting that the measure does not curtail immigration enforcement as much as proponents and critics claim it does.
"California works with the immigration [agencies] all the time," Brown said. "But we do say we're not going to do the work of the federal government. Under the law, we're not required to. We're not interfering with it."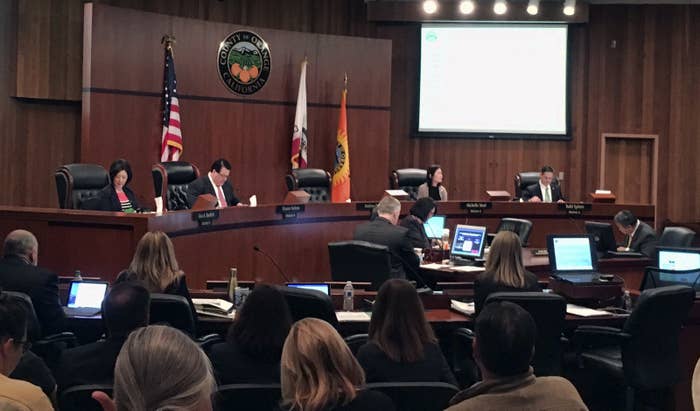 Immigration has been a hot-button issue for generations in California — a border state where 27% of the population is foreign-born. The Justice Department's lawsuit seems to have energized California conservatives, sparking a rebellion of sorts among local governments in Republican pockets that still dot the deep-blue state.

Orange County, once thought of as a Republican oasis in the middle of liberal Southern California, the all-Republican board of supervisors voted last month to join the Trump administration's suit.

"We cannot let the state begin cherry-picking which federal laws it decides to follow," Orange County Supervisor Michelle Steel said in a statement after the vote. "We all took oaths to uphold and defend the Constitution of the United States and bear true faith and allegiance to it against all enemies."
The city council in Los Alamitos voted Monday in favor of an ordinance stating the city would not follow SB-54, California's sanctuary bill. Officials in Huntington Beach plan to file their own lawsuit against the state, while the city of Fountain Valley plans to join the federal suit. Other Orange County cities, including San Juan Capistrano, Aliso Viejo, Mission Viejo, Yorba Linda, Newport Beach, and Orange, have also taken similar stances against the state's immigration laws.

Escondido, in San Diego County, has also joined the fray, voting in favor of filing a brief supporting the Justice Department's suit. Communities in Northern California have also taken up the cause: In Ripon, a city of about 15,000 residents about 70 miles south of Sacramento, officials decided in April to oppose the sanctuary law.
Trump himself noted the trend Wednesday, tweeting that "there is a Revolution going on in California."

"Soooo many Sanctuary areas want OUT of this ridiculous, crime infested & breeding concept," he wrote. "Jerry Brown is trying to back out of the National Guard at the Border, but the people of the State are not happy."

It is not clear what the president meant by "breeding concept," a phrase that, as CNN noted, has racial connotations and seems to dehumanize the immigrants Trump is referring to.
When asked about the recent moves by local governments Tuesday, Brown said he was not necessarily surprised by the action.

"California is a very diverse state," Brown told reporters Tuesday. "We have many different congressional districts and cities and they think differently, and some cities in Orange County don't see the world as San Francisco or Los Angeles might."
Brown also said that, should the lawsuits lead to arbitration, he would welcome some sort of compromise.
"America is being ripped apart and our communities are being ripped apart," he said. "It's a very dangerous world and it's time for more unity and less mindless division."