Slide Fire, The Biggest Maker Of Bump Stock Devices For Firearms, Said It Will Stop Taking Orders
The company's decision came about a month after the Department of Justice proposed a regulation that would ban the devices, which make semi-automatic rifles fire like automatic weapons.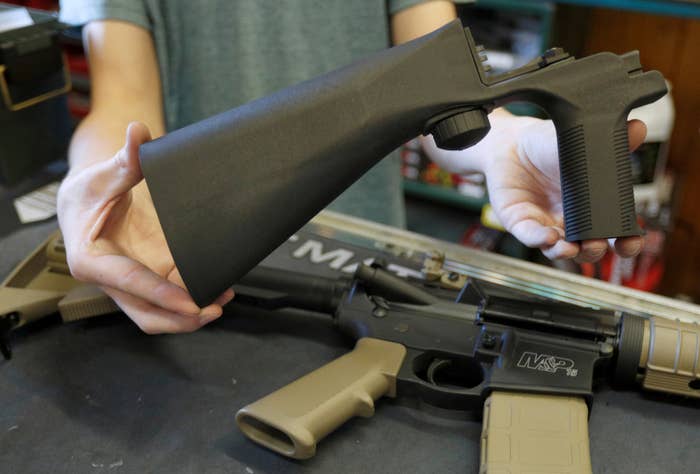 Slide Fire, the biggest maker of bump stock devices — which increase the firing speed of semi-automatic rifles so they fire like automatic weapons — announced that it will stop taking orders and is shutting down its website.
Slide Fire, based in the small town of Moran, Texas, says the last day to submit an order will be May 20, the same day the website goes offline, according to a message on the company's website Tuesday. It was unclear what the decision meant for Slide Fire's future, and a representative for the company did not immediately respond to a request for comment.


The announcement, however, comes nearly a month after the Department of Justice proposed a regulation that would effectively ban bump stocks, the same devices that were used by the Las Vegas shooter during the Oct. 1, 2017, mass shooting that left 58 people dead.
Bump stocks, firearm devices that were relatively unknown to most people other than gun enthusiasts, gained national attention after Oct. 1, 2017, when Stephen Paddock opened fire from his Mandalay Bay Resort and Casino suite on an open-air concert.
Although the devices make semi-automatic rifles fire nearly as fast as automatic weapons (which are banned), they were approved by the Bureau of Alcohol, Tobacco, Firearms and Explosives (ATF) in 2010.
The stocks use the same movement from the weapon's firing to repeatedly pull the trigger of the weapons, significantly speeding up the firing in a style known as "bump firing."
The ATF's decision in 2010 allowed the sale of the devices, sparking a new field in the firearms industry and quickly transforming Slide Fire into a multimillion-dollar company.
In eight years, the company and its founder, Jeremiah Cottle, quickly set out to become the sole maker and seller of the devices, suing other manufacturers for patent infringement and quickly becoming the biggest maker of the devices.
The company sold stocks that fit different rifles, including AR-15s and AK-47s.
In recent months, the company had also seemed to expand its products, including scopes, triggers, recoil enhancers, and other gun parts. However, it was unclear what the company planned to do moving forward.
CORRECTION
Stephen Paddock's name was misspelled in an earlier version of this post.