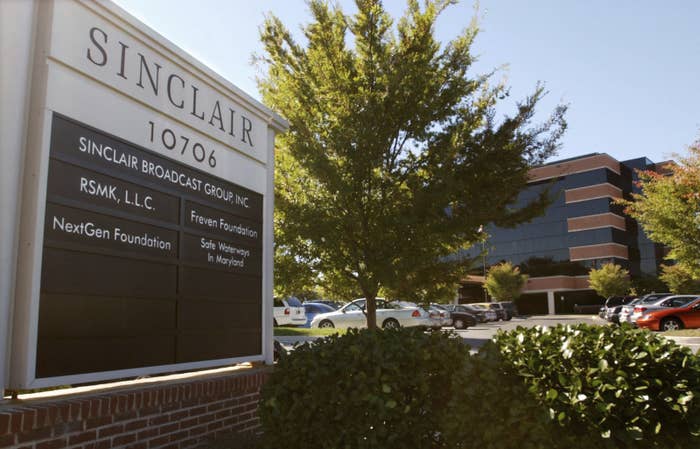 Media giant Sinclair Broadcasting Group is being sued for alleged sexual harassment, sex discrimination, and retaliation by three former employees at one of the company's newest ventures.
The suit, filed in Los Angeles against Sinclair and its mobile partner Circa, alleges the employees' supervisor called them "sweetheart," suggested women were not as smart as men, and stated that women weren't valuable to work with unless they were attractive.
The supervisor, Randall Sherman, also allegedly assessed whether the three women were "fuckable" or not while in front of other workers.
The lawsuit filed in December by former employees Jaclyn Mason, Richelle Meiss, and Rebecca Zak, comes as Sinclair Broadcast Group — a television giant known for its politically conservative leaning — works to complete a $3.9 billion purchase of Tribune Media Co.
Sinclair is the largest owner of television stations in the country, with nearly 200 stations from coast to coast. The company has been known to disseminate "must-run" news segments to its local stations that push right-leaning views. The segments have included terrorism-related news from around the world, an item suggesting people not vote for Hillary Clinton during the 2016 election, and a message from the company's vice president of news, Scott Livingston, accusing national media of publishing "fake news."
The three women were working as staff writers at Circa Laughs, a portal on Circa.com that was launched in September 2016 as a platform to showcase "irreverent, short-form segments about news, politics, celebrities, pop culture, and social trends that have been created by a young comedy talent."
Circa Laughs was being led by director and producer David Zucker, who directed and wrote the film Airplane! and created the Naked Gun and Scary Movie franchises. Zucker created Medio Pictures Partners, where Sherman was chief operating officer, according to the suit.
In the suit, the three women allege that Sinclair Broadcasting Group ignored sexual harassment claims from Circa.
The Hollywood Reporter first reported the lawsuit Tuesday and posted the complaint online.
In a statement provided to BuzzFeed News, Manny Fantis, head of content and branding at Circa, said, "Circa does not tolerate unprofessional behavior of any kind. The allegations in this case are against an external service provider, not a Sinclair employee, and we will take steps to ensure that no one, regardless of their relationship with the company, compromises the positive work environment that we support."
Sinclair Broadcasting Group and Circa have not responded to the complaint in court.
Sandra Falchetti, one of the attorneys representing the three women, told BuzzFeed News they will be looking to prove Sinclair Broadcasting was a "joint employer" of the women because of the company's relationship with Circa and Medio Pictures.
"As such, they bear some responsibility," Falchetti said.
Most of the allegations outlined in the suit are made against Sherman, who supervised the three women.

Sherman is accused of suggesting to Zak that they should "pose naked in various compromising positions," and at one point allegedly asked Meiss to orchestrate nude scenes, although Circa Laughs does not create that type of content.
The suit also claims that in another incident, Sherman held up his hand near a female writer's face during a meeting and said, "I only want to hear from the men."
Mason said in the suit that she complained about Sherman to Sinclair Broadcasting Group, which took a statement about her complaint. Medio Pictures Partners, according to the suit, also took a statement from her and other employees but the suit claims that no action was taken.
Zak was laid off in October and Meiss and Mason were told they would be let go by the end of 2017, according to the complaint.
The three women claim that the companies also intend to shut down Circa Laughs and begin a new comedy channel that "will only employ the male employees that currently work at the Circa Laughs portal."