Sheriffs, Police Chiefs Urge People To Arm Themselves In Wake Of San Bernardino Massacre
Law enforcement officials across the country are calling on citizens to carry weapons after the mass shooting that left 14 people dead in Southern California.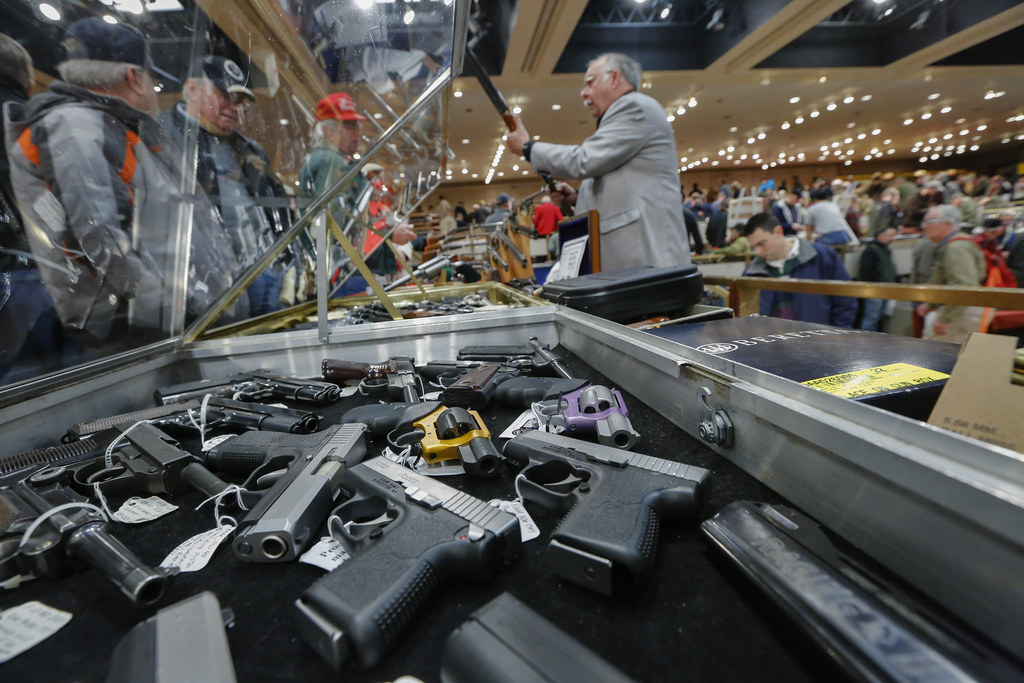 Just days after 14 people were killed in an attack in Southern California, some sheriffs and police chiefs are urging Americans to arm themselves, a request that has come from law enforcement officials across the country.
The call to arms is not a universal one, but the messages from law enforcement officials have spread quickly on social media as sales of firearms have spiked after the San Bernardino shooting.
"Like each of you, I've had enough of terrorists and others deciding to target US citizens because they want to make a statement," Brevard County Florida Sheriff Wayne Ivey said in a video message. "If you're a person who is legally licensed to carry a firearm, now is the time more than ever to realize you and you alone may be the first line of defense for you, your family, and others around you in a terrorist or active shooter scenario."
The requests have been mainly aimed to concealed-weapon permit holders, but at least one police chief called for "all my law-abiding citizens" to carry so if officers need help the public could respond "to our aid and rescue."
Officials from Maricopa County, Arizona, Lewis County, Washington, Ulster County, New York, and Hughes Springs, Texas, have made similar requests in the past week.
One of the first requests came from Ulster County, New York, Sheriff Paul J. Van Blarcum, who posted a message on Facebook the day after the San Bernardino shooting, which the FBI is now investigating as a terrorist attack.
"I urge you to responsibly take advantage of your legal right to carry a firearm," Van Blarcum wrote. "To ensure the safety of yourself and others, make sure you are comfortable and proficient with your weapon, and knowledgeable of the laws in New York State with regards to carrying a weapon and when it is legal to use it."
Hours later, Sheriff Mike Carpinelli of Lewis County, Washington, posted Van Blarcum's message on his Facebook page and said he urged his residents to do the same.
And on Monday, Sheriff Ivey asked members of the public who carry concealed weapons to be "proactively engage anyone who threatens harm through terrorism or mass killings."
"The only thing that stops a bad guy with a gun is a good guy with a gun," Ivey said in his video, before inviting residents to participate in active shooting training provided by his department. "This is about being able to defend and survive."
Despite the requests gaining traction on social media, the move to arm average citizens and encourage them to respond in dangerous scenarios has not gained support in larger law enforcement circles.
After Van Blarcum asked New York residents to arm themselves, the New York State Sheriffs' Association decided not to take a stance in the decision, instead pointing out that the Ulster County Sheriff "is answerable only to the People of Ulster County."
"The Sheriff's Association assists Sheriffs in their work but we do not undertake to tell any Sheriff what to do in his county," executive director Peter Kehoe said in a statement.
The National Sheriff's Association took a similar stance.
"Every sheriff is responsible to their local electorate," Executive Director Jonathan Thompson said in an e-mail to BuzzFeed News. "Each takes to suit their communities' needs."
While some concealed-weapon holders have been involved in stopping active shooting scenarios, a study by the FBI shows they were involved in only a fraction of the cases.
The FBI study, which looked at mass shootings from 2000 to 2013, showed that in the 160 mass shootings that took place during that time, unarmed civilians were more likely to intervene than those who were armed.
According to the report, unarmed civilians restrained the shooter during 21 mass shootings, or 13%, identified by the FBI.
Armed civilians intervened in five of the 160 mass shootings, the FBI reported, and the suspect committed suicide in one of those incidents.
That hasn't slowed the call to arms by some local law enforcement officials, however.
Hughes Springs, Texas, Police Chief Randy Kennedy took to YouTube after President Obama addressed the nation from the Oval Office Sunday, saying, "I didn't find his words encouraging at all."
Kennedy then asked all law-abiding citizens in his city to arm themselves, to obtain a concealed-weapon permit, and use it to protect themselves and help out law enforcement as well.
"As law enforcement, we can't protect every single one of you," Kennedy said in the video. "I'm asking you to help me secure and protect innocent lives within the continental United States."
Kennedy's video also included a message to President Obama, suggesting that, "You better review your history on the Constitution and understand we are a free people."
"If you try to disarm us, sir, you will cause a revolution in this country to occur, so please revise your thinking."
The chief's request for armed citizenry went a step further than his colleagues, suggesting that citizens should help his officers as well.
"I know that we in law enforcement do the very best we can to help our citizens, and we do a good job," he said. "But I know that if the tables were turned on either me or one of my officers, that I want one of my citizens, or a group of my citizens, coming to our aid and rescue."
Not all law enforcement agencies are encouraging the same response.
When FBI officials reached out to clergy after the deadly Charleston church shooting on June 17, the issue of concealed weapons often came up.
Special Agent in Charge Robert Brown of the South Carolina FBI office told BuzzFeed News in a previous interview the agency does not take a stance on the subject, but said that about 70 to 80% of shots fired by law enforcement during "adversarial confrontations" do not hit their target.
The data is revealing, he said, considering law enforcement officers must train repeatedly in their shooting. FBI agents, for example, must qualify in the shooting range four times a year.
"The likelihood of shooting an innocent person is high," Brown said regarding armed civilians.
That hasn't slowed down sales of guns after the shooting, however.
At a San Bernardino gun shop less than two miles from the scene of last week's massacre, CBS News reported a line of customers stretched out the door. And gun shop owners have reported spikes in sales since the shooting.
Desiree Pagliuso, a single mother of three, said she didn't own a gun before the mass shooting, but now she does.
"911 is not that quick a response," she told CBS. "And in 2.5 seconds they are not going to be there."