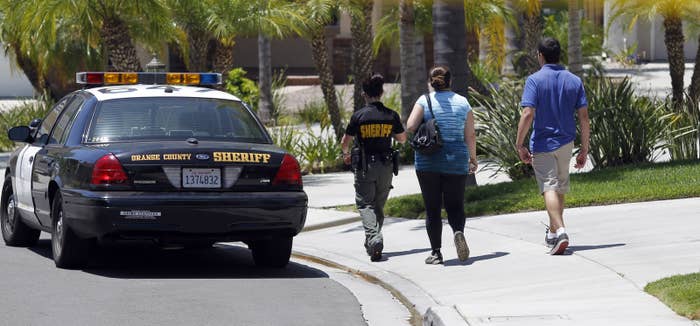 Sheriff officials in Orange County, California, have admitted that they wrongly identified the body of a man found dead outside a cell phone store, weeks after a funeral and burial were held for the wrong man.
On Saturday, the Orange County Sheriff's Department, which oversees the coroner's office, issued a statement saying the agency "extends regrets" to the family of 57-year-old Frank Kerrigan, who was identified as deceased on May 6, but is in fact alive.
The department said it has launched an internal investigation to find out what went wrong, including reviewing its policies and procedures for identifying the deceased.
The father of the misidentified man told the Orange County Register that he he was informed by the Orange County Coroner's office on May 6 that his son, Frank Kerrigan, was found dead outside of a Verizon store in Fountain Valley, California.
His son is homeless and suffers from mental illness.
The father, who is also named Frank Kerrigan, told the paper that the coroner's office told him his son had been identified from fingerprints and that they did not need him to make a visual identification of his son's body.
The family held a funeral on May 12, during which the elder Frank Kerrigan said he opened the casket but did not realize the body was not that of this son.
Less than two weeks after that, he received a call from a family friend who had encountered the younger Frank Kerrigan, and reported that he was very much alive.
Kerrigan's father confirmed to BuzzFeed News that he had retained an attorney to file a claim against the county for wrongly identifying his son. A claim is a typical precursor to a lawsuit against a public agency. He referred all further questions to his attorneys.
Attorney Brian Easton told BuzzFeed News he plans on filing a claim next week. If the city rejects it, he said he is fully prepared to move forward with a lawsuit.
"The father is really struggling with the situation," Easton told BuzzFeed News. "For 17 days they thought their son was dead. The family is out $20,000, if you don't count their pain and suffering."
The attorney said he will investigate the practice and procedures that led to this misidentification and whether they're different when trying to identify a homeless person.
Lt. Lane Lagaret of the Orange County Sheriff's Department declined to discuss details of the case when contacted by BuzzFeed News Saturday, citing the internal investigation and pending legal case against the department.

It was not immediately clear whether the county has identified the man who was wrongly buried as Kerrigan.