Sheriff's Sign Declares County "Politically Incorrect"
"We say Merry Christmas, God Bless America and In God We trust We salute our troops and our flag. If this offends you...Leave !"
A sheriff in Georgia this week posted a sign in front of his office declaring his entire county "politically incorrect."
Harris County Sheriff Mike Jolley told the Ledger Enquirer he paid $553 out of his own pocket to have the sign installed in front of his offices to "stir people's belief and patriotism."
The sign reads: "Harris County is politically incorrect. We say Merry Christmas, God Bless America and In God We trust We salute our troops and our flag. If this offends you...Leave !"
Jolley — who has served as sheriff of Harris County, a community of about 33,000, for six consecutive terms — told the paper he believes the sign is consistent with the sentiments held by a "silent majority" of residents.
The sign and wording may be somewhat familiar.
A similar sign outside an Ohio bakery also caught the eye of local and national news outlets. The sign for Schuler's Bakery in Springfield, Ohio, encouraged people to leave if they felt uncomfortable with "politically incorrect" statements.
Posts with similar phrasing have also been disseminated over social media as the holidays near.
The original picture of Sheriff Jolley standing next to the sign, posted by the company he hired to make it, has garnered more than 1,400 likes and more than 360 comments on Facebook, many of which are in support.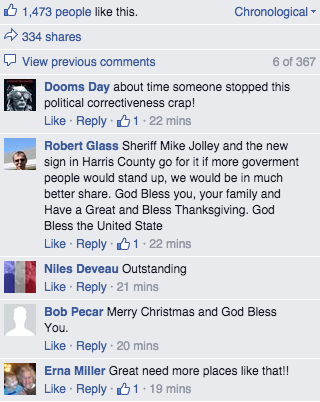 Others, however, were upset about the sign being posted in public property, as well as religious beliefs being touted in public property by the sheriff.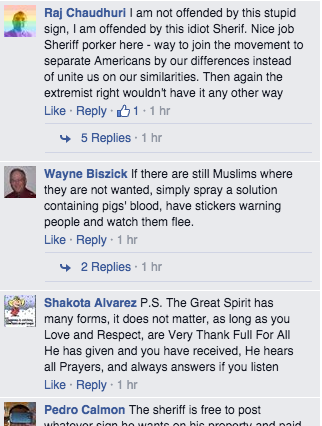 Jolley told WLTZ he's received hundreds of messages in support of the sign, as well as donations from people in the community who wanted to help cover the cost of the sign, and pay for others planned for their own homes.
"I spent 20 years in the army to give everyone the right not to agree with it if they want," Jolley told the television station.
Reuters reported that the American Civil Liberties Union in Georgia is exploring a possible issue with separation of church and state.
However, Jolley said that if a judge ordered him to take the sign down, he would simply place on private property.
Asked by the Ledger-Enquirer if any of his 75-employees — who might not be Christian — felt uncomfortable about the sign or his views, Jolley said they can worship "whatever God they choose fit."
"For me and mine, we worship Jesus Christ."