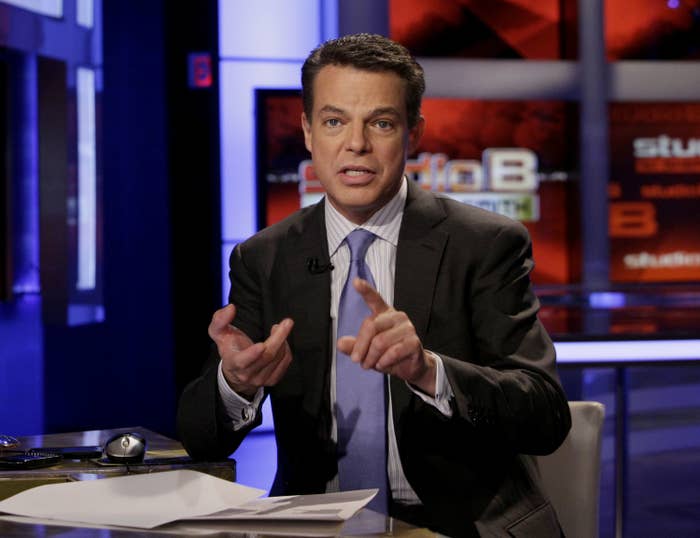 Shepard Smith, the longtime chief news anchor and one of the lone voices of fact-checking and objectivity at Fox News, a cable network dominated by its opinion hosts, announced Friday he is leaving the media company.
"This is my last broadcast here," Smith said in a surprise resignation at the end of his Friday broadcast. "Recently, I asked the company to allow me to leave Fox News. After requesting that I stay, they obliged."
Smith said he would not be reporting for another network "at least in the near future."
While many of Fox News' opinion hosts have become cheerleaders and supporters of the Donald Trump administration, Smith had been critical at times of the president and his policies. He occasionally devoted time in his newscasts to fact-checking statements from Trump and officials in his administration.
Smith often drew praise and criticism for debunking unsupported assertions made by the administration. Recently, he took the time to call out conspiracy theories and false statements touted by the network's primetime commentators.
But Smith also caught the ire of President Trump, a frequent viewer of the cable news channel, by calling out lies and baseless theories touted by the president. Smith debunked claims that the FBI had been "spying" on Trump's campaign, detailed why the investigation into Russian interference in the 2016 election was not a "witch hunt," and had recently reported on the legal concerns over the president's call with his Ukrainian counterpart where he asked the foreign leader to investigate his political rival Joe Biden.
In campaign rallies in Minnesota and Louisiana this week, Trump listed off his favorite Fox News anchors, notably leaving out Smith, the most prominent figure in Fox's news programming.
In an apparent swipe Friday, Trump asked reporters at the White House if Smith was leaving "for bad ratings."
Then followed with, "I wish Shepard Smith well."
Smith's sudden departure appeared to have caught others at Fox News by surprise, including his colleague Neil Cavuto, who was speechless just seconds after Smith's final sign-off.

"Like you, I'm a little stunned and a little heartbroken," Cavuto said on his program. "Wow. I don't know. A better newsman you probably cannot find."
Fox's White House correspondent, John Roberts, also appeared to be shocked by Smith's announcement, likening the news to being "hit by a subway train."
Smith has been a central figure of Fox News' reporting since the network's inception. He was one of its original hires and has served as managing editor for the organization's breaking news unit for the past 23 years.
"Shep is one of the premier newscasters of his generation and his extraordinary body of work is among the finest journalism in the industry," Jay Wallace, president and executive editor of Fox News Media, said in a statement.
Recently, Smith engaged in a public spat with Fox News commentator Tucker Carlson in a rare display of division between the network's news programming and opinion hosts.

In late September, Smith interviewed Fox News legal analyst Andrew Napolitano regarding Trump's call to Ukraine's president that is now at the center of impeachment proceedings. During the segment, Napolitano criticized the phone call and said Trump's actions were "criminal and impeachable."
Hours later, Carlson hosted attorney Joseph diGenova, a Trump supporter, and the two men criticized Smith's segment, calling it "partisan." DiGenova went on to call Napolitano "a fool."
Smith responded the following day, calling the comments "repugnant" and listing a series of other legal experts who had been asked to weigh in on the president's Ukraine call and also found it legally troubling.
"Attacking our colleague — who is here to offer legal assessments on our air, in our work home — is repugnant," Smith said.
Neither Smith nor Fox News offered an explanation to why the longtime anchor had decided to leave the network. Smith renewed a multiyear contract with the Fox in spring 2018.
A spokesperson for Fox News would not comment on Smith's contract, but said anchors Jon Scott and Trace Gallagher would temporarily fill in as hosts of Smith's daily program. Shepard Smith Reporting will remain a news program, the spokesperson said, but will be renamed Fox News Reporting.
In his goodbye, Smith thanked the network for the opportunities it afforded him and pointed toward the politically polarized world of cable news, of which he often found himself at the center.
"Even in our currently polarized nation, it's my hope that the facts will win the day, that truth will always matter, that journalism and journalists will thrive," he said.