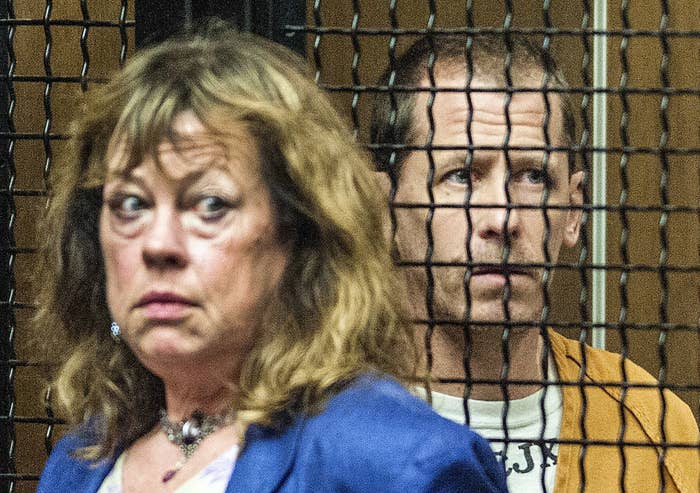 A convicted sex offender was found guilty Thursday of killing four women in Southern California, then disposing the bodies while he was under GPS surveillance.
Steven Dean Gordon is eligible for the death penalty after a jury also found the 47-year-old kidnapped the four women before the killings. A jury deliberated for about an hour before issuing the verdict, the Associated Press reported.
Gordon was charged along with 30-year-old Franc Cano in the killings, a convicted sex offender as well who, like Gordon, was also wearing a GPS ankle bracelet at the time of the killings as one of the conditions for their release at the time.
The killings of the four women from Santa Ana, all of who were believed to have been involved in prostitution, went unnoticed for months until the body of 21-year-old Jarrae Nykkole Estepp was found in March 2014 at a recycling center in Anaheim.
Authorities believe the killing and rape of Estepp, as well as 20-year-old Kianna Jackson, 34-year-old Josephine Monique Vargas, and 28-year-old Martha Anaya, occurred sometime in late 2013 and early 2014.
Both men were wearing GPS ankle bracelets under the terms of their parole and probation, but did not raise suspicions among law enforcement until police began probing Estepp's death.
The two were also living in an RV parked in a commercial area in Anaheim. Both men were prohibited from living or being near other felons.
Investigators allege the two men picked up the women from Santa Ana and took them back to the RV, where they were raped and killed.
After his arrest, Gordon confessed to investigators about his role in the killings. The confession was played in court for jurors, the AP reported.
Franc Cano, who has pleaded not guilty to four counts of rape and murder, is scheduled to appear in court Dec. 29.