Violence broke out Tuesday during a protest in front of the Turkish Embassy in Washington, DC, leaving at least 12 people injured in what quickly turned into an all-out brawl that allegedly involved Turkish President Recep Tayyip Erdogan's security staff.

The State Department on Wednesday confirmed that Turkish security personnel were involved in the altercation, which erupted after Erdogan met with President Trump at the White House.

Pro- and anti-Erdogan protesters were gathered outside the embassy when men in black suits were seen attacking demonstrators. Some of the people involved in the fight included Erdogan's guards, NBC News and Voice of America reported.
Four days after the incident, Turkey's official press agency, Andalou Agency, provided a version of the events where they admitted the president's security detail and Turkish police were involved in the attack.

However, the agency — that is widely perceived as pro-government — blamed the protesters for initiating the attack against Erdogan supporters and accused DC police of not taking appropriate action. The agency said that the president's security guards and Turkish police "stepped in" to stop the "riot" they claimed was started by anti-Erdogan protesters.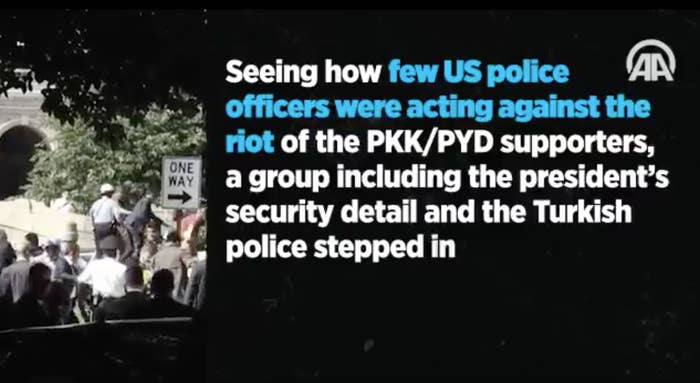 In a letter to Erdogan on Thursday, senators Diane Feinstein and John McCain expressed their "grave concern with the behavior of some members of your security detail outside of the Turkish Ambassador's residence in Washington, D.C."

"The violent response of your security detail to peaceful protestors is wholly unacceptable and, unfortunately, reflective of your government's treatment of the press, ethnic minority groups and political opponents," the senators wrote.

The letter called on Erdogan to hold members of his security detail accountable for attacking the protesters.

"The actions of your staff violate the constitutional protections of freedom of the press and freedom of assembly enjoyed by all Americans," the letter said.

The State Department on Wednesday expressed its concern of "the violent incidents involving protestors and Turkish security personnel Tuesday evening."

"Violence is never an appropriate response to free speech, and we support the rights of people everywhere to free expression and peaceful protest," a State Dept. spokesperson said in a statement.

The State Department added that it was "communicating our concern to the Turkish government in the strongest possible terms."
The Turkish Embassy, meanwhile, released a statement blamed the violence on demonstrators who "began aggressively provoking" Turkish-American citizens who had assembled to greet Erdogan. The demonstrators, embassy officials said, were affiliated the PKK, a left-wing political group designated by Turkey as a terrorist organization.
"We hope that, in the future, appropriate measures will be taken to ensure that similar provocative actions causing harm and violence do not occur," the embassy added.
Despite the Trump administration's desire to smooth over US relations with Turkey's mercurial leader, who is at odds with Washington over a range of issues, a US official told BuzzFeed News on Wednesday that the State Department is "cooperating fully" with DC police and the Secret Service to "identify and hold accountable all those involved in this incident."
It remains unclear if the Turkish security personnel who appear to be pictured in the video footage enjoy diplomatic immunity or other protections that would shield them from charges in the United States.
The Metropolitan Police Department told BuzzFeed News that two people were arrested after the incident. Ayten Necemi, 49, of Woodside, New York, was arrested for aggravated assault and Jalal Kheirabaoi of Fairfax, Virginia, was arrested for assault on a police officer, police said Wednesday.
At a news conference on Wednesday, DC Police Chief Peter Newsham would not confirm if Erdogan's guards were involved in the brawl, but said that police had a conversation with the State Department about potential diplomatic immunity issues.

Newsham said that some of the people involved in the altercation were carrying firearms and police were working to determine if they were allowed. He said that police "had a fairly good understanding of many of the people involved in the assaults."

In a statement, DC police said they had "every intention to pursue charges against the other individuals involved" in the altercation.

"The actions seen outside the Turkish Embassy yesterday stand in contrast to the First Amendment rights and principles we work tirelessly to protect each and every day," police said, adding that they are working with the State Department and the Secret Service to "identify and hold all subjects accountable for their involvement in the altercation."

In a statement Wednesday, DC Mayor Muriel Bowser condemned the "violent attack on a peaceful demonstration," calling it "an affront to DC values and our rights as Americans."

Chief Newsham said that there were two separate groups of people with "different views on a particular issue" and that police were working to determine what started the altercation.
Video footage showed multiple people trading punches in front of the Turkish Embassy, including several men who were dressed in black suits. Some of the men were seen kicking people as they lay on the ground. A Turkish state news agency blamed the incident on local police's "inadequate" response, the Washington Post reported.

Among the12 people injured was one police officer, officials said Wednesday. They were treated and released from the hospital.



DC police could be seen trying to separate people during the fights.
A victim identified in the police arrest report, Ceren Borzan, alleged on Facebook that one of the Turkish security guards put her in a headlock and threatened to kill her during the protest.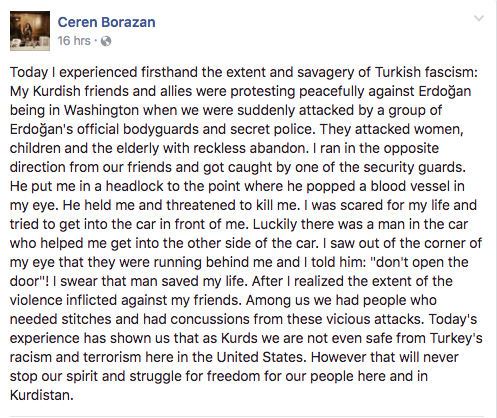 In a Facebook post, Borazan said she and her Kurdish friends and allies were "peacefully protesting" outside the embassy "when we were suddenly attacked by a group of Erdogan's official bodyguards and secret police."

"They attacked women, children and elderly with reckless abandon," Borazan wrote.

She alleged that one of Turkish security guards caught her and "put me in a headlock to the point where he popped a blood vessel in my eye."

"He held me and threatened to kill me," Borazan wrote.

Borazan and others online shared a photo that appeared to show her being held by a man in a black suit. The men in suits were reported to be Erdogan's guards.
According to the arrest report, Borazan was "one of several victims who was thrown on to the ground and kicked." In the report listing Borazan as a victim, her alleged assailant was identified as Ayten Necmi, a New York resident.

Borazan also uploaded a video which purported to show a bleeding protester, saying he and others were attacked while peacefully demonstrating outside the embassy. "This is America, you cannot do that," the man said. "We have every right to protest anyone. Even we can protest our president Donald Trump."
Borazan described the harrowing ordeal in an interview with BuzzFeed News here.
Multiple DC council members did not immediately respond to requests for comment.
The Washington Post reported Erdogan was not at the embassy when the fight broke out and is staying at Blair House across from the White House during his visit.
In a statement, the Secret Service said one of its missions is to provide protection to world leaders during their visits to the United States, but that is also "fully respects individuals' First Amendment Right to free speech and the right to peacefully protest."
"We will continue to work with our partners at MPD and the State Department to aggressively pursue accountability for those involved in yesterday's protests," the agency added.
Tuesday's violence was not the first incident sparked during a visit by the Turkish president in DC.
In 2016, journalists and protesters were also harassed by Turkish security outside the Brookings Institute, where Erdogan was scheduled to speak.
CORRECTION
Two people were arrested after violence broke out in front of the Turkish Embassy Tuesday night. A previous version of this story incorrectly stated the number of arrests.