Sarah Sanders "Can't Guarantee" Trump Wasn't Recorded Saying The N-Word
"I can't guarantee anything, but I can tell you that the president addressed this question directly," the White House press secretary said. "I can tell you that I've never heard it."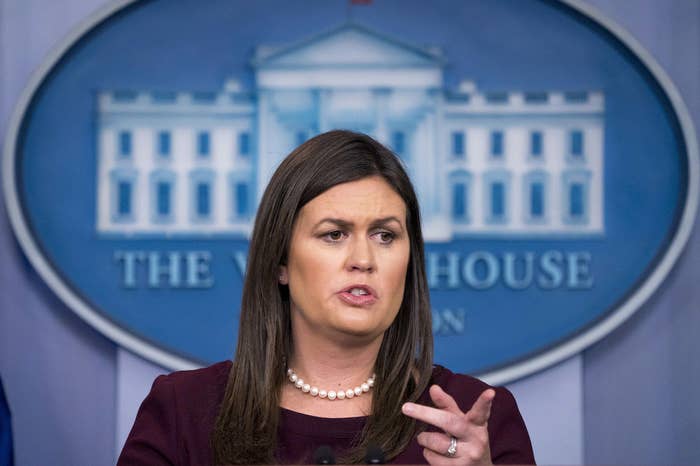 White House press secretary Sarah Huckabee Sanders told reporters Tuesday that she "can't guarantee" Americans will never hear President Trump saying the n-word in a recording.
Sanders made the statement as the White House continues to fight back against a list of allegations from former White House aide Omarosa Manigault Newman, including claims that there are recordings of Trump saying the racial epithet during outtake recordings of the reality TV show The Apprentice.
Sanders defended the president by pointing at unemployment numbers and his record as a businessperson who dealt with people of all backgrounds.
But when a reporter asked if she could guarantee Americans would never hear Trump utter the n-word, either in a recording [or] in any context, she said she couldn't.
"I can't guarantee anything, but I can tell you that the president addressed this question directly," Sanders said. "I can tell you that I've never heard it."
Sanders also pointed out, "I haven't been in every single room."

Manigault Newman has been promoting her new book Unhinged, in which she calls Trump a racist and accuses the former reality TV star of using the n-word.
She has also been releasing a series of recordings that she made during her time at the White House, which has prompted Trump and his supporters to go on the offensive.
Trump has responded to the allegations via Twitter, saying that he was called by Mark Burnett, a producer of the reality show, and told that there were "NO TAPES."
The president also added that he doesn't "have that word in my vocabulary."
In an early morning tweet, Trump referred to Manigault Newman, at one point one of his administration's most prominent African American White House staffers, as a "dog."
Asked about his choice of words in going after Manigault Newman, Sanders said the president was "voicing his frustration with the fact that this person has shown a complete lack of integrity, particularly by the actions following her time in the White House."
She was also asked about Trump's pattern of going after black critics, including black athletes who have been protesting racial injustice.
In addition to calling Manigault Newman a "dog," Trump has referred to California Rep. Maxine Waters as a "low IQ" person, and referred to both CNN anchor Don Lemon and NBA star LeBron James as dumb.
"This has nothing to do with race and everything to do with the president calling out someone's lack of integrity," Sanders said. "The fact is the president is an equal opportunity person who calls things as he sees them. He always fights fire with fire."
Sanders called Manigault Newman's allegations outrageous and laid the blame on reporters for giving her a platform.
"I think, like most people that worked with her, very disappointed that she would go to such a self-serving...and somebody who blatantly cares more about herself than our country to make up some of these outrageous claims and accusations," she said.
The Trump campaign has since filed an arbitration against Manigault Newman for allegedly breaching her nondisclosure agreement with the 2016 campaign.
Sanders would not say if the White House would take similar action.