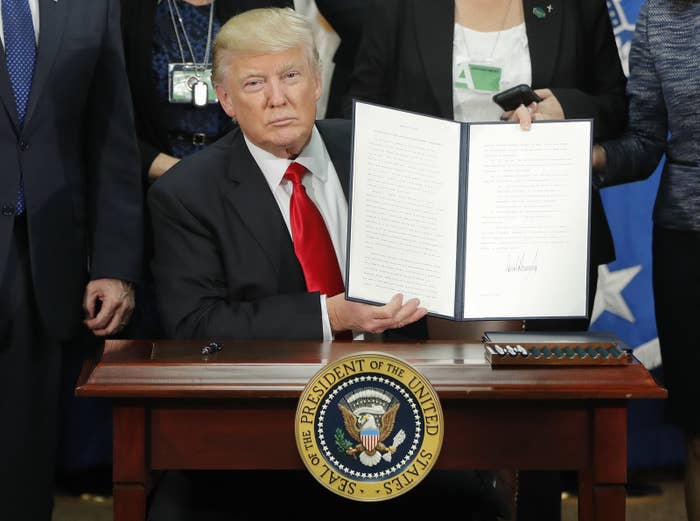 Mayors across the country seemed poised to defy President Donald Trump's executive order Wednesday to crack down on so-called sanctuary cities, vowing to take the White House to court if federal funding is withheld as a result.
Public officials supportive of sanctuary cities quickly responded to Trump's immigration executive orders, signaling that the new White House could be facing legal and political challenges from state and local governments as it looks to fulfill some of the promises that were repeated along the campaign trail, including building a wall in the southern border and doing away with sanctuary cities.
California legislators and New York's attorney general threatened immediate legal action just minutes after Trump signed an executive order to withhold federal funding from major cities, calling the actions unconstitutional.
Mayors of cities said they were prepared to forgo federal monies instead of making their local police enforce federal immigration policies, which they said alienates immigrants from law enforcement and makes fighting local crime much harder.
"We will not spend a cent or lift a finger to help his actions," Kevin de León, California state senator and majority leader said at a press conference. "If the new president wants to wage a campaign of fear against innocent families, he can count us out."
In California, where several cities have adopted policies that prevent local law enforcement from enforcing federal immigration laws, lawmakers have also hired former Attorney General Eric Holder in what they see as a potential clash with the Trump administration.

Los Angeles Mayor Eric Garcetti in a statement challenged the notion that sanctuary cities do not cooperate with federal law enforcement, and said officials contact immigration officials in cases involving serious crimes.
"What we don't do is ask local police officers to enforce federal immigration laws," Garcetti said. "Everyone in L.A. should feel safe stepping forward if they have witnessed a crime or been victimized themselves - and immigration status shouldn't interfere with the cooperation and partnership we need to keep our neighborhoods safe."
Mayors of Oakland, San Francisco San Jose and Berkeley issued a joint statement against the executive orders, calling them "morally bankrupt" and stating they would continue to be sanctuary cities for undocumented immigrants.
Phoenix Mayor Greg Stanton issued a statement calling Trump's actions a "divisive attack on Latinos" and vowed to fight the executive over. He said the city would continue its practice not to involve the police department in immigration laws.
"The president's executive orders will not make us safer, but instead will incite fear and chaos for Latinos and immigrants alike," Stanton said. "We will fight the federal government's attempt to turn the Phoenix Police Department into a mass deportation force."

Mayors from Jersey City, Newark, Portland and Philadelphia also promised to maintain their status as sanctuary cities despite the executive orders.
Other states, like Trump's home state of New York, quickly issued strong statements threatening legal action.
New York Attorney General Eric T. Schneiderman called the orders "unconstitutional," and urged Trump to revoke the orders.
"If he does not, I will do everything in my power to fight it," he said in a statement.
New York Mayor Bill de Blasio criticized the executive order calling it vague and an attempt to undermine the work of local law enforcement which has worked to develop trust among immigrant communities.
After signing the executive orders, Trump cited increased crime as part of the reason to crack down on sanctuary cities. Though so-called sanctuary cities prevent local law enforcement from enforcing immigration laws, the cities do detain suspects arrested for certain serious and violent crimes.
Supporters argue that keeping law enforcement from enforcing immigration laws ensures that immigrant communities cooperate and engage with local police to keep crime down.
"We're not going to undermine the progress that the NYPD has made in a quarter of a century," de Blasio said. If the federal government takes any action based on the executive order, de Blasio said the city would challenge the White House in court "the next hour."
"We believe we are on solid ground for a legal challenge to the executive order should the occasion arise," he said.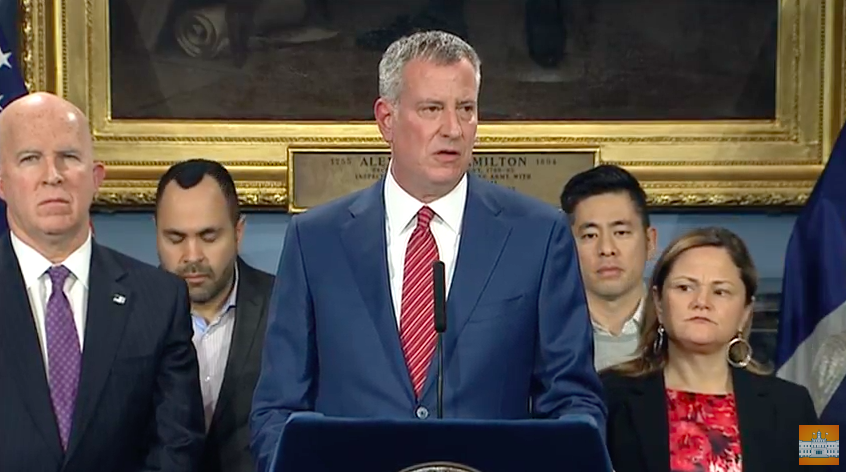 District of Columbia Mayor Muriel Bowser criticized the orders and said that, while Washington, DC, is still unsure what kind of impact it could face or what action the district would take, the orders were "worrisome."
"We believe that having DC residents afraid to call police or call our government makes us less safe," Bowser said. "I will not let the residents of DC live in fear," she added. "The District is and will continue to be a sanctuary city."
Seattle Mayor Ed Murray said the city would rather forgo federal funding, calling Trump's executive actions "the darkest day in immigration history in America since the internment of Japanese Americans in the Second World War."
"We believe we have the rule of law and the courts on our side," Murray said.
Because of the order, Murray said he had asked his staff to "re-prioritize budgets" for possible budget cuts.
"We will not be intimidated by federal dollars and we will not be intimidated by the authoritative message from this administration," Murray said.
in Boston, Mayor Martin J. Walsh attacked the orders and said the city "will not retreat one inch."
Walsh said immigrants would remain "safe in Boston" and he would use his power as mayor to protect all Boston residents, "even if that means using City Hall itself as a last resort."