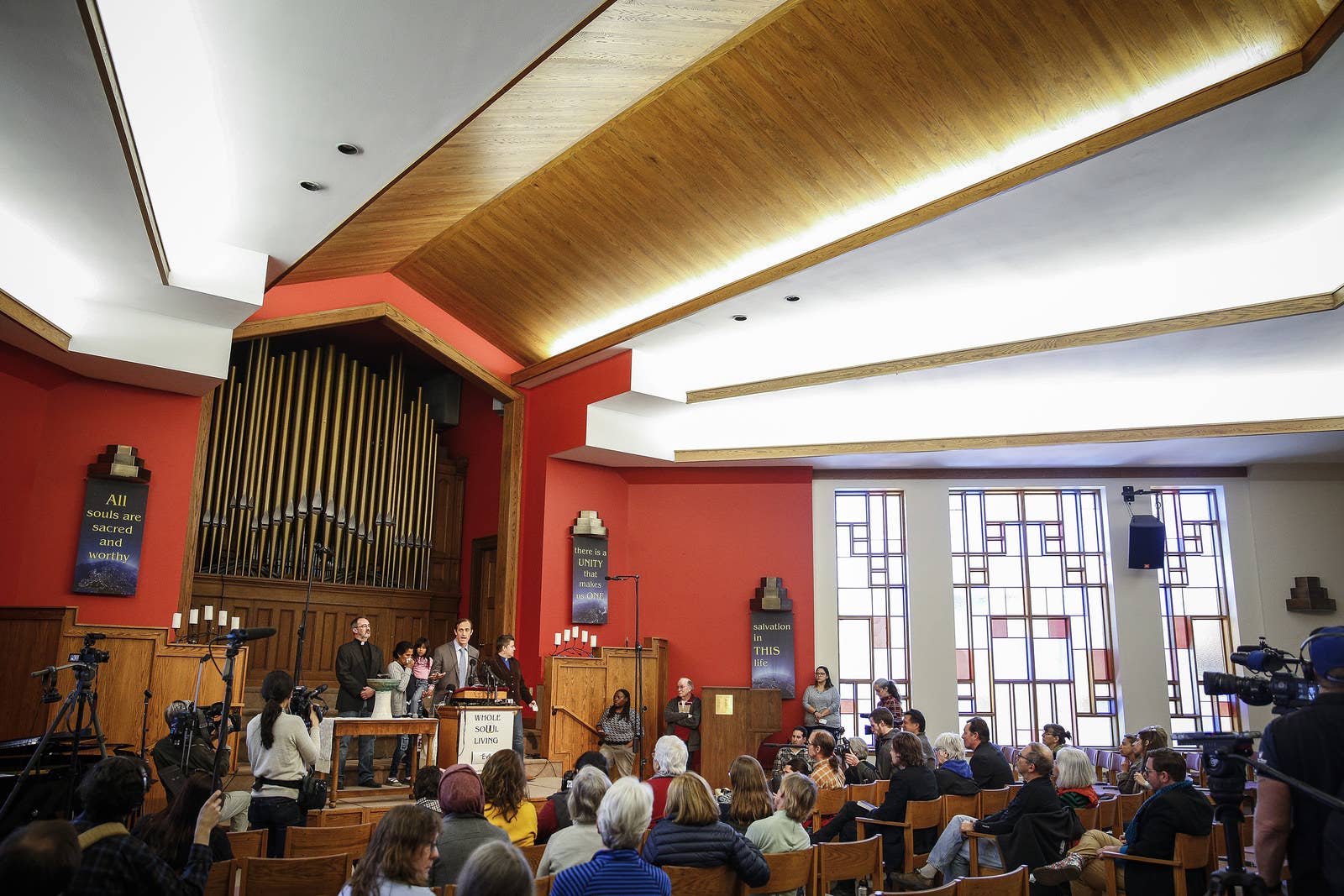 Churches across the US are fighting back against the Trump administration's mandate to ramp up deportations with new sanctuary practices of their own, using private homes in their congregations as shelter and potentially creating a modern-day underground railroad to ferry undocumented immigrants from house to house or into Canada.
Church leaders from California to Illinois and New York told BuzzFeed News they're willing to take their sanctuary operations for undocumented immigrants underground should federal immigration authorities, emboldened by Trump's recent directives to take a harder line on deportations, ignore precedent and raid their campuses.
"We're willing to take that risk because it is our call to justice, and this is how we live our faith," Rev. Justo Gonzalez II, pastor of Pilgrim St. Luke's in Buffalo, told BuzzFeed News. He leads one of the churches that has reached out to an organization in Canada to possibly take in undocumented families.
"I really feel like what we're doing is what God would want us to do."
Gonzalez knows they are stepping into legally murky territory, especially when it comes to possibly smuggling immigrants into Canada, but he said attorneys in his congregation have agreed to help them pro bono if they find themselves in hot water.
"I'm thrilled that we're establishing a cross-border [link] into another country, so we could support people finding places they are welcome in because, frankly, this administration is not the place," Gonzalez said.
LA Voice in Los Angeles, an interfaith organization that is also working on a network of churches to provide sanctuary to undocumented immigrants, has also considered connecting with Canadian groups if the need arises, officials said. The group is also working with about 200 places of worship to provide sanctuary in the region.
Given the choice to risk deportation or stay together, some families may opt to head to Canada to stay together, LA Voice officials told BuzzFeed News.
"I really feel like what we're doing is what God would want us to do," Rev. Zach Hoover, executive director for LA Voice, said.
The group is willing to not only to take undocumented immigrants, but to hide them in housing provided by their network of churches, mosques, and synagogues across Southern California. Hoover admits it's a legal gray area and doesn't discount the possibility of the federal government targeting groups like his in the future.
Still, he says his faith and that of other religious leaders makes it an easier decision to make.
"When you die, the question is not 'Did you follow the government?' and then you're allowed into heaven," he said. "It's 'Did you care for your neighbor?'"
Despite repeated assurances by senior Trump administration officials that US Immigration and Customs Enforcement will continue to focus on those living illegally in the country with criminal records or who pose a threat to public safety, many congregations are skeptical. President Trump's recent executive orders on immigration and two Department of Homeland Security memos abandon Obama-era mandates to only focus on criminals for deportation, and instead put nearly every undocumented immigrant at risk of deportation for something as minor as a traffic ticket.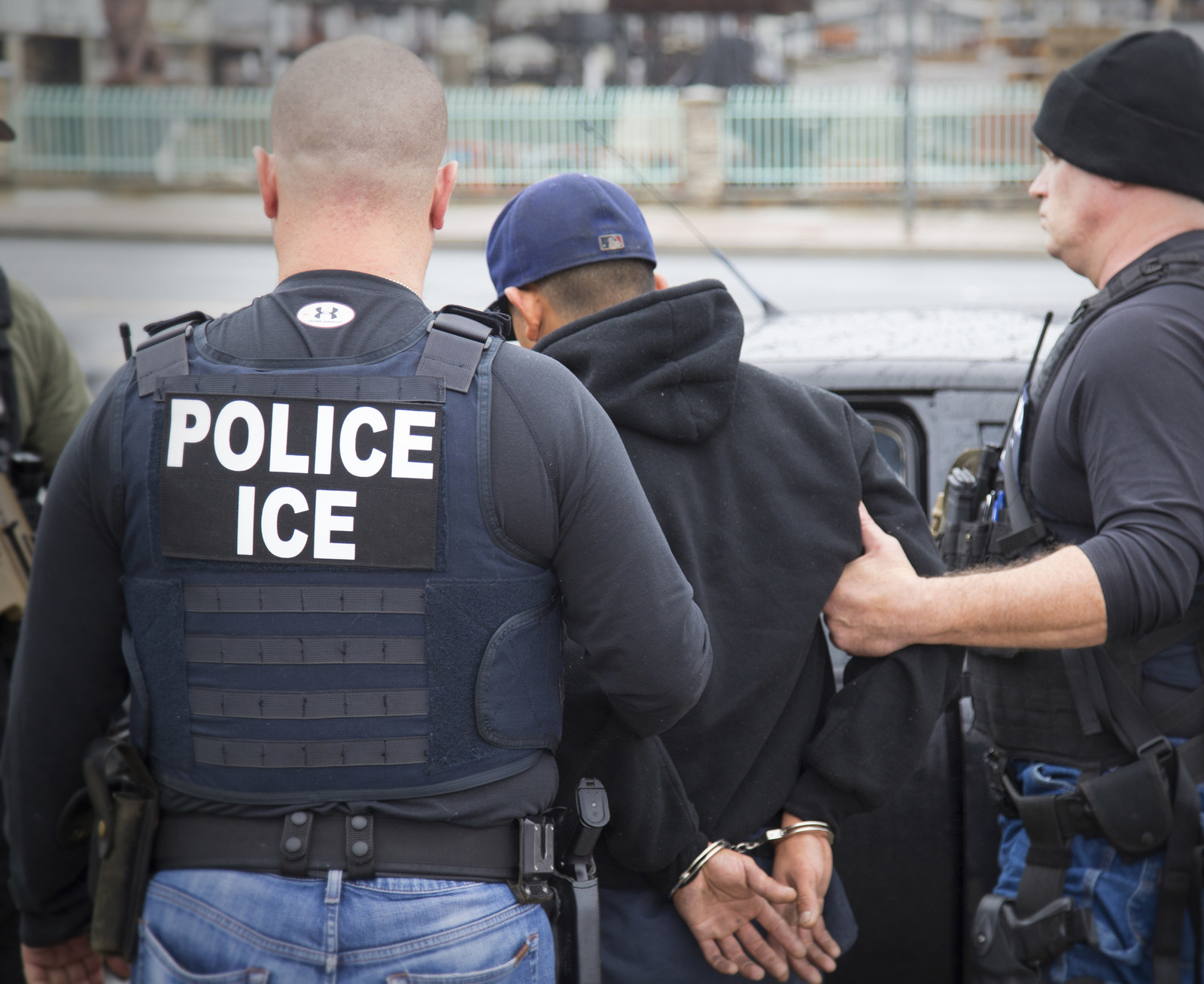 Recent ICE raids in cities across the nation that rounded up hundreds of undocumented immigrants also raised ire, even though officials insisted they were routine and planned before Trump took office.
Trump has also taken a combative stance with local jurisdictions that have enacted sanctuary-type policies limiting cooperation with immigration authorities, threatening to yank federal funds in response.

Rev. Beth Brown of Lincoln Park Presbyterian Church in Chicago, Illinois, said she hopes the potential public fallout from ICE agents raiding churches will keep them from doing so; her church may also decide to shift into a less public underground network that could move undocumented immigrants from church to church or into homes to keep them out of reach of federal officials.
ICE lists churches as "sensitive locations" that should be avoided unless circumstances require immediate action, or if there is prior approval from a site supervisor. And in a statement to BuzzFeed News, ICE spokeswoman Sarah Rodriguez said the agency's sensitive locations policy remains in effect.
But clergy leaders BuzzFeed News spoke to aren't counting on it.
"There is some question about whether this sanctuary movement is going to continue being that public, or if the sanctuary movement is going to go more underground," Brown said. "That stems from concern that under this administration, the same expectations that ICE would not go into sensitive locations may or may not be the same under this administration."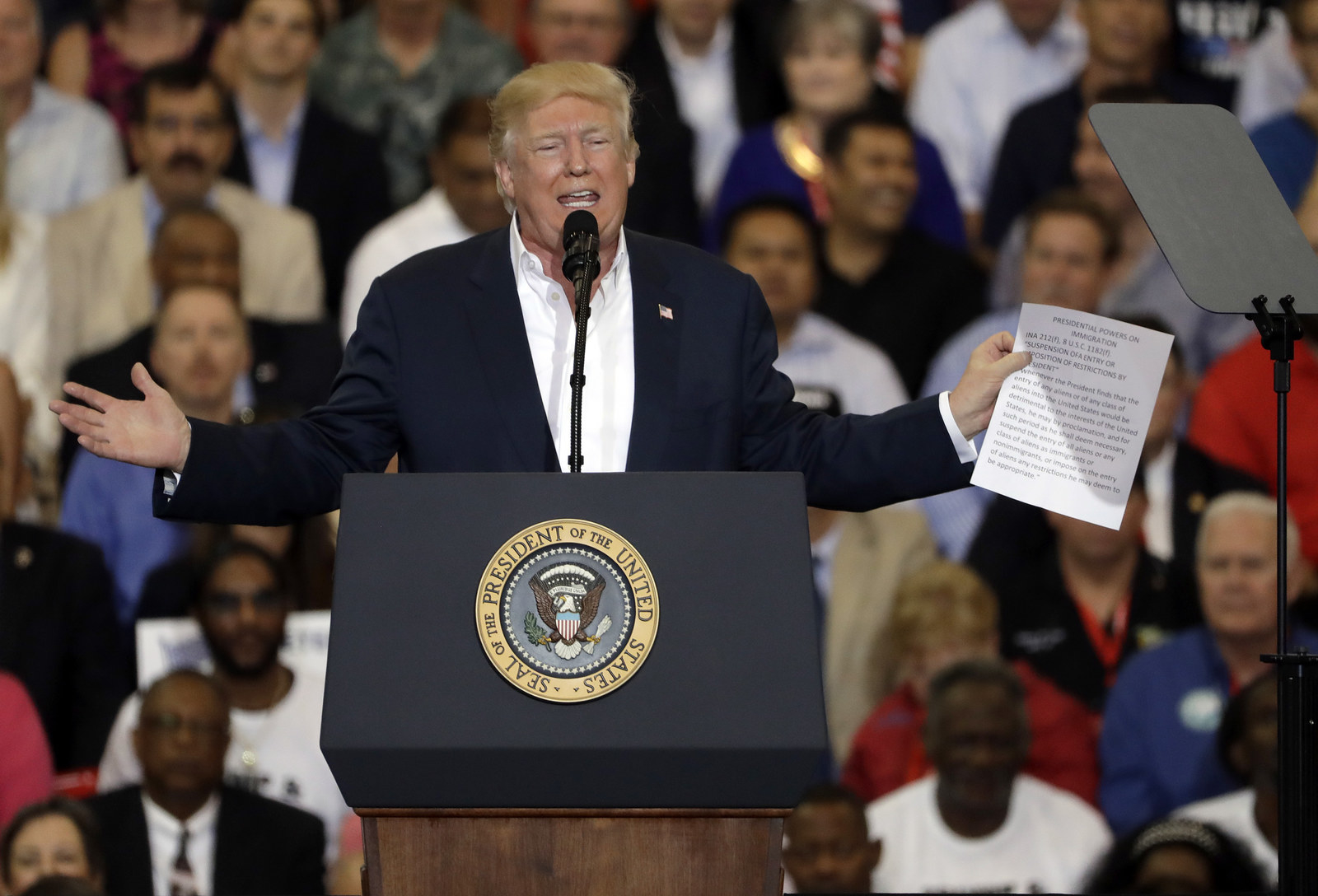 The idea behind expanding sanctuaries beyond churches and into private homes is that they are constitutionally protected under the Fourth Amendment against unlawful search and seizure, meaning law enforcement would need to get a warrant, said Rev. Francisco Garcia of Holy Faith Episcopal Church in Inglewood, California. Officials typically wouldn't need a warrant to enter a church since it's considered a more public space.
The Episcopal Diocese of Los Angeles, of which his church is a member, passed a resolution in December for all its 136 churches in Southern California to commit to being sanctuary diocese, meaning they will resist the Trump administration's attempts to deport undocumented immigrants. So far, at least 50, in and outside of their diocese, are willing to house immigrants and about a dozen parishioners have offered up guest rooms that are "basically ready when we need them," Garcia said.
The recent arrest by ICE officials of at least two men who crossed the street after leaving a church hypothermia shelter in Virginia sent wave of concern among immigrant advocates that the policy of leaving churches alone was being abandoned. If so, Garcia said, his church is ready.
"We're preparing for that," he said. "Now there's a different element of uncertainty and risk that the church and other communities of faith have to be willing to take."
Joanne, who declined to give her last name in order to protect the location of her Los Angeles area home, has offered up a guest room that's "ready to go" to an undocumented immigrant or family seeking refuge.
"It just seems like the right thing to do if people are feeling unsafe where they lived and needed to live in a different part of town," she said. "If you have the privilege of not being vulnerable to deportation you need to use that privilege to protect the vulnerable."
In many cases, she said, these are folks who used a fake Social Security number to work or returned after being deported.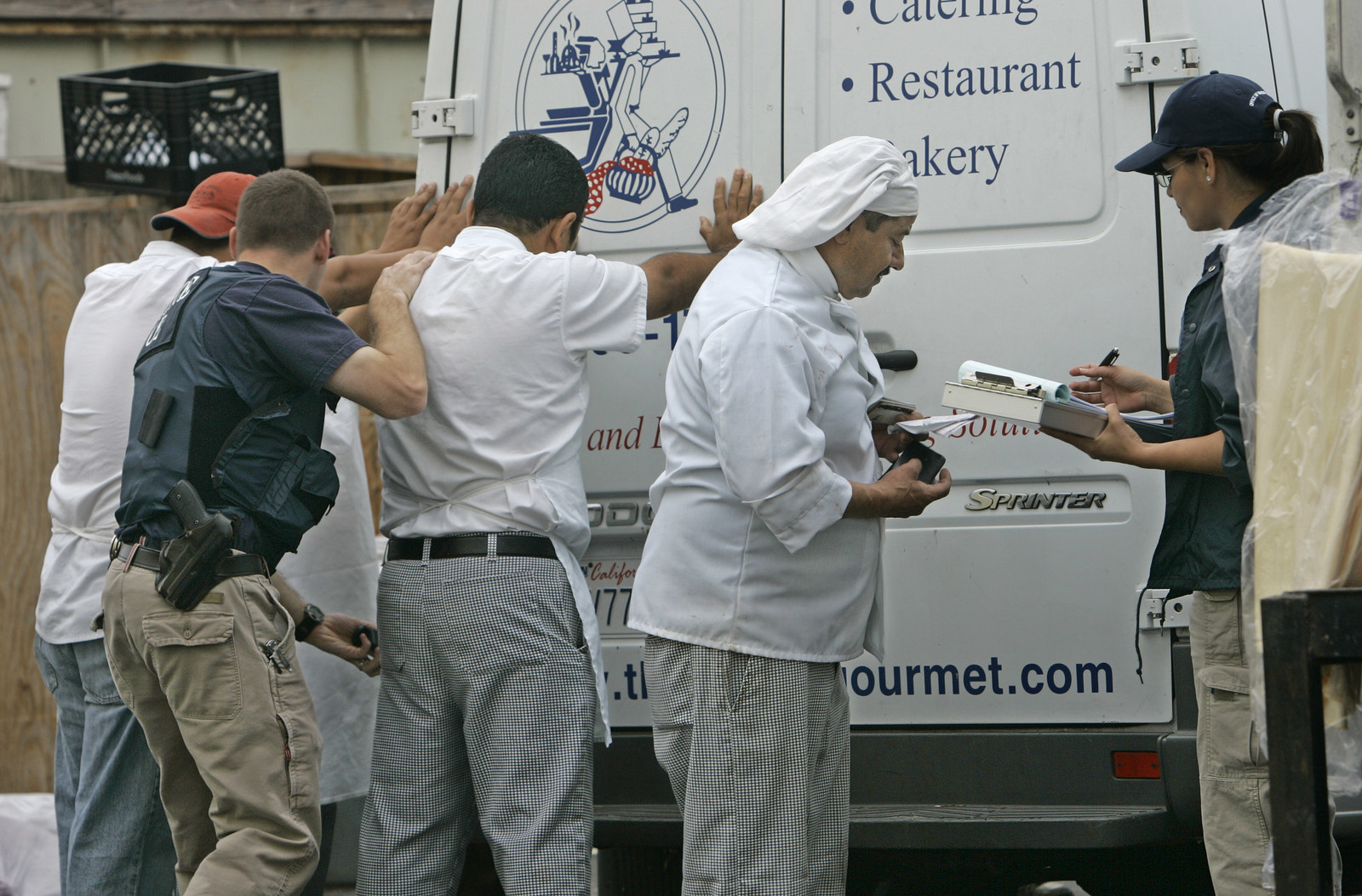 "When people hear that language they imagine that we're talking about people convicted of murder or rape when in reality the vast majority of people were trying to earn a living," Joanne said.
In addition to the new hide-and-seek measures being considered, many more churches across the US are bulking up on the inside to accommodate immigrants on campus, building new facilities to deal with an influx of people seeking refuge.
More than 800 congregations nationwide have promised to support the movement, the National Sanctuary Movement reported this week.
Guillermo Torres, faith leader organizer and coordinator of the immigrant campaign for the LA-based Clergy and Laity United for Economic Justice, has led training for 135 interfaith leaders in the area on how to help or become sanctuaries.
"There's a big surge in clergy or leaders who are not even a part of our agency who are now being compelled to offer sanctuary," Torres said. "The reality of hosting a family or individual that needs sanctuary is becoming more real day by day."
"Is this a president who will do what he actually said he was going to do? In which case, it's pretty scary."
Rev. Grant Stevensen, clergy organizer for ISAIAH, a faith-based coalition of about 100 congregations in Minnesota, said his group had built a network of 25 churches willing to take in and house undocumented immigrants.
"People didn't expect this to go as far as it did," Stevensen said. "Is this a president who will do what he actually said he was going to do? In which case, it's pretty scary."
The network, Stevensen said, is composed of Presbyterian, Lutheran, Church of Christ, Catholic, and Quaker parishes. Synagogues in the state have also stepped in to help.
"When you walk into a church, you're walking out of the United States and you're walking into the kingdom of God," Stevensen said. "These are places where you don't have to be in the regular political context of this country."
Families that commit to sanctuaries are basically keeping themselves on house arrest and reliant on the host church, he added.
"We want to have these spaces for people, but we'll be aware people don't want to do this," Stevensen said
Some churches have apartments, others are reconfiguring choir rooms and halls to be able to house people.
"There are a couple of churches that I know who are remodeling, adding showers," Stevensen said. "We have congregations that are finding serious space in their budgets to do physical work in their church."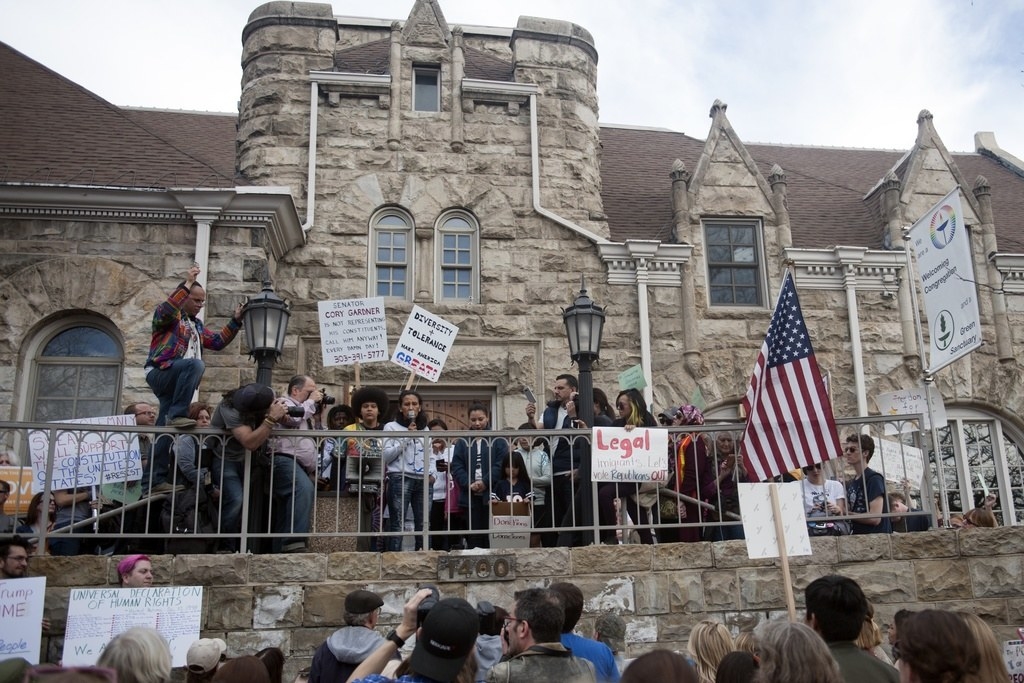 Brown's church in Chicago, for example, decided to convert part of a top floor previously used for storage into a living space, and showers are being added.
Despite the possible legal ramifications, Rev. Jane Eller-Isaacs, co-minister of Unity Church-Unitarian in St. Paul, Minnesota, said her congregation is converting a classroom space into living quarters for a family. And a duplex currently being used by a student minister, she said, could become a space for about 10 young DREAMers — students granted protections from deportation under an Obama-era program — should they too be targeted.
"We don't see ourselves as saviors, we see ourselves as responders and protectors," she said. "Making that decision seems to have brought out the best of who we are."
Several parishioners have also volunteered to offer their homes for use should it come to that, she said.
Eller-Isaacs knows she's stepping on murky legal ground, but remains undeterred.
"I'm willing to get arrested," she said. "This is no question for me."
UPDATE
This post has been updated with additional information on the scope of the Episcopal Diocese of Los Angeles resolution.
Outside Your Bubble is a BuzzFeed News effort to bring you a diversity of thought and opinion from around the internet. If you don't see your viewpoint represented, contact the curator at bubble@buzzfeed.com. Click here for more on Outside Your Bubble.