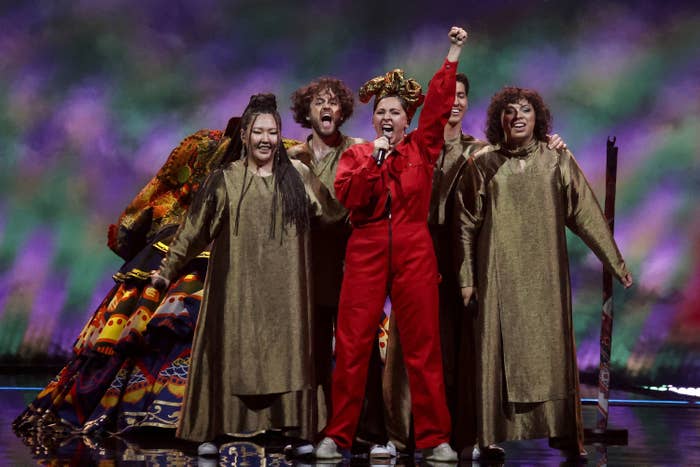 Organizers of the Eurovision Song Contest said Russia will still be able to compete in its upcoming international event, even as Russia mounted a deadly invasion of Ukraine early Thursday morning, launching attacks across the country and raising tensions across the globe.
The decision comes despite pleas from Ukraine's public broadcast company, UA:PBC, asking for Russia to be suspended from the popular contest.
"The Eurovision Song Contest is a non-political cultural event," the European Broadcasting Union, which has organized the contest since 1956, said in a statement to BuzzFeed News. "The EBU is however concerned about current events in Ukraine and will continue to closely monitor the situation."
Meanwhile, after Ukraine residents woke up to the sound of missiles falling, Russia has launched a full-scale invasion.

Russian officials have said they've attacked and destroyed more than 80 military sites, including 11 airfields. Ukrainian officials have said at least 57 people have been killed so far, as well as civilians. Among those civilian casualties was a young boy killed after his apartment building was struck by shelling.
The BBC first reported the EBU's decision to allow Russia to compete in Eurovision, which is scheduled to take place in Turin, Italy, in May.
Despite organizers' statement that the competition is "non-political," politics has for years taken center stage in the songwriting competition, particularly between Russia and Ukraine. Tensions only escalated after Russia's invasion in 2014.

Ukrainian singer Jamala won the 2016 competition after singing a song about the 1944 deportation of Crimean Tatars by Soviet Union leader Josef Stalin, which many watchers interpreted as a metaphor to rebuke Russia's modern annexation of Crimea.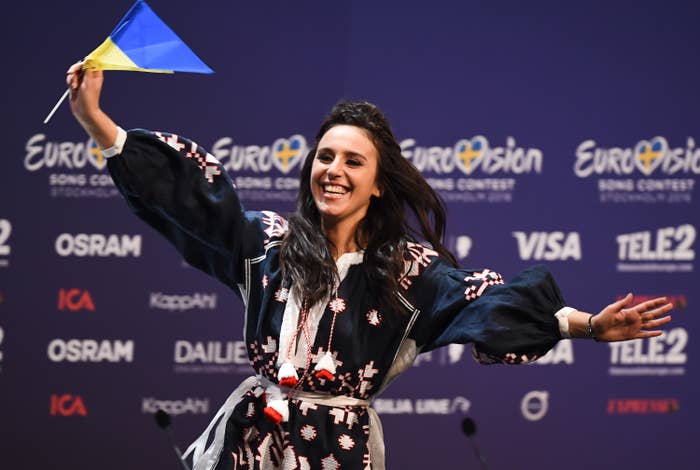 In 2017, Julia Samoylova of Russia was also blocked from entering Ukraine, where the contest was being hosted, and joining the competition. Her ban came after she reportedly entered Crimea via Russia, which the Ukrainian government viewed as crossing the border illegally. Russian television then hit back by not broadcasting Eurovision.
On Thursday, Ukraine's Jamala spoke out about the Russian attack on Instagram.
"I don't know how it's possible, but they bombed peaceful people in Ukraine," she said in the post from Kyiv. "Please support Ukraine. Stop Russian aggression."
Other artists also spoke out, including Manizha, the 2021 Russian contestant for Eurovision.
"This is the morning when you regret waking up," she wrote in an Instagram caption with a black square, according to a translation. "You don't know where to go, who to help. I sit on the corner of the bed and cry. I cry because it's not my choice. The current aggression is against my will, against the will of my family, I believe that it is against the will of our peoples."
Russia has yet to announce who will perform at Eurovision 2022. Hip-hip group Kalush Orchestra is expected to appear for Ukraine.