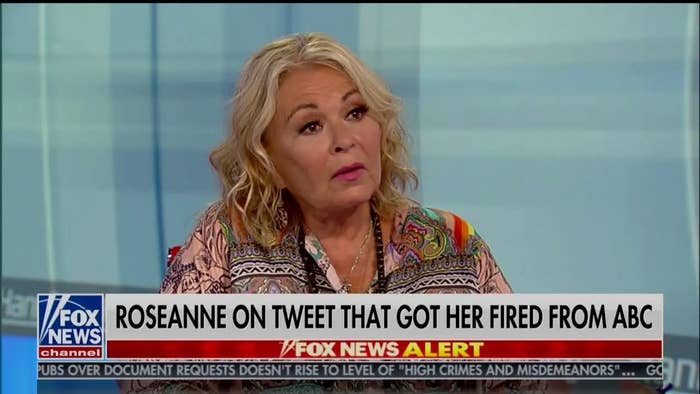 In her first television interview since ABC canceled Roseanne over her controversial tweet, Roseanne Barr appeared on Fox News' Hannity Thursday night where the comedian continued to insist her tweet was not racist, but was instead "political."
Host Sean Hannity asked Barr about the tweet that led to her firing and show cancelation, where she compared Valerie Jarrett, a former senior adviser to Barack Obama who is black, to an ape. But the hour-long interview quickly turned into a sometimes incoherent discussion where Barr touched on a variety of topics, often veering away from the questions asked.
During the unusual hour-long back-and-forth, Barr said she suffered consequences for her tweet and that "it cost me everything, my life's work."
"I was so scared to go outside. It was like, 'Oh my god, everyone thinks I'm a racist,'" she said. "I live on an island where it's all brown people. I'm like, oh hell, you know."
Barr has previously apologized for the racist tweet. On Thursday, she again tried to defend the comment, calling it a "political tweet" and not racist.

"Her skin tone is like mine, and I'm brown," Barr told Hannity. "I didn't know she was African American. I assumed because she was from Iran and lived in Iran for such a long time, and writes about how she and Barack Obama hung out for a long time and the reason they were so tight and such friends is because they don't like the idea of American exceptionalism. They like that every country has its own culture and we should respect them and this and that. Okay, that's kind of a globalist way of thinking."
Barr's comments came after another bizarre response from the comedian last week in which she apologized for the tweet in a video posted on YouTube. In another video, Barr appeared to explode at someone offscreen, yelling, "I thought the bitch was white!"
Speaking to Hannity, Barr said the video was a genuine reaction while she was filming an apology. She thought her response, growing angry and frustrated in trying to formulate her apology, was funny and so she decided to post it online as well.
Defending her actions Thursday, Barr said that when ABC called her about the tweet, she was asked to log off of Twitter, and that she told network executives, "I will always be friends with Israel. I am a Jew and I have family that lives there."
"That was a tweet about asking for accountability from the previous administration, about the Iran deal," she told Hannity.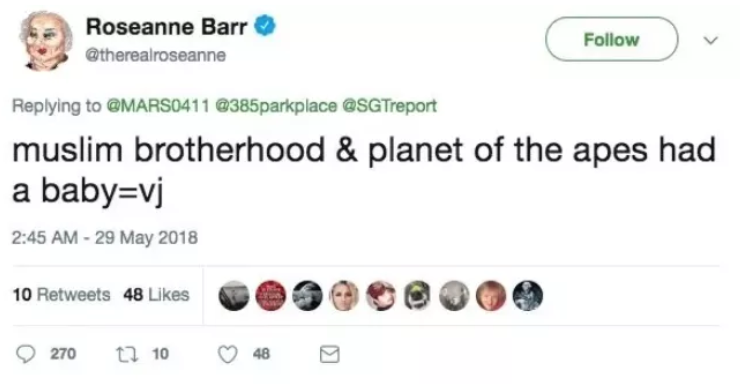 Barr brought up her run for president in 2012, which she claimed she did as a representative of the Socialist Party's black caucus.
"They trusted me so much. Black people chose me and I was humbled by that, and I ran," she said.
Barr said that after apologizing for her actions she had donated to African American charities, and claimed that members of her family are minorities.
"I have African American children in my family, and in my loving circle," she said. "And Asians too, and Hispanic people and... Jews get around, let's put it like that. But I felt so bad for those kids because I love them and I didn't want them to think of me like that, you know."
Barr said her kids "took [Twitter] away" from her "forever" in the aftermath of the controversy.
"I made a mistake, obviously, it cost me everything," she told Hannity.
At one point, Hannity asked Barr if she'd called Jarrett to apologize.
"You think she'd... I'm afraid she'd start screaming and throw the phone down," Barr replied.
"If I had her number and handed the phone to you, what's the first thing that you'd say to her?" Hannity asked.
"Well, do ya?" Barr responded. "You wanna do it?"
Pressed later for an answer, Barr said she would apologize to Jarrett.
"I'm so sorry that you thought that I was racist and you thought that my tweet was racist, because it wasn't — it was political," she said. "I'm sorry that you feel harmed and hurt. I never meant that and for that I apologize. I never meant to hurt anybody or say anything negative about an entire race of people."
Hannity then began to ask another question when Barr interrupted: "Plus I'd tell her she needs a new haircut."
The conversation frequently veered off topic. In one instance, after being asked about her history of controversy, Barr talked about being pregnant with her now-23-year-old son, saying she was implanted with six eggs.
"I was like, 'Oh my god!'" she said. "I was at Planet Hollywood and I told Bruce Willis, 'I'm having quadruplets.'"
At one point in the pregnancy, Barr said, she was put on a "biofeedback deal where I'd say 'I want you to stay' into this machine."
"Did it work?" Hannity asked.
"Yes, but the deep spiritual thing of that is it started to fill all of the parts of me that were crazy and out of control," she said.
Hannity then moved on to try to talk about Barr's past, including her history of mental illness, and instances of sexual and emotional abuse that Barr has said, in previous interviews, that she suffered from her parents.
Asked about past comments "that you suffer from multiple personality disorder," Barr joked that she no longer suffers from it.

"I enjoy it now," she said, adding that she is now taking antidepressants and has undergone years of therapy.
Asked about sexual abuse she allegedly suffered as a child, Barr said that she now has "a whole different view of that."
"Yeah, everybody in my whole family is messed up," Barr said.
"Do you think that any of this plays into — I have some — you've had crazy moments, let's just be honest," Hannity asked.
"Well, you shouldn't call a mental health patient crazy," Barr responded, laughing. "In fact, that's one funny thing that Tom Arnold said. Never call a crazy person crazy."
She then quickly turned serious.
"But I have mental health issues," she said. "Yeah."