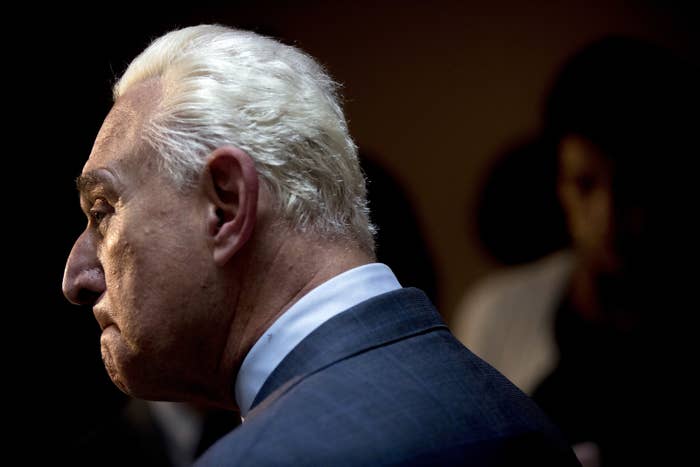 Roger Stone, a longtime ally of President Trump and divisive figure in politics since the Nixon era, was suspended from Twitter shortly after blasting CNN reporters on the social platform.
Sources told BuzzFeed News the suspension is permanent.
Stone unleashed a tirade against CNN anchors and commentators Friday night, just moments after the news organization published a report that charges had been filed in a sealed indictment related to special prosecutor Robert Mueller's investigation into Russian meddling in the 2016 election.
Stone, who was directly and indirectly involved with Trump's campaign, aimed many of his comments at CNN anchor Don Lemon.
".@donlemon must be confronted, humiliated, mocked and punished," Stone wrote from his account Friday night. "Dumber than dog shit."
In another tweet, Stone told Lemon to "stop lying about the Clinton's and Uranium you ignorant lying covkscucker."

A spokesperson for Twitter told BuzzFeed News they could not comment on individual accounts and directed a reporter to the company's policy on abusive behavior.
That policy forbids users from engaging in behavior that "crosses the line into abuse, including behavior that harasses, intimidates, or uses fear to silence another user's voice." The policy states that one of the factors considered when assessing an account is whether the user is also inciting others to harass another account.
"Any accounts and related accounts engaging in the activities specified below may be temporarily locked and/or permanent suspension," the policy reads.
In a text, Stone told BuzzFeed News that he was told the suspension was temporary.
"I have been informed that I have been suspended for 3 hours and 12 minutes. While I am uncertain why, sometimes the stark truth offends some people," he wrote. "I'll be baaaaak."
As of Sunday night, Stone's main account was still suspended. But the pugnacious operative was still on Twitter, sparring with critics via at least two promotional accounts, @STONEFLIK and @StoneColdTruth, albeit with a much smaller audience.
One of the accounts, @stonecoldtruth, promotes the political operative's website. The other, @STONEFLIK, depicts itself as the official account for the documentary film Get Me Roger Stone, declaring on its first tweet on June 6, that it was "The OFFICIAL feed for The Greatest Documentary Ever Made."
The documentary's director, Daniel DiMauro, however, reached out to BuzzFeed News and said @STONEFLIK was not the official account for the film.
DiMauro said he and other producers of the show have tweeted from their personal accounts to tell people Stone's @STONEFLIK account was not "official."
Stone has since blocked DiMauro and other filmmakers from the account, and changed its bio description as "STONE's official promo feed" for the film.
By Wednesday morning, the account @STONEFLIK appeared to have also been suspended by Twitter.
"We've been aghast at the views that he espouses from the account," DiMauro told BuzzFeed News. "Stone has since blocked all the filmmakers from seeing the account, and uses it to insult us and promote himself."
On Tuesday morning, Twitter also addressed some of the backlash it has received from critics over its decision, stating Roger Stone's permanent suspension was due to alleged violation of the company's abusive behavior policy "multiple times this year," suggesting his ban did not come from Friday night's tweets alone.