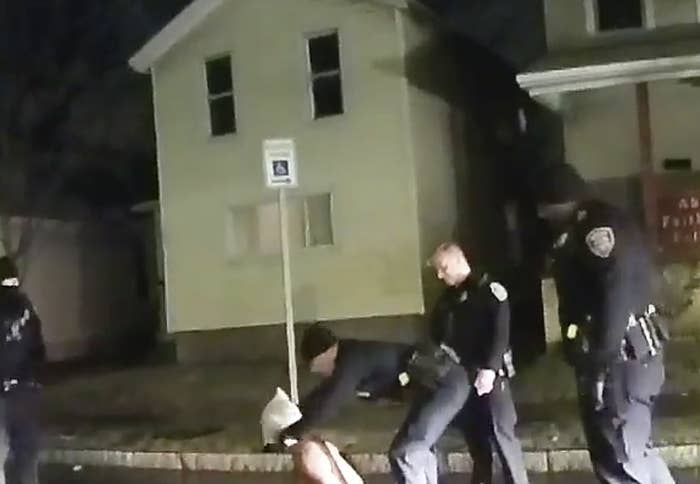 A Black man who was detained naked and handcuffed in a street in Rochester, New York, in March died of asphyxiation after officers put a hood over his head and pressed his face to the ground for two minutes, according to video footage and records released by his family on Wednesday.
Daniel Prude was taken off life support seven days later. The violent March 30 arrest occurred two months before George Floyd died after a Minneapolis officer used a knee chokehold on him.
"Daniel Prude's murder at the hands of Rochester Police Department is horrifying and unacceptable," Iman Abid, director of the Genesee Valley Region Chapter of the New York Civil Liberties Union, said in a statement. "Mr. Prude should still be alive, and it is clear from the footage that officers met an obvious behavioral health crisis with lethal force."
Prude's death received little media attention at the time, but video released Wednesday prompted protests in Rochester over yet another police killing of an unarmed Black man. Crowds gathered outside police headquarters chanting, "He died in the snow, we can stand in the rain."
On Thursday, Rochester Mayor Lovely Warren announced the seven officers involved in the incident were suspended, an action she said was done against the advice of city attorneys and that would likely result in a lawsuit from the police union. An internal investigation has also been launched, she said.
"Mr. Daniel Prude was failed by our police department, our mental health system, our society and he was failed by me," Warren said. "What I saw in that video was a man who needed help, a man who needed compassion, a man who needed humanity and a man who we should have respected."
Warren added that she had been told by the police chief in March that Prude had died of an overdose while in custody, and was not informed of the officer's actions.
"He's cuffed up already, come on," Prude's brother, Joe Prude, told reporters on Wednesday. "How many more brothers gotta die for society to understand that this needs to stop?"
Prude's death has sparked an investigation by the New York Attorney General's Office, which could file criminal charges, but the New York Civil Liberties Union has also called on the local district attorney's office to investigate.
Video of the incident shows 41-year-old Prude naked on the street and an officer ordering him to the ground while pointing a Taser.
Prude is heard in some of the footage complying with the officers' orders with a "Yes, sir."
As light snow falls, Prude starts to shout and become agitated while he continues to sit on the pavement with his hands cuffed behind his back.
Warning: the video below is graphic.
One of the officers then puts what is commonly known as a "spit hood" over his head, and Prude asks police to take it off.
One of the officers then shoves his head to the ground, holding it down with both hands while telling Prude to "stop spitting."
A liquid is then seen coming out of Prude's mouth before one of the officers asks, "My man, you puking?"
Medics were called to the scene and performed CPR while taking him to a nearby hospital, where he was reportedly kept on life support for a week.
"Mr. Prude was murdered callously at a time when he needed professional care," Abid said. "Where he deserved dignity, he was mocked and treated cruelly. Police as we know them are simply not equipped to be responsible for the public safety needs of Black people, nor to address the personal crises they are so often assigned to handle."
Rochester Police Chief La'Ron Singletary said the department took the incident seriously since day one and ordered a criminal and internal investigation into the handling of the case the following morning.
No officers have been suspended in connection to the case, he said at a press conference.
"The death of Daniel Prude was a tragedy," New York Attorney General Letitia James, who has taken over the investigation, said in a statement. "We will work tirelessly to provide the transparency and accountability that all our communities deserve."
But more than five months since his death, Prude's family expressed anger and frustration that the city and police department had issued no information regarding the incident until they received video and documents through a public records request.
"I mean, what makes me lesser than the next man in this American society?" Joe Prude asked during his news conference. "We all human. I'm not no animal and that's what the fuck they treated my brother like, a damn animal."