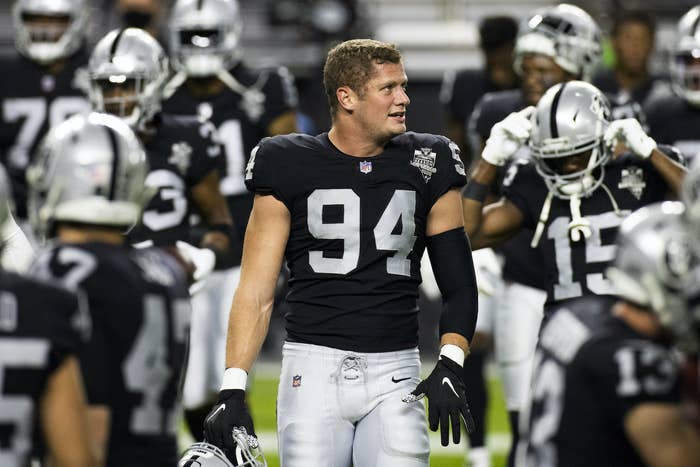 Carl Nassib, the 28-year-old defensive end with the Las Vegas Raiders, came out Monday afternoon as the first active openly gay player in NFL history.
Nassib, who joined the league in 2016, made the announcement in an Instagram post, telling fans he'd intended to come out some time ago but had only recently felt "comfortable enough to get it off my chest."
"I'm at my house here in West Chester, Pennsylvania," Nassib says in the video. "Just want to take a quick moment to say that I'm gay."
Nassib's announcement came in the middle of Pride Month and as the defensive end is about to start his sixth season in the NFL.
He joined the NFL with the Cleveland Browns in 2016, then moved to the Tampa Bay Buccaneers two years later. In March 2020, he signed a three-year contract with the Raiders.
Although Monday's statement was the first time Nassib publicly said he was gay, he thanked his coaches, fellow NFL players, and the league for their support, writing in an accompanying statement that he "was greeted with the utmost respect and acceptance."
"Only until recently, thanks to my family and friends, especially Connor, Cason, and Francis, did it seem possible for me to say publicly and proudly that I'm gay," he wrote. "I am also incredibly thankful for the NFL, my coaches, and fellow players for their support. I would not have been able to do this without them."
Nassib is the first openly gay active player in the league, although he is not the first openly gay person to join the NFL.
Michael Sam came out before being drafted in the NFL by the St. Louis Rams in 2014. He was cut during the preseason.
In his announcement on Monday, Nassib said he would also be donating $100,000 to the Trevor Project, a nonprofit providing crisis intervention and suicide prevention services to young LGBTQ people.
Most of the comments on Nassib's post were supportive, including one from the NFL Players Association that included raised fist emojis.
"The NFL is proud of Carl for courageously sharing his truth today," NFL Commissioner Roger Goodell said in a statement. "Representation matters. We share his hope that someday soon statements like his will no longer be newsworthy as we march toward full equality for the LGBTQ+ community."
The Raiders' Twitter account responded to Nassib with heart emojis in black, the team's color.
"The NFL family is proud of you, Carl," the NFL's account tweeted.
Nassib added he was asking for privacy after his announcement, but that he wanted to come out publicly because he believed in representation and visibility.
"I'm a pretty private person, so I hope you guys know that I'm really not doing this for attention," he says in the video. "I actually hope that one day videos like this and the whole coming-out process are just not necessary."