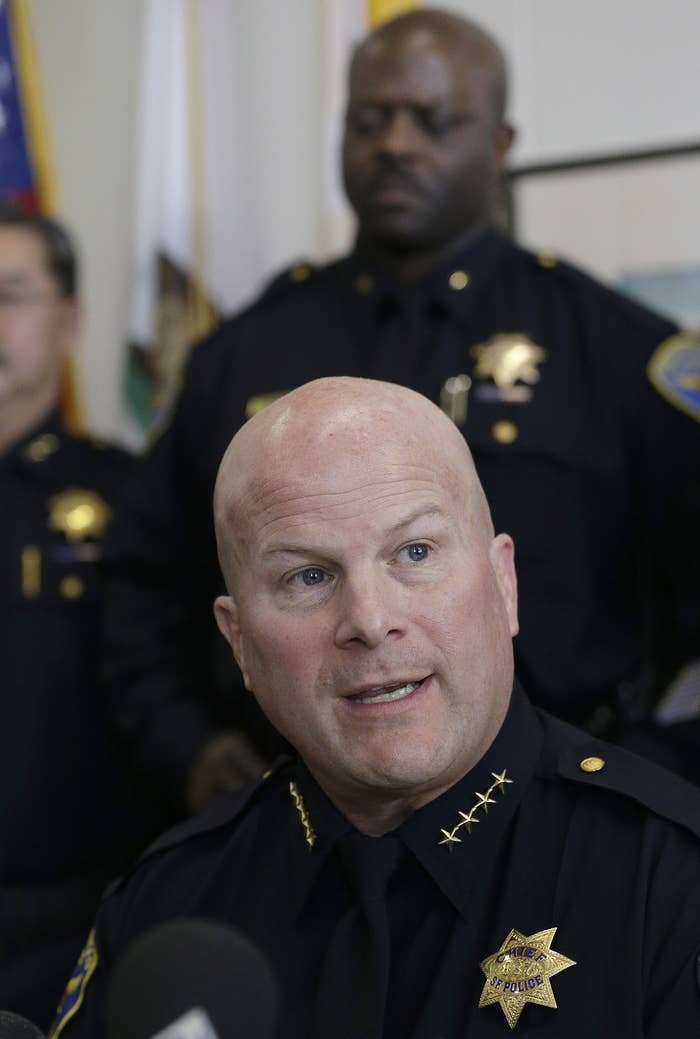 San Francisco Police Chief Greg Suhr will recommend that six officers under his command be fired after prosecutors said they exchanged racist and homophobic text messages, police officials told BuzzFeed News.
Another two officers have resigned as of Friday afternoon, said Officer Albie Esparza, of the San Francisco Police Department.
The texts, uncovered during a federal criminal investigation of a lieutenant in the San Francisco Police Department, has sparked a review of more than 3,000 criminal cases handled by officers linked to the messages, officials said.
Fourteen officers in total are believed to have exchanged the texts. All were removed from "public contact" duties when Chief Suhr was made aware of the investigation, Esparaza told BuzzFeed News.
The San Francisco Police Department is also conducting its own investigation of the cases handled by the police officers, Esparza said.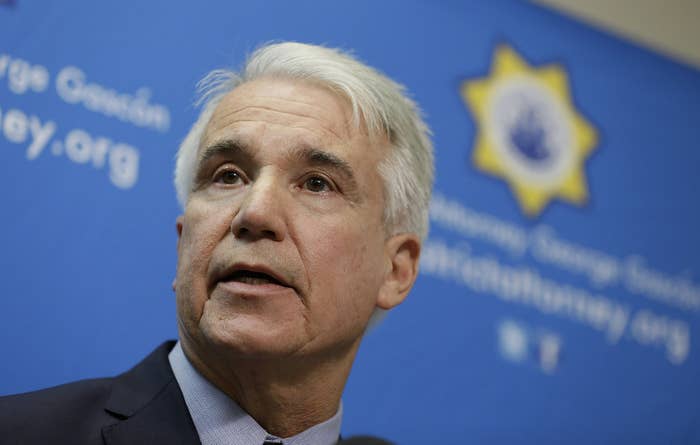 On Thursday, San Francisco District Attorney George Gascón announced three retired judges will determine if any of the arrests were improper, or if the cases led to wrongful convictions after a slew of text messages were uncovered by federal investigators.
The review will go back about 10 years.
The panel, Gascón added, will also investigate if there is a "culture of bias" within the San Francisco Police Department.
"The actions of a few have undermined the public's faith in the police officers who are sworn to protect us," Gascón said in a written statement. "Our criminal justice system must be free of bias in order to truly serve and protect all members of our community."
According to court documents, former San Francisco police officer Ian Furminger referred to his wife's black friends in text messages with racial slurs — "Cross burning lowers blood pressure!" one text stated — and when another officer told him about the promotion of a black officer in the department, he responded: "Fuckin n***er."
Furminger was sentenced to more than three years in federal prison earlier this year after he and other officers were accused of taking money and property from drug dealers, and keeping the loot for themselves.
After his conviction, Furminger asked the federal judge to release him on bail while he appealed the decision, but the U.S. Attorney's Office opposed the request, stating that he failed to acknowledge that he is "a virulent racist and homophobe who, even while a police officer, felt free to share his views with other individuals, including San Francisco police officers."
Prosecutors included a sampling of text messages discovered during the investigation:
When asked, "Do you celebrate quanza [sic] at your school?" Furminger responded, "Yeah we burn the cross on the field! Then we celebrate Whitemas."
And when the sergeant received a text message saying, "N****rs should be spayed," Furminger wrote back, "Ask my 6 year old what he thinks about Obama."
The texts were also exchanged with other San Francisco police officers, according to federal court documents. They were not identified by the district attorney's office or in court documents.
In one, Furminger told an officer his wife's friend was at his home and "her husband is black! If [sic] is an Attorney but should I be worried?"
The officer, who is not identified in the documents, told Furminger, "Get ur pocket gun. Keep it available in case the monkey returns to his roots. Its [sic] not against the law to put an animal down."
"If we want the public to trust law enforcement we need a culture of justice, transparency and accountability — not bias, secrecy and impunity," Gascón said.
According to Gascón, the three judges who will review the cases — Cruz Reynoso, Ladoris Cordell, and Dickran Tevrizian — have experience in civil rights and criminal justice reform but are from outside the San Francisco area to ensure impartiality.
The review of the San Francisco Police Department comes as the public image of law enforcement agencies in the city have taken a bruising, including faulty DNA testing in SFPD's crime lab that could jeopardize hundreds of cases, and an ongoing civil rights inquiry into the San Francisco county jail system after deputies were found to be organizing and gambling on fights between inmates.
The judges will include their findings in a report that will be made public, Gascón said.
"If just one individual was wrongly imprisoned because of bias on the part of these officers, that's one too many," he said in the statement.