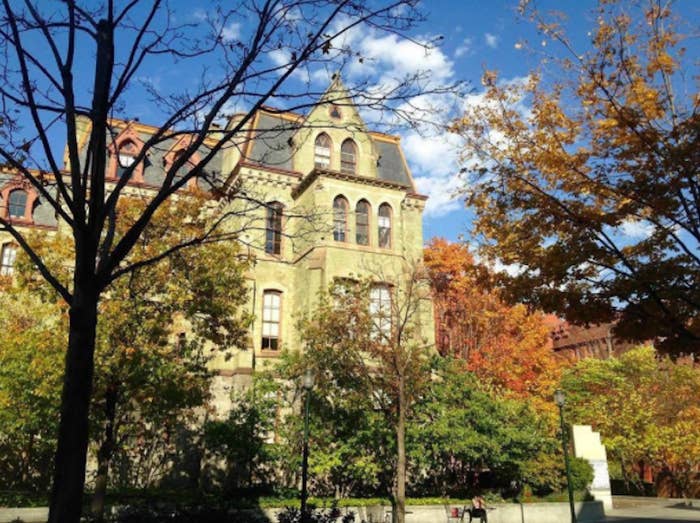 A University of Oklahoma student linked to racist messages and pictures that were sent to black students at the University of Pennsylvania is no longer enrolled at the University of Oklahoma, school officials said Tuesday.
Officials did not say whether the student left the school on his own or if he was removed after he was linked to the racist messages.
Black University of Pennsylvania students told administrators they were unwittingly added to a social media group Friday that sent them disturbing images of lynchings, people calling students the n-word and invitations to a "daily lynching."
School officials told students the GroupMe chat was linked to a University of Oklahoma student more than 1,400 miles away. On Tuesday, UPenn officials said the student linked to the racist messages was "no longer enrolled at that university" as the incident is still under investigation.
The student being investigated for the hateful messages has not been named, but UPenn officials said he had been originally admitted to the University of Pennsylvania and added to a private Facebook group for the class of 2020.
The student decided not to attend the University of Pennsylvania in the end, but it was through that private Facebook group that the student got access to the contact information for black freshmen students at Pennsylvania, who were targeted by the group chat, officials said.
"Utilizing this access, he obtained the contact information of some Black first-year students who had shared their information with the Facebook Group," a statement from UPenn President Amy Gutmann read. "He added those individual students to the racist GroupMe message thread without their permission or knowledge."
The FBI and Penn Police have been contacted to help investigate, officials said.

The messages were directed at black students days after the presidential election of Donald Trump. A series of other racist incidents have occurred since the election.
Some of the hateful messages appeared to come from someone with the name "Daddy Trump."
One of the images included a red hat, similar to the "Make America Great Again" hats sold by the Trump campaign, but instead read, "Grab them by the pussy."
University of Pennsylvania officials did not identify the Oklahoma student linked to the group messages, but said the school would continue to work with the FBI and the University of Oklahoma Police to complete the investigation.
"Our overriding concern is the safety and well-being of our students, and we will continue to do everything to support them so they can recover from this deplorable incident," the statement read.