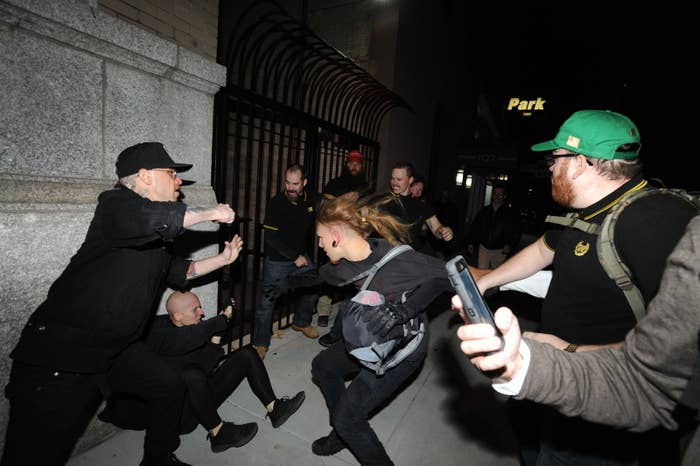 Members of the Proud Boys, a far-right group that proclaims itself to be "Western chauvinists," could face up to a year in jail for a brawl that broke out in Manhattan last fall after a Republican dinner featuring the group's founder.
On Friday, the Manhattan District Attorney's Office recommended a sentence of one year in jail for two of the 10 Proud Boys members charged in the fight, which was captured on video outside the Metropolitan Republican Club. Eight of the men charged in the attack have pleaded guilty to charges that have included disorderly conduct, rioting, and assault.
Members of the group fought with counterprotesters Oct. 12 after Proud Boys founder Gavin McInnes spoke at the club. The group had initially said it was leftist protesters who started the fight, but surveillance video of the brawl appeared to show the far-right group had started the violence, prompting police to respond.
None of the members of the group were initially arrested by the New York Police Department, but authorities later arrested and brought charges against 10 members of the group and three leftist protesters.
On Friday, Jake Freijo and Eryk Kaczynski pleaded guilty to disorderly conduct and were sentenced to five days of community service as part of their plea deal, according to the Manhattan District Attorney's Office.
Six other defendants who have pleaded guilty are also expected to return to court April 5 for a judge to consider the sentences that were recommended by prosecutors Friday.
Prosecutors recommended the harshest sentence — one year in jail — against John Kinsman and Maxwell Hare for attempted second-degree assault and second-degree rioting charges. Two others, Geoffrey Young and David Kuriakose, could face six months and 30 days in jail, respectively, for second-degree rioting and attempted assault in the third-degree charges.
Under a proposed plea agreement, Kyle Borello and Douglas Lennan could receive three years' probation for the same charges. The last two defendants, Irvin Antillon and David Jacob, are expected to appear in court March 29. Their cases are still pending.
A month after the fight, it was reported that the FBI had warned law enforcement in Washington state about the Proud Boys, referring to it as an extremist group and telling law enforcement of their efforts to recruit members along the Pacific Northwest.
McInnes published a video shortly afterward, saying he was quitting the group, yet defending it as "the greatest fraternal organization in the world."