LAPD Commission Faults One Officer In Fatal Shooting Of Mentally-Ill Man
Ezell Ford was shot three times by two Los Angeles police officers last year. But on Tuesday, the Police Commission found that only one of them acted outside of department policy.
Los Angeles Police Commissioners on Tuesday determined that one of two officers involved in the fatal shooting of a mentally ill black man last year was wrong to use deadly force.
One officer violated department policy concerning tactics, drawing his weapon, and opening fire in the death of Ezell Ford on Aug. 11, 2014, the commission found. The second officer also should not have drawn his weapon, but was not faulted in the fatal shooting.
What, if any, discipline is handed down will be the decision of Police Chief Charlie Beck.
Beck released a statement on the commission's findings, but offered no hint as to what route he will take in disciplining the officers.
"Occasionally, officers are called upon to use force. When that happens those actions are exhaustively reviewed in order to enforce standards and improve training," he said. "I respect the process and the decision made in this matter."
Los Angeles Mayor Eric Garcetti, who has seen demonstrators in front of his home with pictures of Ford, applauded the commission's findings, and said he met earlier Tuesday afternoon with Ford's family to offer his condolences.
"Ezell's death took place inside a context," Garcetti said. "He was not just a statistic. He is part of a national conversation."
Garcetti hinted at the number of deadly police shootings of black men across the U.S., and cited the LAPD's efforts at maintaining a relationship with the community.
But the mayor said past turmoils in L.A., such as police brutality and riots in 1968 and 1992, have led to the civilian oversight board that reviewed Ford's death on Tuesday.
The Los Angeles Police Department, he noted, no longer polices itself.
"Every life matters, but due process maters as well," he said. "We've seen there's accountability in this city."
The commission's findings, however, did not sit well with protesters who sat through hours of deliberation during the public meeting, with the group chanting "shame on you," and at times called for the resignation of Beck.
"They get to murder people on the job, and they don't get disciplined," one person yelled after Police Commission President Steve Soboroff read the decision.
People in the audience then began chanting "murder."
The officers were not identified by the commission Tuesday, but their names and ranks had been previously released by the LAPD. According to that information, Sharlton Wampler, a 13-year-veteran, was the officer found to have violated policy on the three areas reviewed by the commission.
Officer Antonio Villegas was the second officer in the incident.
"Our review of the incident has been intense," Soboroff said. "I'm confident that we've been presented a very thorough and complete investigation."
Commissioners reviewed recommendations from Beck and department Inspector General Alex Bustamante, Soboroff said.
Whether there is any criminal culpability in the shooting, Soboroff said, will be decided by the ongoing investigation by the Los Angeles County district attorney's office.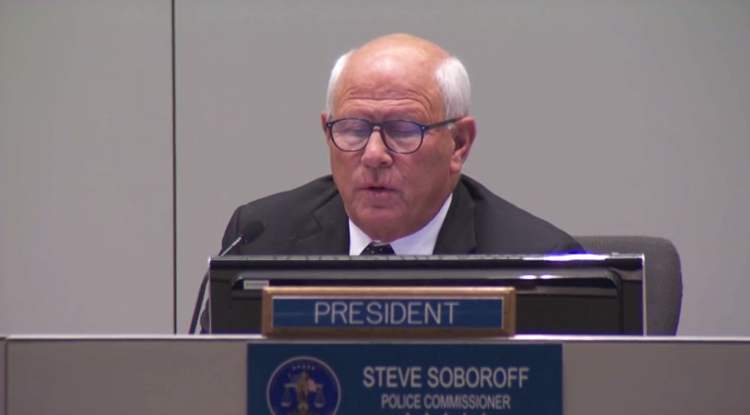 Shortly after the decision into the 10-month long investigation, Los Angeles City Council President Herb Wesson said that despite the commission's decision, the city needed to to take a look into race relations and policing strategies.
"We cannot be afraid to have uncomfortable conversations about race relations in our city with our friends and neighbors, elected officials and those who work hard to keep our streets safe," Wesson said in a written statement. "This issue before us today is not one Los Angeles is uniquely facing, but part of a national dialogue."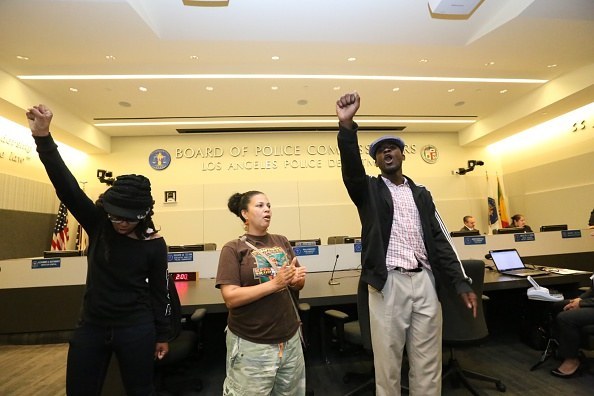 Earlier in the day, protesters stood on chairs and chanted "Shame on you" as the commissioners took public comments on the deadly officer-involved shooting.
At one point, the commission halted the meeting as protesters began chanting and demanding more time to weigh in on the Aug. 11, 2014 shooting, which has sparked protests across Los Angeles for months as relatives and activists demand answers into the death of Ford, a mentally ill black man.
Police have said officers stopped their patrol car to speak with Ford, who was walking on the sidewalk. Officials said Ford then continued walking and made "suspicious movements," including concealing his hands.
When officers grabbed Ford, a struggle ensued. As Ford allegedly tried to grab the gun from the holster of one of the officers, another shot him. According to an autopsy report, Ford was shot three times, including once in the back.
Dozens of speakers signed up to address the LAPD's five commissioners Tuesday, including Ford's mother, according to the Los Angeles Times.
At least one person was detained on suspicion of disturbing the peace during the demonstrators at the public hearing. After hearing the comments, commissioners retreated behind closed doors to deliberate on the shooting.
Citing unnamed sources, the Los Angeles Times reported that the inspector general raised concerns about why officers Sharlton Wampler and Antonio Villegas approached Ford — reportedly diagnosed with schizophrenia and bipolar disorder — in the first place, and whether they had legal justification to so.
Since the shooting, protesters have held several demonstrations in the South Los Angeles neighborhood where the incident occurred, at LAPD's downtown headquarters, and in front of Mayor Eric Garcetti's home.