Protesters and police clashed Tuesday night outside a Donald Trump rally in Albuquerque, with demonstrators throwing rocks and bottles at officers on horseback and burning shirts.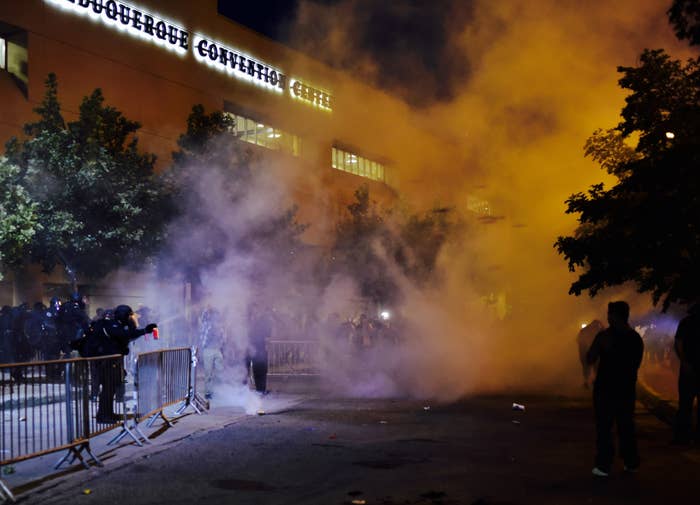 A total of four people were arrested during the event, Albuquerque Police said, including three from inside the Trump rally. About a dozen other people were detained but subsequently released without any charges, police said in a statement to BuzzFeed News.
Six officers were injured with "fist-sized rocks" but none of them needed to be taken to a hospital to be treated, officials said in a written statement. A sheriff's deputy was also injured, but details were not immediately available.
The presumptive Republican presidential nominee was speaking at the Albuquerque Convention Center when a group of about protesters outside the venue forced their way through police barricades and ignited fires.
Police estimated about 8,000 people attended the rally and another 1,000 took part in the protests outside the convention center.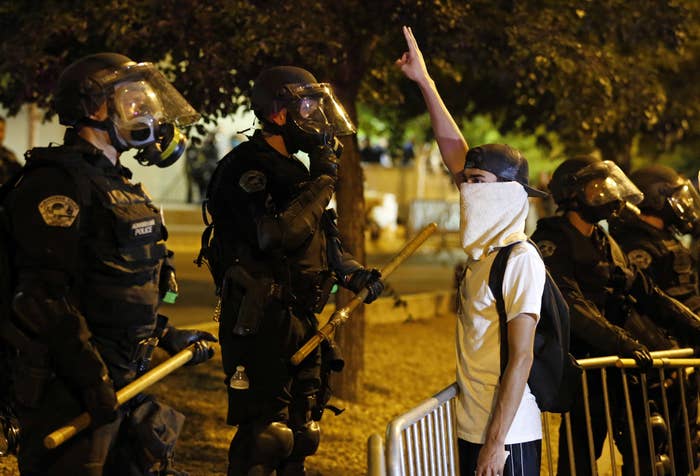 Local activist groups had invited people on Facebook to "peacefully rally" outside the Trump event, including at least one group that asked people to "denounce the wave of hate, division and discrimination that's been spreading against all minorities and vulnerable groups in our country."
Several protesters were seen lighting objects on fire, including Trump T-shirts and signs.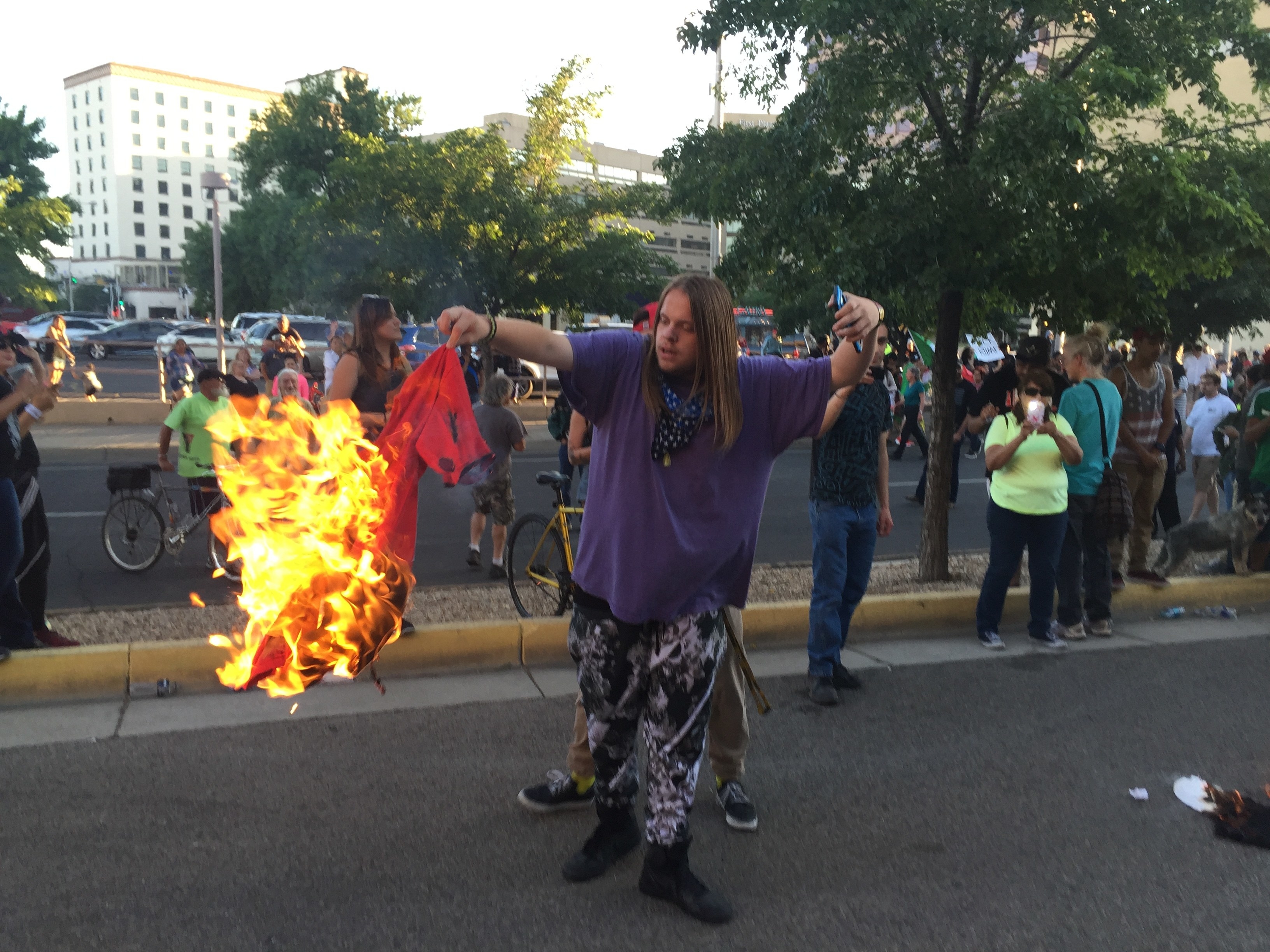 Police said at least one officer was treated for smoke inhalation at the scene because of the fires.
Albuquerque Police said eight windows and a glass door were damaged on the east side of the convention center due to the protests, which is estimated at about $10,000.
Police also noted that the overtime used by officers who responded to the rally and protests - a total of about 200 officers - are expected to be about $50,000 to the city.
Officers on horseback tried to keep the protesters away from the entrances of the convention center.
Albuquerque police said protesters were throwing bottles and rocks at officers on horseback.
And convention center windows were damaged, possibly by a pellet gun.
Police deployed smoke canisters in an attempt to disperse the crowd.
And used pepper spray on the remaining protesters long after the rally had ended.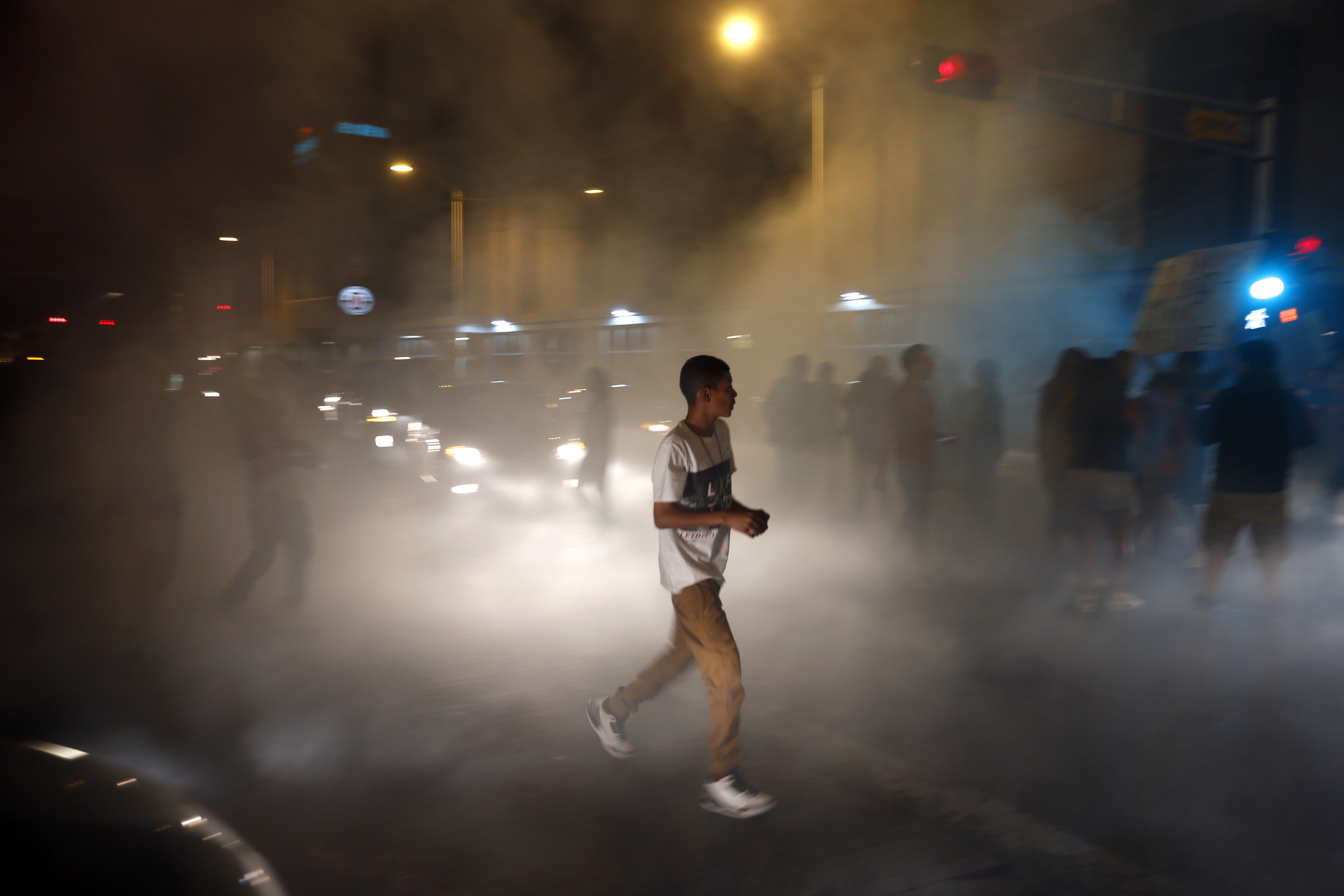 At least one woman was seen being dragged out of the rally by officers.
Police said the four people arrested during Tuesday's event included two minors who were detained inside the rally, cited, and released to their parents.
A 30-year-old woman was arrested inside the rally on suspicion of disorderly conduct and obstructing, and a 19-year-old man was arrested outside on suspicion of disorderly conduct.
Tuesday's event was not the first time violence has been sparked inside and outside Trump campaign events.
Hundreds of protesters marched at an event in Costa Mesa in April, smashing a police car and leading to 20 arrests.
In March, five deputies from North Carolina were disciplined for "failing to discharge their duties" after a Trump supporter punched a protester.