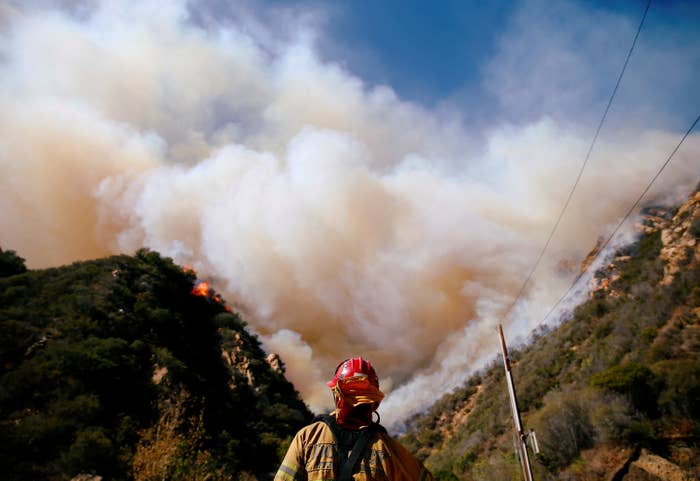 LOS ANGELES — As flames from a ferocious wildfire fanned by hot Santa Ana winds licked at the multimillion-dollar home of Kim Kardashian and Kanye West, a brigade of private firefighters was dispatched to protect the celebrity mansion and its treasures inside.
But fire officials say the team of private firefighters didn't obtain permission from authorities to enter the threatened upscale neighborhood that had been placed under mandatory evacuation, breaking state guidelines and possibly putting other firefighters at risk to save the celebrity home.

Private firefighting firms, which have seen heightened demand as climate change and wildfires increasingly threaten wealthy enclaves throughout the Western US, were once a luxury reserved for the wealthy to protect their multimillion-dollar properties. Usually available through premium insurance policies, for-hire firefighters have been dispatched across the region to guard luxury homes from flames while the vast majority of the public is left hoping local firefighters will save their property.
For-hire crews are required to check in with incident commanders when responding to a major wildfire in California, and state guidelines prohibit them from stepping behind evacuation lines without permission. But the firefighting team that responded to the West home during the destructive Woolsey fire did neither when they were dispatched to the mansion Nov. 9, officials told BuzzFeed News.
"I didn't have any private company check in that it was responding to a private residence," Ventura County Fire Capt. Brian McGrath, speaking for the fire's unified command, told BuzzFeed News. "They're not supposed to be back there."
The Woolsey fire broke out Nov. 8, and by noon the following day, the entire community of Hidden Hills was ordered evacuated. Flames reached the couple's property, but not their home. TMZ reported the couple hired private firefighters to keep the flames at bay after evacuation orders had been issued.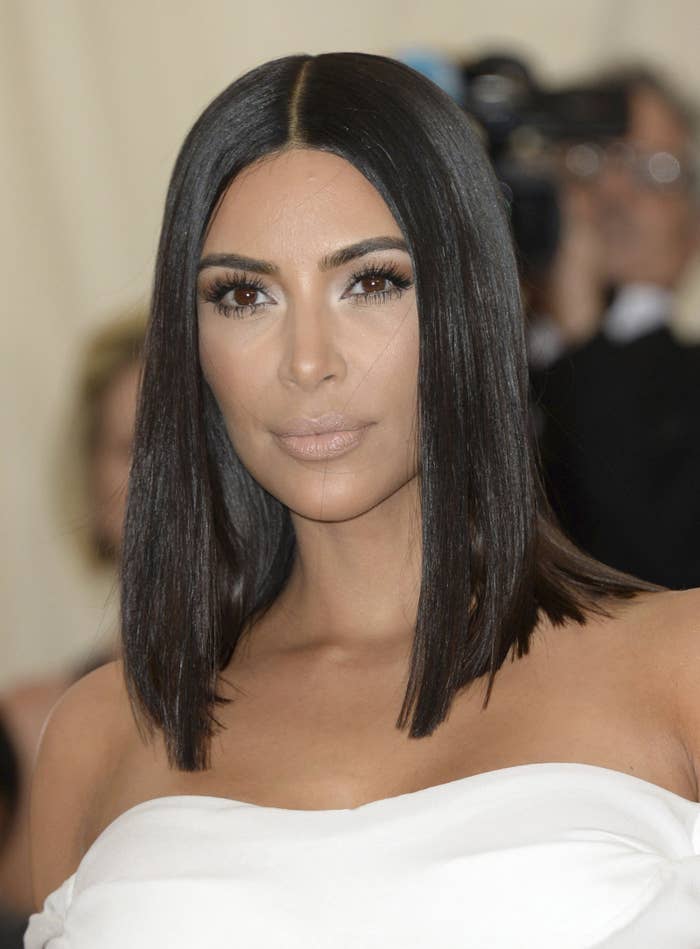 The fire has since burned more than 96,000 acres in suburban Southern California, destroyed 1,500 structures, and left three people dead.
Those familiar with the private firefighting industry say the service, especially in the past five years, has increasingly become more affordable and available to most homeowners. Insurance companies, including those who don't market to "high net worth clients," are adding firefighting services to their coverage plans.
Still, the use of private firefighting crews to save the home of one celebrity couple while thousands of California homes burned to the ground has put on full display the disparity between the wealthy elite and those who can't afford their own private fire brigade.
For some state and local firefighters, the incident has also become an example of the prevailing concerns they hold about the growing popularity of private firefighting companies that are getting more involved in major brush fires each year.
"They're not helping firefighters, they are actually making firefighters' jobs harder," said Carroll Wills, spokesperson for the California Professional Firefighters, the state's largest firefighter labor union. "When there's a fire going on, they are additional protection responsibility for firefighters."
Firefighters have been airing concerns about private firefighting companies for years, complaining that they don't coordinate with incident commanders; could become a liability for firefighters; and that they are not as well trained as city, county, state, and federal firefighters.

The for-hire crews' presence in the field became such a concern for firefighters that in 2008, Firescope, the organization that manages California's wildland Incident Command System, set guidelines on how the private companies should operate, including checking in with commanders so fire departments know where they are deployed, and requiring they leave under evacuation orders just like residents.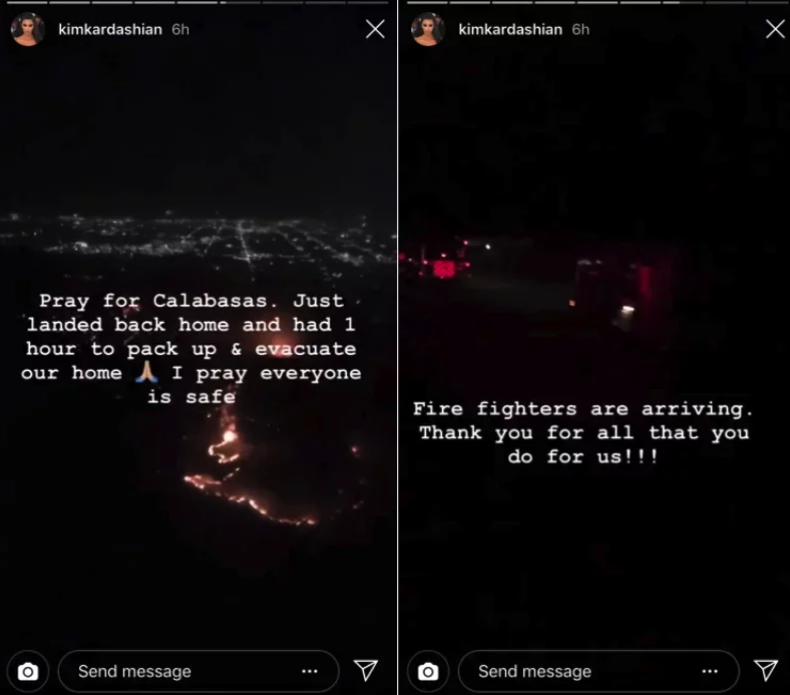 The private firefighting team that responded to the West home did neither, McGrath said.
Private firms have operated as contractors for public fire departments for decades, but in recent years, insurance companies like AIG and Chubb have begun offering the service to elite policyholders. Other insurance companies that market their services to wealthy clients, like Pure and American International, have also offered the private brigades as part of their coverage.
"More than just insurance coverage, a smart solution for families who have more to protect," Pure advertises on their website for "financially successful families."
And there are signs that private firefighting crews are increasingly becoming available to standard policyholders. After all, industry officials say the teams not only protect homes, but insurance companies' liability to replace these homes.
USAA, which offers insurance policies aimed at members of the military, began offering it as an option in 2012, and then made it a standard part of their homeowner insurance coverage in 2015.
"We offer it in 15 states — most of them in the western fire-prone states like California," Rich Johnson, spokesperson for USAA told BuzzFeed News. "It really is just part of your USAA homeowner insurance whether it's a hundred thousand–dollar home or a million-dollar home."
Like other insurance companies, USAA offers the plan through Wildfire Defense Systems, which monitors major brushfires and dispatches crews when flames could threaten properties insured under the program.
"It's part of our philosophy about being in a preventative mode, instead of just replacement mode," Johnson said.
USAA is one of the first insurers to offer the service to everyday clients, but Johnson said it makes financial sense for the company. Paying for the cost of dispatching a private army of firefighters to save insured homes is much cheaper than replacing an entire home and its destroyed contents.
"It's definitely a business decision, but our whole goal is to facilitate the financial stability of the military community and their families," he said.
The frequency of devastating brush fires in the West, he added, has also made it a popular service with clients.
When Montana-based Wildfire Defense Systems began offering private firefighting teams in 2008, the firm was mostly focused on coverage four months of the year. It now touts itself as the leading provider of private firefighting services through insurance policies.
"Now we're in a situation where we're working year-round," David Torgerson, president of Wildfire Defense Systems, told BuzzFeed News.
The firm tracks fires and weather conditions affecting properties covered by the program, dispatching crews as soon as a threat is determined, Torgerson said, before a request is made by the insurance company or homeowner.
This year has been the busiest yet for the company. Since the Camp, Woolsey, and Hill fires were sparked in California, the company has dispatched more than 50 trucks and private firefighting teams across the state.

While the vast majority of private firefighting company clients come from insurers that offer the service as part of their homeowner's coverage, wealthy property owners like the Wests sometimes contract with the company directly for firefighting services.
Torgerson said WDS crews were not involved in the effort to save the Wests' home, and fire officials said they have not looked into the company.
A representative for Kardashian West did not respond to a BuzzFeed News request for comment. But in an interview on The Ellen Show, she defended the decision, noting that the private firefighters were instructed to help save neighboring homes as well to keep the fire from spreading.
"Our house is right on the end of a big park, so the whole park had caught fire and if our house went, then every other house would go," she said. "I don't take that for granted, and that was such a blessing that we were able to do that."
As for concerns from fire officials that private contractors could become a liability during an active firefight, Torgerson pointed to his company's record.
"We're 11 years into it, and we have a 100% safety record in more than 550 incidents," he said. "If fires are happening more frequently, then more fire engines responding is better."
Not everyone agrees.
"From the perspective of our firefighters, they provide a lot of problems and are generally looked on as an encumbrance rather than a benefit," Wills, of the California State Firefighters' Association said.
Fire officials worry private crews lack the training required for the risky job, and that firefighters might need to rescue them if they are entering dangerous evacuation zones in order to protect specific homes.
"There's no guarantee of the level of training," he said.
Firefighters' worries came to a head last year during the Tubbs fire, which tore through Northern California's Wine Country and became the state's second most destructive blaze on record. Local firefighters encountered several private crews deployed to the blaze who had not notified fire incident commanders where they were headed or what homes they were aiming to protect.
That prompted a state bill to require private firefighting crews check in with commanders and adhere to evacuation orders, essentially making the 2008 Firescope guidelines law.
The law will take effect Jan. 1, 2019.
Torgerson, of WDS, said he welcomes the standards and that his company is ready to comply with them. And he predicted private firefighting firms will only be taking an ever-increasing role in battling California's growing wildfire problem.

"More of the insurance industry is picking it up and doing this, and insurance holders are starting to see that this is available to them," he said. "It's becoming a regular part of the fabric of wildfire and response operations."