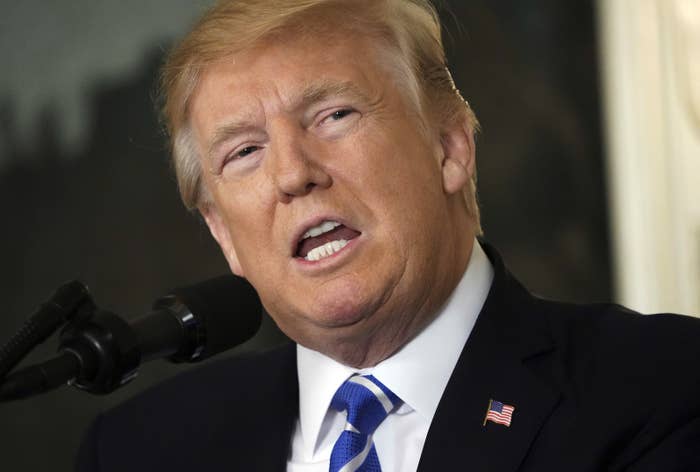 President Trump has remained silent for a week about the sexual assault allegations against Republican Senate candidate Roy Moore, but on Thursday slammed Democratic Sen. Al Franken, who just hours earlier was accused of groping a woman without her consent.
Los Angeles radio news anchor Leeann Tweeden accused Franken of forcibly kissing her in 2006 when he was a comedian entertaining US troops overseas along with other celebrities, alleging he groped her while she was asleep. Tweeden posted a photo showing Franken smiling and touching her breasts while posing for the camera.
Franken apologized for the incident and said he will cooperate with a Senate ethics investigation into the incident.
After the allegations surfaced, Trump weighed in on Twitter, referring to Franken as "Al Frankenstien" and questioning if there were additional photos of the incident.
"And to think that just last week he was lecturing anyone who would listen about sexual harassment and respect for women," Trump continued.
The president also referenced a joke Franken made decades ago in a Saturday Night Live writers room meeting about raping the television journalist Lesley Stahl.
"I give the pills to Lesley Stahl. Then when Lesley is passed out, I take her to the closet and rape her," Franken said, according to a 1995 article in New York magazine. "Or 'That's why you never see Lesley until February.' Or, 'When she passes out. I put her in various positions and take pictures of her.'"
In his 2017 memoir, Franken wrote that he "wasn't sorry" for the joke, which he called "stupid." "I was just doing my job," he said.
Trump himself has faced allegations from more than a dozen women who have accused him of unwanted sexual advances. Most notably, during a 2005 Access Hollywood appearance Trump told the former host, Billy Bush: "When you're a star, they let you do it. You can do anything," including "grab 'em by the pussy."
The president has remained noticeably quiet about Roy Moore, the Alabama GOP Senate candidate who has been accused by several women of unwanted advances while they were teenagers and he was in his thirties.

One of the women, who spoke to the Washington Post, said she was 14 years old at the time.
The allegations against Moore have prompted several Republicans to withdraw their support and some have urged him to step out of the race.
President Trump, however, has not spoken out about the matter himself. During a press briefing Thursday, White House press secretary Sarah Huckabee Sanders skirted reporters' questions about whether Trump still supported Moore.
Trump's position, she said, was that Moore should step aside, "if the allegations are true," but added it was up to Alabama voters whether or not to elect the candidate.
On Sep. 27, Trump last tweeted about Moore.
"Spoke to Roy Moore of Alabama last night for the first time. Sounds like a really great guy who ran a fantastic race. He will help to #MAGA!"