President Trump Has Fired FBI Director James Comey
The administration's stated reason is his handling of the investigation into Hillary Clinton's email use. The FBI is also currently investigating possible ties between Trump's campaign and Russia.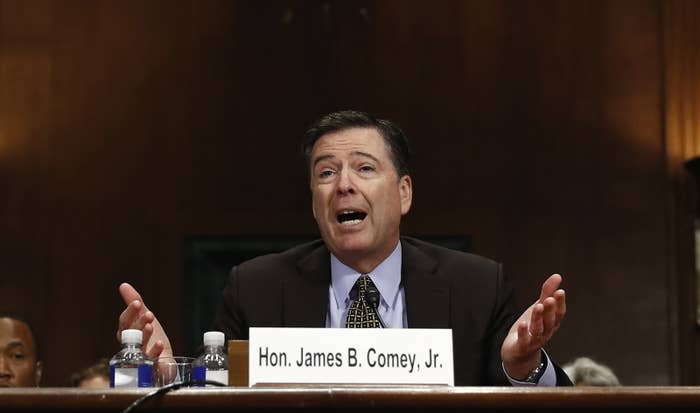 President Trump suddenly fired FBI Director James Comey Tuesday, accepting a recommendation from top Justice Department officials who argued the bureau had suffered "substantial damage" under his tenure.

The unexpected move shocked bureau employees in Washington, DC. "Nobody saw this coming or had any warning this was coming down the chain today," an officer told BuzzFeed News. "We have no idea what is going on."
"It's chaotic here right now," the officer added.
With Comey's exit, FBI Deputy Director Andrew McCabe was expected to take the reins as acting director of the agency.
The stated reason Comey was fired, according to a Justice Department memo, was his handling of the investigation into Hillary Clinton's use of a private email server while she was secretary of state.
"I cannot defend the Director's handling of the conclusion of the investigation of Secretary Clinton's emails, and I do not understand his refusal to accept the nearly universal judgment that he was mistaken," Deputy Attorney General Rod Rosenstein wrote to Attorney General Jeff Sessions on Tuesday.
The memo reads in a seeming apolitical tone, recounting Comey's actions during the investigation — including holding his own news conference and not deferring to the nation's top law enforcement official and his boss, then-attorney general Loretta Lynch.
Hanging over everything, though, is the fact that Comey's FBI was investigating Russian interference in the 2016 presidential election and potential ties between Trump's campaign and Russia.
Senate Democrat leader Chuck Schumer at a press conference Tuesday asked whether the firing may have been linked to the ongoing investigations into Russian hacking and if there was any collusion Trump's campaign.
"We knew the FBI has been looking into whether the Trump campaign colluded with the Russians, a very serious offense," he said. "Were these investigations getting too close to home for the president?"