Eleven police officers in Richmond, California, have been cleared of criminal wrongdoing in the case of a massive sex scandal involving an underage prostitute, but some could still be fired.
In a report issued by the police chief this week, an internal investigation found that the 11 officers had some sort of contact with the the woman, who goes by the name Celeste Guap, after reviewing thousands of text messages and social media posts.

Guap, now 19 years old, claims to have been involved with more than 30 Bay Area officers from multiple departments, exchanging sex with some of them as a teenager for money and tips on operations.
Citing privacy laws, Richmond Police Chief Allwyn Brown did not disclose what the group of 11 officers allegedly did, referring only to "individual, unconnected, non-criminal engagements" that violated department policies. However, he added, "police officers are held to a higher standard with regard to both their personal and professional conduct because the nature of their duties requires the public's trust."
Some of the officers were recommended to be fired, while others could be ordered to get counseling, he added.

The chief's report comes just days after Alameda County District Attorney Nancy O'Malley announced seven police officers would be charged in connection with the ongoing scandal, which has tainted seven law enforcement agencies.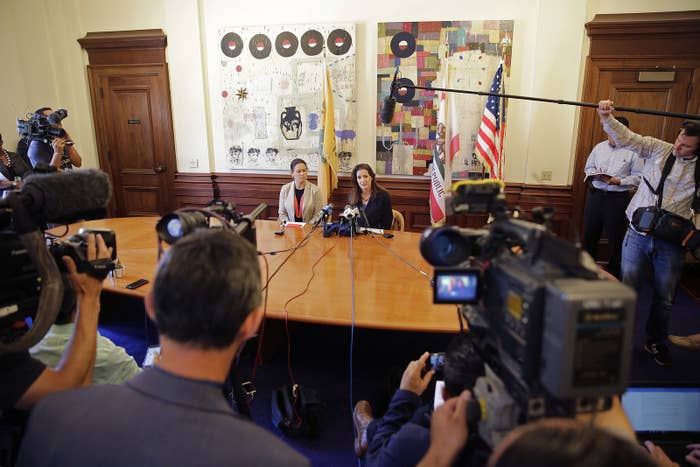 The officers — employed by the police departments in Oakland and Livermore, as well as the Contra Costa Sheriff's Office — face a range of charges, including engaging in prostitution, lewdness, and obstruction of justice.
Multiple internal investigations were sparked last year after one of the officers who had been allegedly involved with the teenage prostitute killed himself, leaving behind a note that named other officers who he claimed had contact with her.
The scandal has rocked agencies across the area, resulting in four Oakland police officers being fired, in addition to three department chiefs stepping down in a week.
The Richmond chief's report also revealed that his department helped Guap seek addiction treatment in a clinic in Florida, where she was subsequently arrested on suspicion of aggravated battery.
Guap also allegedly solicited the arresting sheriff's deputy for sex.
Brown said in the report that the treatment was paid for by California's crime victim's program.
Oakland officials said during a news conference last week that Guap had been offered treatment locally.