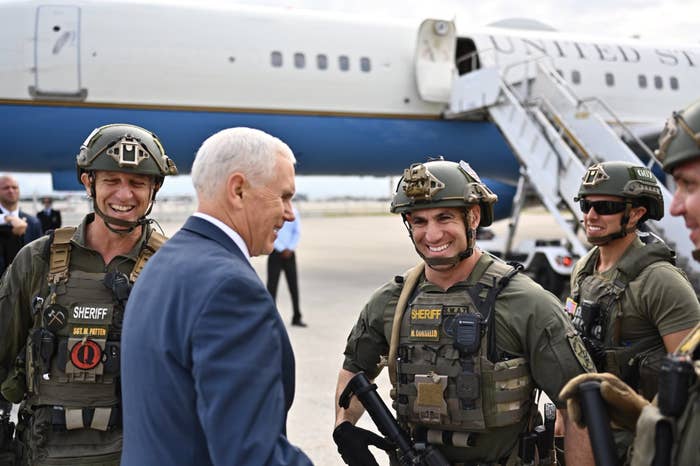 A Florida sheriff's sergeant who wore a QAnon conspiracy theory patch on his uniform while greeting Vice President Mike Pence last week has been reprimanded and removed from special assignments for "conduct unbecoming an employee."
Pence's office posted pictures of the vice president greeting a SWAT team Friday during his visit to Florida, but quickly deleted a picture when they were made aware a deputy was wearing the baseless conspiracy theory patch.
The Vice President's Office had asked the Broward County Sheriff's SWAT Team to take a picture with the vice president as he was leaving Fort Lauderdale International Airport. According to a Broward County Sheriff's Department memo obtained by BuzzFeed News, Sgt. Matt Patten intentionally put the patch on his uniform to pose for the picture with the vice president.
Patten was reprimanded for "conduct unbecoming an employee" and violating the department's uniform code Monday.
Patten also wore a second patch with an ax and scythe, which is used by members of the department's SWAT team, that he was also not authorized to wear on his uniform.
As a result, he was removed from two special assignments, including the department's Strategic Investigations Division Office of Homeland Security and the department's SWAT team, Veda Coleman-Wright, spokesperson for the Broward County Sheriff's Department, told BuzzFeed News.
The QAnon conspiracy sprung from 4chan and has claimed, among a list of baseless interconnected conspiracies, that a global pedophile human trafficking ring involving Hollywood figures and high-ranking politicians is being dismantled by President Trump.
It also claims with no basis that special counsel Robert Mueller's investigation into Russian meddling in the 2016 election and possible collusion with the Trump campaign is, in actuality, part of the effort to dismantle that pedophile ring.
Patten has been with the department for 27 years and was assigned as SWAT team leader to assist the US Secret Service with Pence's visit.

In the memo, the department noted the conspiracy's "one sided" political leanings as part of the reason why it was an unauthorized patch.
"Sergeant Patten's actions of displaying unity with controversial group not in alignment with the core values of law enforcement and the Broward Sheriff's Office discredited the agency, the county, and himself," the memo reads.