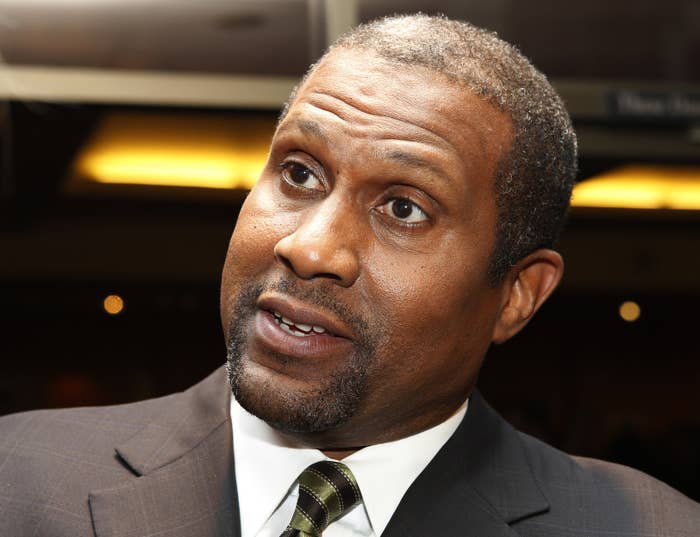 Tavis Smiley, the late-night PBS talk show host and author, has been suspended indefinitely because of an internal investigation that uncovered "troubling allegations," the public broadcaster confirmed Wednesday.
Smiley's suspension was first reported by Variety.

Citing unnamed sources, Variety reported that a law firm was hired by PBS to look into allegations of misconduct by Smiley. That investigation reportedly uncovered multiple incidents of Smiley allegedly engaging in sexual relationships with subordinates, and that those people felt their employment might be linked to their sexual relationship with the talk host.
In a statement to BuzzFeed News, PBS confirmed the talk show host was suspended and distribution of his show, Tavis Smiley, had also been halted.
"Effective today, PBS has indefinitely suspended distribution of 'Tavis Smiley,' produced by TS Media, an independent production company," PBS said in its statement. "PBS engaged an outside law firm to conduct an investigation immediately after learning of troubling allegations regarding Mr. Smiley."
"This investigation included interviews with witnesses as well as with Mr. Smiley. The inquiry uncovered multiple, credible allegations of conduct that is inconsistent with the values and standards of PBS, and the totality of this information led to today's decision," the statement said.
On Dec. 18, Smiley denied claims of sexual harassment in an interview with Good Morning America.
"I have never groped, I have never coerced, I have never exposed myself inappropriately," he said. "I celebrate and applaud these women who've had the courage to come out and tell their truth."

Variety reported that the investigation by the law firm found that Smiley created, "a verbally abusive and threatening environment that went beyond what would be expected in a typical high-pressure work environment."

On Wednesday night, Smiley released a statement and video to Facebook vehemently denying any sexual misconduct, and stating that "PBS overreacted and conducted a biased and sloppy investigation, which led to a rush to judgment, and trampling on a reputation that I have spent an entire lifetime trying to establish."
"Let me assure you that I have never groped, inappropriately exposed myself, or coerced any colleague in the work place ever in my 30 year career," Smiley said.
According to the PBS statement, and Variety's report on the investigation, Smiley is not accused of groping, coercing, or inappropriately exposing himself to colleagues.
"It's time for a real conversation about where the lines are, about how men and women can actively engage each other in the workplace," Smiley said in his message. "And I look forward to actively participating in that conversation."
Representatives for Smiley did not immediately return BuzzFeed News' requests for comment.
Tavis Smiley has been airing weeknights on PBS for 14 years.
Walmart, which underwrote and sponsored the program and upcoming book tour, announced Thursday it would suspend its support.
"We take these issues very seriously and are troubled by the recent allegations against Tavis Smiley," a Walmart spokesperson said in a statement. "As a result, we are suspending our relationship with Mr. Smiley, pending the outcome of the PBS investigation."
According to a previous press release in 2013 when the public broadcaster renewed the show for another two years, Tavis Smiley was airing in about 97% of PBS stations across 200 markets, including New York, Los Angeles, Chicago, Philadelphia, Washington, DC, and Atlanta.
Smiley has also published more than 16 books. Beginning next year, he is scheduled to begin a tour of his most recent book, Death of a King: The Real Story of Dr. Martin Luther King Jr.'s Final Year.