Tornadoes and storms struck Texas, South Dakota, Arkansas, and Iowa over the weekend, killing at least six people, injuring several others, and leaving a trail of destruction in their wake.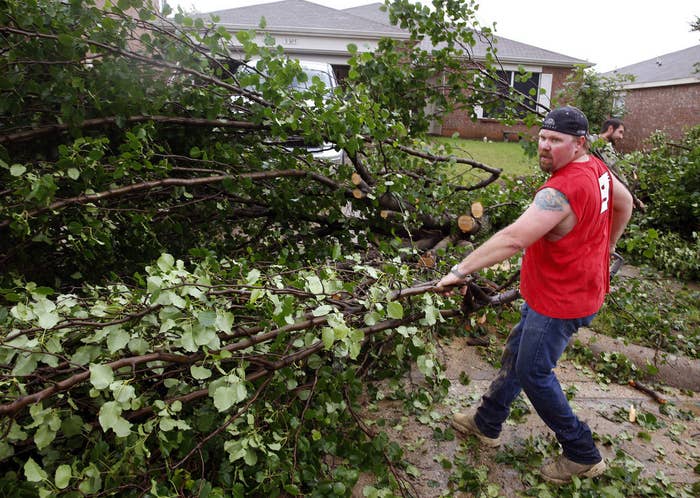 The Governor of Texas, Greg Abbott, declared a state of disaster on Monday for seven counties, including Bosque, Clay, Denton, Eastland, Gaines, Montague and Van Zandt.
"I authorize the use of all available resources of state government and of political subdivisions that are reasonably necessary to cope with this disaster," a statement from Abbott said.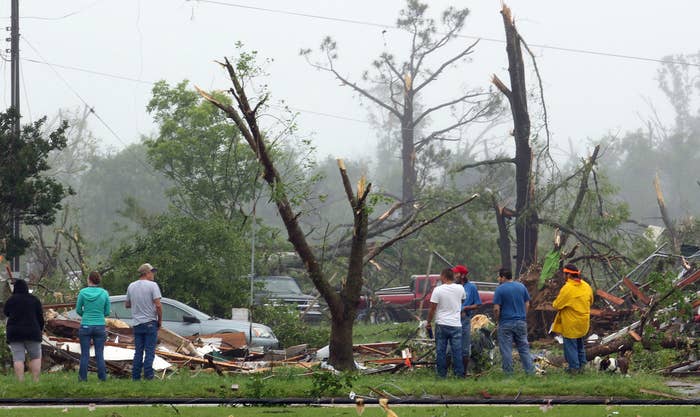 On Monday, the Governor of Arkansas Asa Hutchinson declared disaster areas for 10 counties: Franklin, Garland, Howard, Izard, Johnson, Montgomery, Newton, Pike, Pope and Searcy.
Two people were killed in Nashville, Arkansas and homes were damaged throughout the above counties.
"Our hearts and prayers go out to those in the Nashville area who were affected by the recent weather, especially the family of those who died from Sunday's tornado," Hutchinson said in a statement.
A tornado touched down in Cisco, Texas, Saturday evening, damaging half a dozen homes in the area and killing one person, officials told BuzzFeed News.
"There is a considerable amount of damage," Fields told the AP. "Homes have been lost."
In some cases, Fields said, the tornado scattered the remains of homes across nearby pastures.
"The homes that I've seen, there are just maybe one or two walls standing," he said.
A second Texas tornado touched down in Burkburnett, about 120 miles north of Cisco, the AP reported.
Nearly 50 counties in Texas were placed under a tornado watch, according to the National Weather Service.
The damage came after the National Weather Service issued severe weather warnings throughout the central and southern Plains.
On Sunday, a tornado also swept through Delmont in South Dakota.
On social media, people shared images of widespread damage to several buildings.
South Dakota Gov. Dennis Daugaard said nine people had been injured in the town.
Department of Public Safety spokeswoman Kristi Turman told CNN about 20 buildings were damaged, but there were no serious injuries.
However with power and water out in the town, as well as many unsecured propane tanks, Delmonts residents were being asked to leave the small town.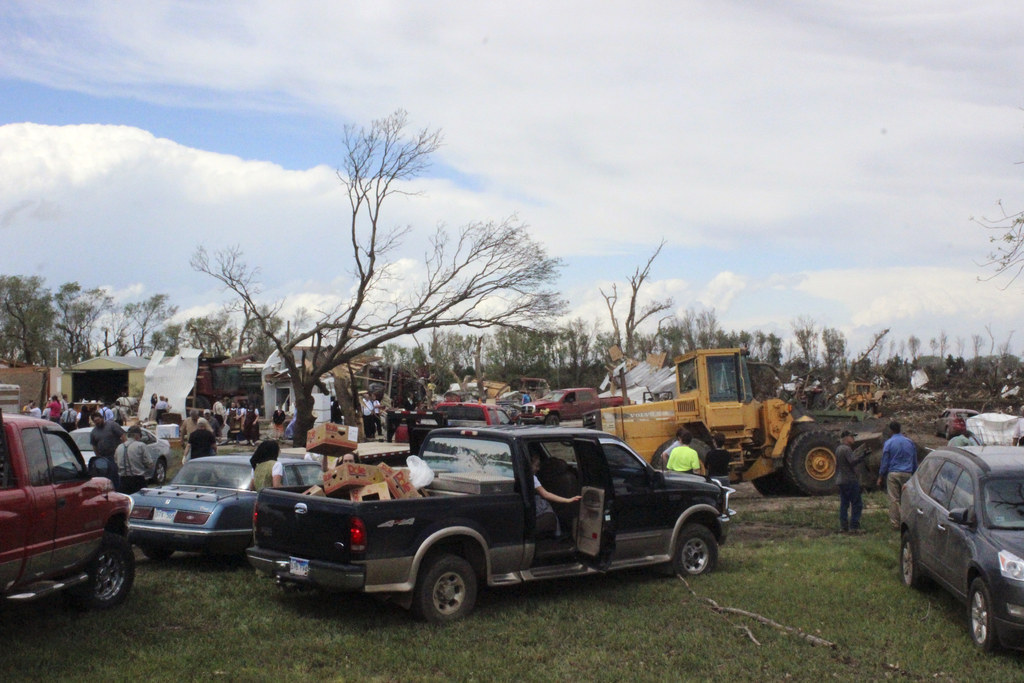 Another tornado made landfall in Iowa on Sunday night. There were reports of damage, including one that the roof of Lake City High School was ripped off.
Large hail was also reported in the area.
Severe storms, hail, and tornadoes also affected areas in Colorado, Oklahoma, Arkansas, and Kansas on Saturday.
North Texas has been particularly hit by bad weather this week. According to the Associated Press, tornadoes touched down in Wise, Denton, and Cooke counties Thursday.
Funnels were also reported in southeast Colorado Saturday, though there were no immediate reports of damage.
Two people were also killed when an EF-3 tornado packing winds near 140 mph struck the Texas town of Van around 8:45 p.m., officials said Monday.
Forty-three people were injured in the tornado, while eight others remain unaccounted for, Van Zandt County Fire Marshall Chuck Allen told reporters.
Allen said about 30% of the town had suffered damage, including homes that had been completely destroyed.
Allen said utility companies were working to restore "vital infrastructure," while the American Red Cross is reportedly setting up a shelter at Van's First Baptist Church, according to the AP.
Also on Sunday night, two people died after a tornado hit a trailer park in Nashville, Arkansas, Howard County Coroner John Gray confirmed to BuzzFeed News.
Another weather-related death was reported in Corsicana, Texas. Police in the city said a man in his twenties got stuck in his vehicle in high water during flooding. He left his vehicle and was swept away, NBCDFW reported.